Scorpions' walking wounded out of luck
Aug 17th, 2021
2316 Views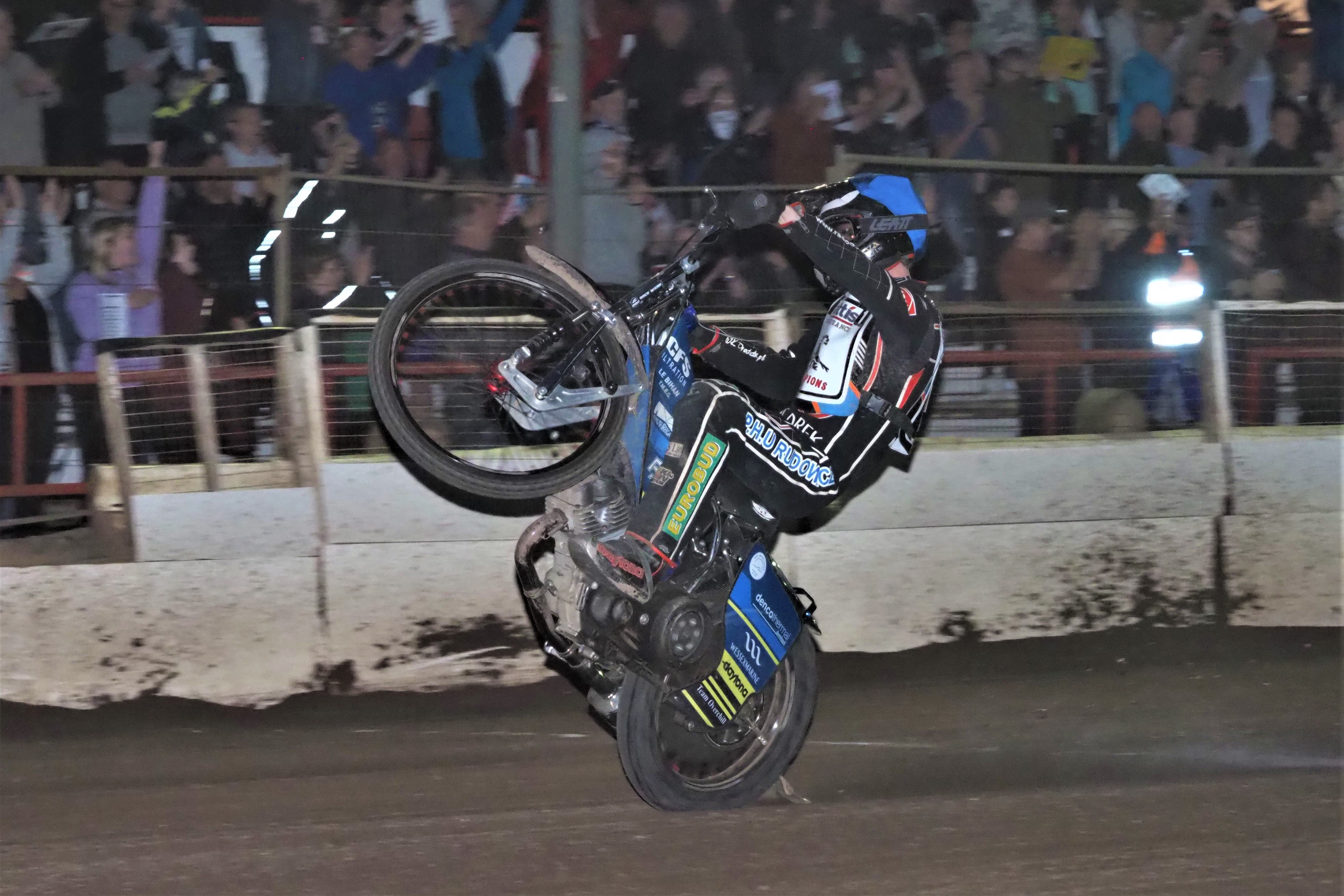 SCORPIONS' WALKING WOUNDED OUT OF LUCK AT PLYMOUTH
PLYMOUTH GLADIATORS 47 SCUNTHORPE SCORPIONS 37 (CHAMPIONSHIP)
ATTIS INSURANCE Scunthorpe Scorpions came away with no points to show for their efforts, after a highly eventful evening at Plymouth last night (Tuesday) when nothing seemed to go right for the visitors and six out of seven Scorpions picked up a knock during the night.
The meeting eventually ended up as a 47-37 victory for Plymouth Gladiators, with the result declared after 14 races, as Heat 15 could not be staged before the 9.45pm curfew.
Newly-crowned British Champion Adam Ellis (pictured) only lasted half a lap before he crashed out of the meeting.
In Heat 1, Jason Crump and Ellis jostled for position down the back straight of lap 1, when Crump seemed to move over and leave Ellis, who was on the outside, with no room whatsoever. In an alarming incident, not only did Ellis come crashing down, but Scorpions' skipper Simon Lambert also hit the deck.
Both Scunthorpe riders were down for several minutes, while travelling fans were left fuming by the decision to exclude Ellis rather than Crump for the accident.
A heavily battered Ellis was forced to withdraw from proceedings, while a bruised Lambert was able to carry on.
Scorpions' woes were far from over. Tero Aarnio lifted and crashed into the fence off the final bend of Heat 3, while Jordan Palin twice came down in first bend incidents in Heat 12 and escaped with minor cuts.
Thomas Jorgensen hurt his hand, when he caught it in Bjarne Pedersen's back wheel during Heat 13, and then Josh MacDonald was left with a swollen wrist after Zane Keheler crashed in Heat 14 and also brought his fellow Australian down.
Remarkably, despite all their setbacks, Scorpions led 29-25 after Heat 9 and it was level at 33-33 after 11 races.
But the real body blow was the highly debatable exclusion of Palin from the second attempt to hold Heat 12, after he seemed to received clear contact from Zach Cook before he came down.
On most nights, to some extent, the refereeing decisions seem to balance out, but it didn't feel like that at the Coliseum.
The meeting commenced at 7pm and yet it could not be finished before the 9.45pm curfew that exists at the Coliseum . While it was true that both Scorpions needed tending to before the re-run of Heat 1 could take place at approximately 7.30pm, several of the further delays were extended largely futile attempts by the home promotion to try to keep the dust down.
Scorpions' skipper Simon Lambert said: "Our luck was right out tonight. Obviously, from the moment that we lost the new British Champion in Heat 1, our backs were against the wall.
"I took the grunt of Adam's fall as well. I felt like I'd been hit by two double decker buses – my head, my chest, my leg, the lot.
"Thomas bent his fingers, when they were caught in Bjarne Pedersen's back wheel in Heat 13, while Josh hurt his wrist when he was taken off in Heat 14 and Tero also had a heavy fall.
"We're like the walking wounded. I think Jordan was OK, despite a couple of falls, and Theo was OK.
"It was more like a demolition derby here tonight – but that's the problem with four fast bikes around a small track like this.
"The decision to exclude Jordan (Palin) in Heat 12 was the turning point for us. We were right in it until then. I feel we haven't had the rub of the green and our luck has got to change.
"At Poole, we'll just do our best, but it makes our home meeting against Birmingham on Friday even more important now."
PLYMOUTH 47: Alfie Bowtell 12+1, Bjarne Pedersen 11+1, Jason Crump 11, Zach Cook 7, Dillon Ruml 3+2, Zane Keleher 3+2, Jason Edwards 0.
SCUNTHORPE 37: Thomas Jorgensen 11, Theo Pijper 10+1, Simon Lambert 7+1, Jordan Palin 7+1, Tero Aarnio 1+1, Josh MacDonald 1, Adam Ellis 0.
* ATTIS INSURANCE Scunthorpe Scorpions are back in action at Poole tonight (Wednesday). It's yet to be confirmed whether Adam Ellis will be fit to take his place, while Thomas Jorgensen is riding in Denmark and rider replacement will cover for his absence. Scorpions are also in action on Friday, entertaining the Birmingham Brummies at the Eddie Wright Raceway (7.30pm).
Related Posts By Category