Wayne Carter Speedway Training
Since 2007 former Scorpions' Captain Wayne Carter has run regular training sessions/experience days on the club's purpose-built 92-metre minitrack.  Then from 2011 he started his regular training schools on the main track.  Along with practices, amateur meetings and second halves it just means the Eddie Wright Raceway provides by far the most track opportunities for non-professional riders in the country.
At the bottom of this page there are details on the main track training schools but the next few sections will concentrate on the hugely popular minitrack sessions/experiences.
Minitrack training/experience days

Scunthorpe Speedway's 92-metre mini-track was built inside the stadium grounds in the summer of 2007 and has proven to be an extremely popular addition.
Its size makes it ideal for the smaller-engined bikes (e.g. 125-150cc) and is an excellent introduction to the art of sliding. Already riders have progressed to the Premiership and Championship leagues, whilst many other users are fans of all ages and abilities, and from all over the country, who want to experience the sport in relative safety.
There are a variety of ways to ride the mini-track suitable for all ages and abilities.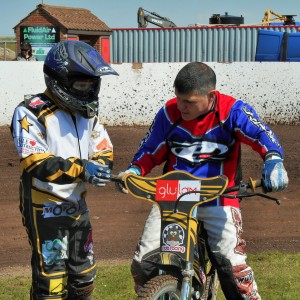 Wayne Carter Training Sessions
From the early days former Scorpions' Captain Wayne Carter has run regular afternoon sessions.
The sessions, which are suitable for riders of all abilities, are run at the weekend (mostly Sundays but see dates below) and can be booked in advance by paying here www.scunthorpe-speedway.com/bookingoffice. If you have any questions you can text Richard Hollingsworth on 07832-402167 or e-mail him at scunnyraceway@gmail.com. They are open to riders who need to hire the club's bikes (125cc -150cc) and those with their own machinery.
The price of the sessions is £77 and includes tuition, bike use and equipment hire (helmet, boots, clothing) or £31 for riders with their own bikes .
Feedback for lots of happy customers can be seen on the 'Training' page.
YouTube clips showing some of the sessions can be viewed by clicking the following links:
Link 1
Link 2
Vouchers
Want to supply a Wayne Carter Mini-track session as a birthday or Christmas present?
Vouchers can be supplied if you pay for a session, by card or Paypal, here http://scunthorpe-speedway.com/?page_id=11229. Don't worry about what date you select but if you message Richard (text him on 07832-402167 or email scunnyraceway@gmail.com) and say that you don't want the selected date, but would like a voucher, then he will produce a voucher and get it sent out to you. The voucher doesn't have a use-by date.
Group Bookings
Group bookings are available for up to 12 riders for the price of £660.  The sessions are 4 hours long with timings to be agreed.
To reserve a date a £200 deposit needs to be paid. Paypal payment to scunnyraceway@gmail.com or by bank transfer through Richard (sort code 07-01-16, account 34001956, account name Richard Hollingsworth).
However, in the first instance please make contact with Richard Hollingsworth (scunnyraceway@gmail.com) to discuss and agree a suitable date. Please note the public dates are set and group bookings will need to be on other dates.
Wayne Carter frequently asked questions
What time should I turn up? We recommend people turn up 30 minutes before the session is due to start (which has been 12pm but from December 2023 will be 11am) so that kit can be found and signing-on formalities can be completed
How should I pay? Payments should be paid online here www.scunthorpe-speedway.com/bookingoffice via Paypal or using a card. Alternatively bank transfer can be organised if you either text (07832-402167) or email Richard (scunnyraceway@gmail.com).
What should I bring? You don't need to bring anything but we you might want to wear a top and perhaps trousers underneath the Moto X clothing that is provided. If you do then please wear something that you don't mind getting dirty. You may want to bring some food and drink as the cafe only opens if there are significant numbers using the main track (Amateur meetings and some practice sessions). In the cooler months you may also want to bring a warm coat to put on between rides.
Can spectators come and can they take photos or film the session? Yes, that's not a problem at all.
What format does the session take? Wayne will assess the confidence/competence of each participant individually, show them the bikes and give them their first rides. From then on it will be a case of lots of track time throughout the afternoon under the watchful eye and guidance of Wayne. Basically, it is a simple but effective introduction to sliding a speedway bike. Riders aren't forced to ride the same bike (most are 125s or 150s) but can try different bikes or stick to the same one if they prefer.
What ages and ability do you cater for? We cater for people of all ages and ability. Youngsters can easily be accommodated if their inside leg measurement is at least 22 inches (56cm) although smaller pit bikes can be used by prior arrangement. a large number who attend Wayne's sessions are fans of varying ages (so don't let that put you off) whilst we've also had near-professional Moto X riders and plenty of other motorcyclists have their first introduction to a speedway bike on the mini-track.
Future session dates (midday start November 2023 and then 11am from December 2023 onwards)
NOVEMBER 2023 – Sunday 5th 12pm start
DECEMBER 2023 – Sunday 3rd 11am start
JANUARY 2024 – Sunday 21st 11am start
FEBURARY 2024 – Sunday 25th 11am start
MARCH 2024 – Sunday 24th 11am start
APRIL 2024 – Sunday 21st 11am start
MAY 2024 – Sunday 12th 11am start
JUNE 2024 – Sunday 9th 11am start
JULY 2024 – Sunday 7th 11am start
AUGUST 2024 – Sunday 4th 11am start
SEPTEMBER 2024 – Sunday 1st and 29th both 11am start
OCTOBER 2024 – Sunday 20th 11am start
NOVEMBER 2024 – Sunday 17th 11am start
DECEMBER 2024 – Sunday 15th 11am start
Open Practice
When the mini-track isn't booked out and there is a practice or amateur meeting on the main track then riders with their own machines can come and practice on the track for just £25.
Bookings are necessary to ensure the track is available and prepared. See the Track Calendar section for dates or call Richard on 07832-402167.
Main track training schools/experience days

Wherever possible Wayne Carter fits in main track training schools (usually 11am-3pm) and limits numbers to around 16 to ensure everyone gets plenty of track time and one-on-one tuition.
Whilst the schools are aimed at riders with their own bikes (price currently £45) Wayne does allow riders with a bit of previous experience (usually need to have ridden under his tuition on the minitrack) to join in with two riders able to hire one of his bikes (complete with fuel, oil and mechanical support) for £100 (so £145 total cost).  Drinks and snacks are provided by Wayne and the feedback received has been incredibly positive.
For anyone who would like some additional time (usually 9am to 10.45am when sessions start at 11am) with Wayne passing on his years of experience regarding bike maintenance and set-up the cost is just an additional £20 (but must be booked in advance so that Wayne can prepare).
Future dates are in the Stags/Training section of the Track Calendar but anyone wanting further information should contact Richard Hollingsworth at scunnyraceway@gmail.com, via Facebook at www.facebook.com/rh1967 or by texting 07832-402167.
Feedback
Just wanted to say we had a great day! Brett really enjoyed it. You were all very friendly & we thought it was so well organised. We'll definitely be recommending it to our friends. Think he might be a bit sore in the morning though. Thanks again for an excellent day.
Sally Gallagher (Birmingham)
I thought I'd write a quick email to say that Dino had his track day on Sunday and he had an amazing day! He said that while he hoped that he looked like Kelvin Tatum going round the track, (shows his age 😄) with a huge rooster tail plume of dirt behind him, in reality it was probably more like 'a sack of spuds on a moped trying to get a box of eggs home intact in an icy Asda car park' but he was thrilled with the whole day. Thank you to the team for a great experience day and for making his birthday a memorable one. Kay Burbidge (Cornwall)
I'd just like to say thanks for the great day yesterday on the speedway try out day. I'm not sure I'm destined to be world champion – but apparently I looked to be getting the hang of it!. Hopefully I'll be back for another go at some point – and won't keep looking for the brake lever all day!! David Broughton (Grimsby)
We all had a fantastic day today, perfect weather etc. Please pass on our thanks to Wayne and the guys for looking after us. Would highly recommend to anyone, thanks again. Mark Lockwood (Bradford)
Thanks for arranging such a memorable experience, everyone attending commented how much they had enjoyed the event. The guys running the day were very helpful and accommodating, thanks to all for a great day. Anthony Kaye (Novartis, Grimsby)

Just an email to say me, wife and daughter had a fab time this Sunday trying to become speedway stars with Wayne! Please pass on our thanks …. I have already mentioned it to friends and they may be on the way! Ian Datlen (Letchworth Garden City, Hertfordshire)

Just to let you know that both lads had a cracking time on the Minitrack on Saturday, thoroughly enjoyed it. Please pass on our thanks to Wayne and the team, much appreciated. Richard Spencer (Derby)
Just want to say a big thanks to Wayne and his team down at the mini track! We all had a real good time and starting to take massive interest in it now. We all would like to be booked in again on your next Sunday session if possible Craig Hancock (Hull, East Yorkshire)
Just a quick email to say thank you, all the lads enjoyed giving speedway a go and the lads that couldn't come have asked me when the next time will be so I'm sure we'll be back, please pass on my thanks to Wayne and the team for a great day learning something new! Sam Battersby (Bradford, West Yorkshire)
I would like you to pass on our thanks to your team for an absolutely fantastic day on Sunday 20th July. As I mentioned neither myself or my Son had any sort of experience regarding Motorcycles, but with the help of your team I managed to remain as incompetent at the end of the day as I did at the start of the day, this was down to my lack of talent and bottle and is in no way a reflection of the tuition received. My son started the day having never ridden anything with a twist throttle (it was the day before his 7th birthday) and after Wayne spending time on the back of a bike with him, he was allowed on the bike on his own. The level of tuition and attention Wayne and his team give to each individual is above and beyond what I expected, if Wayne was not riding alongside people on the track giving tuition on the lines they should be taking and general track position, he was passing on words of advice in the paddock. I did not feel as if this was just a come and have a go experience, I felt as if I was being taught how to ride a Speedway bike properly. The team quickly recognise the level of each rider and put them out on the track with riders of a similar level, the amount of time spent on the track was unbelievable. The only thing that let the day down was when Wayne cleared the track for my Son and I to ride together, this sounds nice, but being overtaken by a 6 year old child is not on any Fathers wish list, of course this was the highlight of his day. The smile on his face was priceless, he could not stop smiling all day.
When I put him to bed on Sunday he said to me 'When am I going Speedway again, and don't say for my next birthday'. He has been given money for his birthday and has allocated it for his next training session at a time yet to be arranged. Thank you all for a perfect day and we look forward to seeing Wayne and his team in the near future.
Ethan and Neal Hadley (Rushden, Northamptonshire)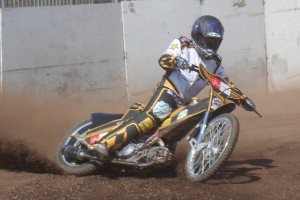 I would like to say a big thank you to everybody involved on the day we attended the Wayne Carter Training School. Wayne and his team were top draw, and the other riders and parents were all so friendly and helped so much . We travelled a long way to attend this training school, a six hour trip each way but well worth every mile. The knowledge given on the day was so helpful to Jordan he had some good moments. A big thank you to Wayne, we will be back again.
Andy & Jordan Bull (Somerset)
I came to the mini track yesterday for the first time feeling a little apprehensive,I soon realised their was no need. I'm sure you've heard this many times before regarding Wayne and Jeff,but they are a credit to the set up. I had a great day dispite leaving a little battered and bruised,thanks again to all involved.
Nigel Wren (Teesside)
Thanks again for a superb day, we all thoroughly enjoyed ourselves. Wayne and co were fantastic all day and made the whole experience hugely memorable. we will promoter your great setup to all our friends and I'm sure you will see some of them very soon. Top day!
Pete Spargo and Co (High Wycombe)
Just dropping you a line to say what an awesome day we had last Sunday. Please pass on our many thanks to Wayne, his dad, the old track fella and helpers for their open, friendly and informative contribution throughout the day which made a great day even more enjoyable. We will definitely be back again next year once we all stop walking like John Wayne! – Scott Geary, Craig Moore and Paul Sheppard (Loughborough)
Sorry we had to nip off on Saturday before you had finished. Just to say thank you – Barry had a great day and realised a lifetime ambition! No doubt we will be back at sometime in the future. Once again, many thanks. Kind regards Glennys Potter (Market Harborough)
Just wanted to say my partner had a great time at the speedway last weekend and we would like to thank Wayne for his help and guidance on the day. We will definitely be back next year and I will be even be having a go !!. Joanne Farrelly (Coventry)
Just a quick note regarding the track day my boys went on. Just to let you know they both had a brilliant time. Wayne was fantastic with them. Please pass on my thanks to all concerned. Nigel Tullett (East Yorkshire)
Having recently attended a training session on Sunday 25th March 2012 I would like to thank yourself and Wayne Carter for making this experience one which I will remember for a very long time. I do hope that I will be in a position to do it all again in the near future. Having never ridden a motorbike yet alone a speedway bike before I am grateful for the way in which Wayne supported me and built my confidence up along with the other two people who was at this training session throughout the afternoon. He was absolutely brilliant and I can't thank him enough for all his time and what he did for me and would certainly recommend your training sessions to friends and family if they wish to take up speedway lessons. Hope to see you again later on in the year. Victoria Smith (Leicestershire)
After our, last visit to Scunthorpe, (our 4th so far), we both feel it is the least we can do, to commend you, instructor Wayne Carter and the staff at Scunthorpe, for making our training day another most memorable, enjoyable and instructive occasion. The overnight accommodation you recommended was just one mile from the track. Rooms were clean, we were warmly welcomed and after a good breakfast, were ready for the day. The classroom instruction was invaluable and thorough, leaving plenty of time for the track. Training was as always varied and accommodates the needs of riders of all levels. A sincere thank you from us both. Paul Ridgley (West Midlands)
I'd just like to express sincere thanks to Wayne, Geoff, Alan and everybody involved with the running of the mini-track, and for the club for letting us come and play in their back yard. We have booked several private sessions and intend to run them on a regular basis. We are so hooked that 'The Lions Den Skidders have had race bibs made, and we have a team captain, Manager and Mascot. It has been described by us as the most fun you can have with your clothes on, and if one considers that for £99 you can have about a minute and a half driving a Lamborghini, or for £50 (NB. This was the group fee divided by 12) you can share 4 hours of thrills, a few spills and just a great day out with friends. The tuition is excellent, anyone that looks any good can be given more input, the plodders are still encouraged and advised, and the best thing is that anyone who has never ridden anything powered on 2 wheels is usually straight into it and end up hooked. The track's a great size and shape and the bikes are just right for it. No messing about on the straights, it's into the corners and try to get the back end moving. There's no waiting about either. Once the session is underway, a bike becomes free, if you want it, jump on it! We wish Scunthorpe Speedway continued success with a fantastic operation and thanks for always being so welcoming! Mike Cowley (Leicester)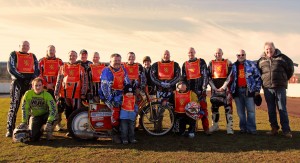 Photo of the Lions Den Skidders kindly supplied by Mark Hall Photography
Just need to say a big thanks for Wayne's training day. You know he really is good at teaching, and so much patience with everyone. I think your set up at Scunny is first class and I can't thank you enough for letting us come along and join in, it's like our second home now. I will hopefully be along to the next one on my own bike. Mick Keeling (Buxton)