Scunthorpe v Poole – big match preview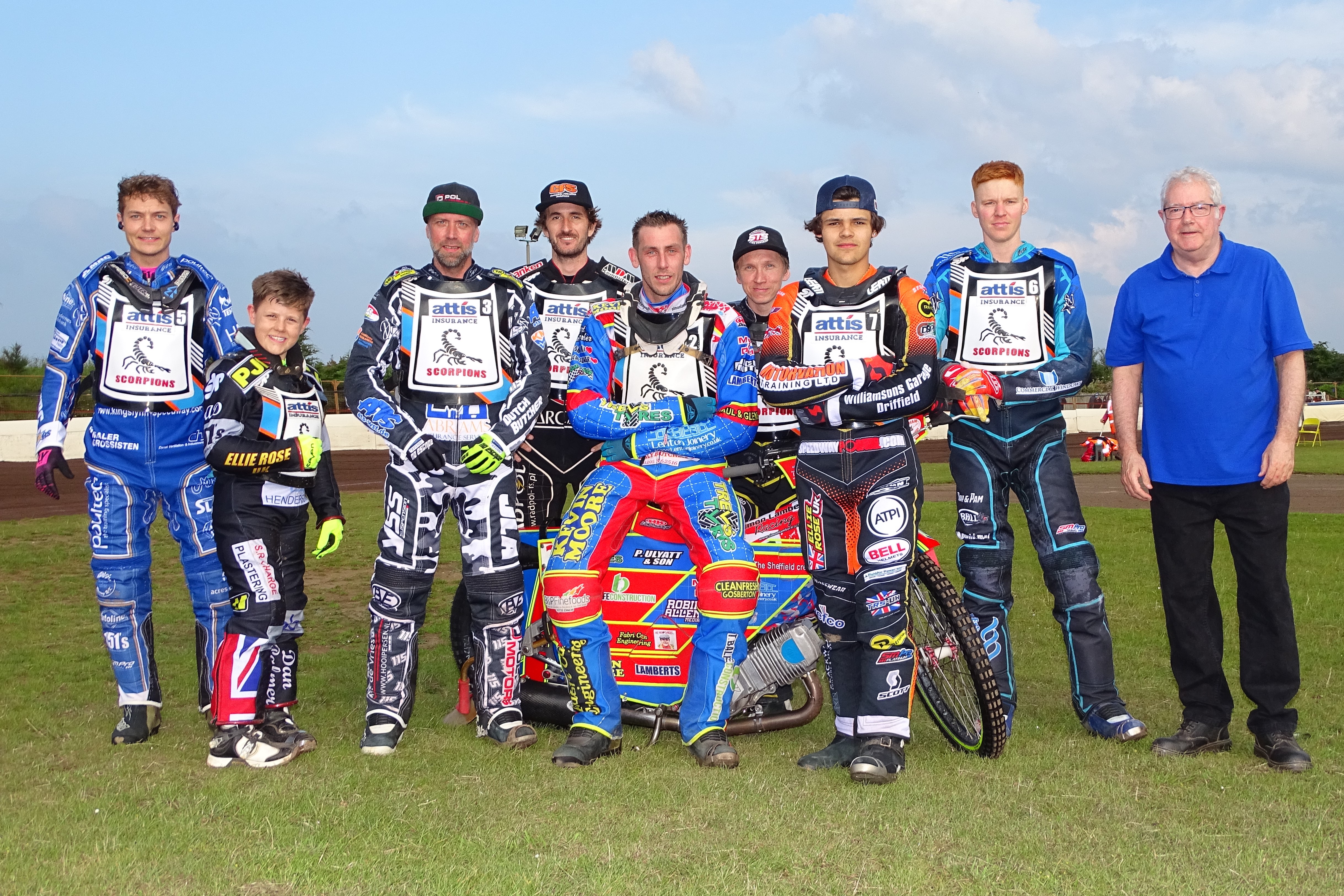 SCORPIONS OUT TO MAKE PIRATES WALK THE PLANK
THIRD-PLACED Attis Insurance Scunthorpe Scorpions face a stiff test to their play-off credentials with the first-ever visit of the Poole Pirates to the Eddie Wright Raceway tonight (7.30pm).
Pirates are unbeaten in their last eight meetings, while Scorpions are out to maintain their 100% in home league matches in 2021.
Scunthorpe and Poole have never clashed before in the history of the two clubs – despite Poole Speedway being 73 years old and Scunthorpe Speedway celebrating its 50th birthday this year.
Since Scunthorpe Speedway began at their first venue, Quibell Park, in 1971, Pirates have been mostly been a top-flight club. They did compete in the second tier National League between 1985 and 1990, but Scunthorpe closed at their second circuit, Ashby Ville, in early '85, before the two clubs were thrown together.
Scunthorpe promoter Rob Godfrey says: "It's a mouth-watering clash for a number of reasons.
"Firstly, there's the historical aspect of these two clubs having never met before. For Poole fans, it's the chance to come to a new track with Pirates, while for our supporters, there's the excitement of seeing whether we can turn over one of the most successful clubs in British Speedway history.
"There's then the importance of the clash to the play-off hopes of both teams. It's a massive meeting, because the bedrock of our play-off bid is our home form, and this is one of the toughest tests so far.
"It's also so interesting in that both Adam Ellis and Josh MacDonald were originally supposed to be Pirates this season, but for one reason or another, they ended up as part of our team. Add in Steve Worrall and Stefan Nielsen being former Scorpions, and there's plenty of spice to the meeting.
"It's a match half a century in the making and it should be an absolute humdinger", concluded Godfrey.
It is the first meeting at Scunthorpe, since the UK government have relaxed almost all Covid restrictions in England, and it is planned to re-start having the riders in the clubhouse after the meeting.
Expected teams for tonight (Friday):
Attis Insurance Scunthorpe Scorpions: 1. Adam Ellis, 2. Simon Lambert (captain), 3. Theo Pijper (TBC), 4. Tero Aarnio, 5. Thomas Jorgensen, 6. Jordan Palin, 7. Josh MacDonald.
Poole Pirates: 1. Rory Schlein, 2 Luke Crang (guest), 3. Steve Worrall, 4. Stefan Nielsen, 5. Danny King, 6. James Wright, 7. Danyon Hume.
ADMISSION PRICES FOR TONIGHT (FRIDAY):
Adult: £17.00 (including programme)
Student/OAP: £15.00 (including programme)
Child (10 – 17): £5.00 (not including programme)
Child (0 – 9) Free (accompanied by paying adult – not including programme)
There is a 3% handling fee for online sales – please note this handing fee goes to the ticketing provider, not the club.
Almost all our Covid-19 restrictions have now been relaxed, although we will keep the same queueing system in the clubhouse for food/drink and the bar, with entry via the small viewing area outside the clubhouse and the exit through the main entrance. Hand sanitiser will still be provided. Please respect others who still wish to practice social distancing and/or wear facemasks.
Any individual already showing signs of Covid-19 must not visit the venue.
Tickets are available under the Ticket Office menu on the club website at:
http://scunthorpe-speedway.com/ticketoffice
When you click on the link you will be taken to the following URL:
https://scunthorpescorpionstickets.seatedly.com/
Click on the "buy tickets" tab which will take you a list of meetings and when you have finished, please click on "my basket" tab to complete the transaction.
NOTE REGARDING TICKETS: Please bring your ticket with you – either a physical copy or on your phone. The QR code (the matrix barcode) will be scanned to allow you entry to the stadium – please present to the staff at the entry point at the Eddie Wright Raceway. Please note there is a 3% handling fee for each ticket ordered – this goes to the ticketing provider, not the club. If you have any problems when ordering your tickets, please contact the club (email gail.godfrey@btconnect.com) and we will assist you. Please note that cash admission on the day is also available.
Related Posts By Category