Valuable experience for young duo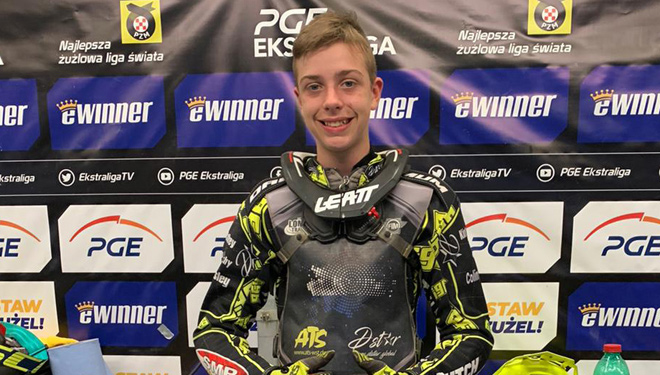 ACE Pijper (picutred) was the top-placed British rider with five points in the FIM World 250cc Final in Cloppenburg.
Luke Harrison was just behind on four in a weather-affected meeting won by Poland's Oskar Paluch, whilst Max James did not get a ride at reserve.
Both the British World Finalists have Scunthorpe connections. Luke Harrison is a local lad from Barnetby and scored a maximum in the Scunthorpe v Leicester challenge match in 2020, while Ace Piper is Theo's eldest son.
GB Youth boss Neil Vatcher said: "It's been a tough two events for the top three 250cc riders, but they have gained some fantastic experience and will come back to the UK with a lot more knowledge and bigger and better for the experience.
"The boys now look forward to a busy month of August in the British Youth Championship."
Meanwhile Great Britain finished fifth in the European Pairs Final at Macon, with the event won by host nation France ahead of Poland and Latvia.
GB collected 16 points along with Denmark, who were placed higher on countback, with Italy and the Czech Republic completing the standings.
Adam Ellis scored 10+1 for GB with Chris Harris adding 6+1. Reserve Tom Brennan took one ride but did not score.
(British Speedway release)
Related Posts By Category