Palin wins at Eddie Wright Raceway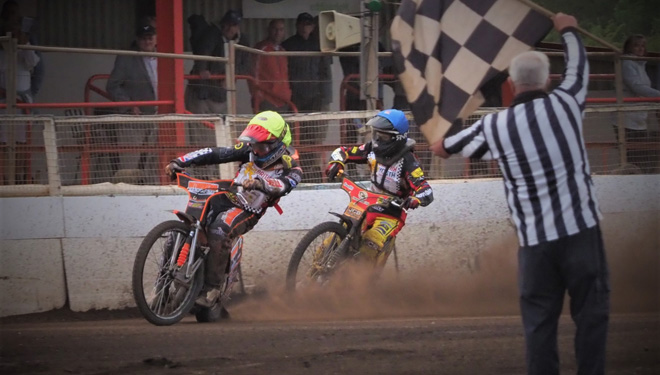 HEB Scunthorpe Scorpions' 16-year-old star Jordan Palin picked himself off the shale to win the opening round of the 500cc class of the British Youth Championship at Scunthorpe's Eddie Wright Raceway yesterday (Sunday) with five race wins out of five.
The meeting was the first public speedway event allowed for 148 days – since the same venue hosted the Ben Fund Bonanza on March 14th. With social distancing measures in place, the crowd enjoyed a day of some fine action from the future of British Speedway, with 33 riders and 37 races across four classes.
Palin was set to line-up for HEB Scunthorpe Scorpions in the Championship this season. While that competition has been cancelled, Scunthorpe do have permission from the local council to run at a grassroots level.
The rider from Beverley certainly didn't have it all his own way in the 500cc class. He was pushed all the way by Dan Thompson in Heat 18.
And these two riders were the main protagonists in the final. Thompson pushed Palin wide on the second bend, and Palin thudded into the air fence, while the race was halted. Referee Graham Flint deemed a re-start with all four riders: a fair decision, since an exclusion either way would have been harsh. It was the very first re-run of the entire meeting, which says much about the skills of the young competitors.
At the second time of asking, Palin made a better start from the outside grid, while Thompson thrust pass Archie Freeman on the second circuit to move into second place. Thompson showed plenty of pace and hunted down Palin, but the defending 500cc champion held him off in a thrilling final lap to take the chequered flag.
Meanwhile, Freeman and Joe Thompson, the twin brother of Dan, were involved in a battle for third that saw Thompson take over the position, only for Freeman to snatch it back in on the finishing line in a near photo-finish.
Palin said: "I wanted to come here and show the fans what I can do, because I signed for them, but they obviously don't know much about me.
"It was close racing but that's what the fans want really, so it was good to put on a little show, and it was definitely good to get the victory. It's a great night for me and my team."
It wasn't just the 500cc class that provided the thrills. Max James remained unbeaten in the 250cc class, but was given a fantastic battle by local 13-year-old youngster Luke Harrison in Heat 15. The final of this class saw James triumph, while William Hocaniuk suffered an engine failure on the final bend while placed second. His brave attempt to coast home quick enough to keep third saw him tumble within a metre of the finishing line – while the crowd warmly applauded his efforts afterwards.
Max Perry looked like the likely winner of the 125cc class, but suffered two bike failures – the second on the starting grid in the final. It allowed William Cairns to triumph.
The 125cc support class provided some real harum-scarum but thrilling stuff, while the youngsters putting everything into it. Billy Budd recovered from a first-race engine failure to win this class, while Stene Pijper, one of the two sons of Theo Pijper on display, finished second.
For those who missed it, highlights of yesterday's action will be shown this evening by Speedway GB. The coverage will consist of the whole 500cc class, plus the finals from the other classes. Coverage starts at 7.30pm on the SpeedwayGB YouTube and Facebook channels.
Scunthorpe promoter Rob Godfrey is hopeful of staging his next public meeting on Bank Holiday Monday (August 31st), but further details will be revealed in due course.
500cc class:
Qualifying scores: Jordan Palin 12, Joe Thompson 11, Dan Thompson 9, Archie Freeman 7, Elliot Kelly 5, Harry McGurk 5, Sam Hagon 5, Mickie Simpson 4, Sam McGurk 2, Katie Gordon 0.
Final: Palin, D Thompson, Freeman, J Thompson.
250cc class:
Qualifying scores: Max James 12, Luke Harrison 8, Ashton Vale 7, William Hocaniuk 3, Cameron Taylor 0.
Final: James, Harrison, Vale, Hocaniuk (fell).
125cc (class A):
Qualifying scores: Ben Trigger 11, Max Perry 10, Sonny Springer 9, William Cairns 7, Cooper Rushen 5, Jamie Etherington 4, Jack Shimelt 4, Ace Pijper 4, Charlie Wood 0.
Final: Cairns, Springer, Trigger, Perry (ret).
125cc (class B – support class):
Qualifying scores: Owen Booth 10, Jake Lee 9, Billy Budd 8, Stene Pijper 8, Caydin Martin 6, Rico Joyce 6, George Colvin 3, Jack Franklin 2, Rebecca Weston 2.
Final (awarded): Budd, Pijper, Lee (fell, remounted), Booth (fell, excluded).
REPORT: ROB PEASLEY
PHOTO: IAN RISPIN
Related Posts By Category