Scorpions denied at the death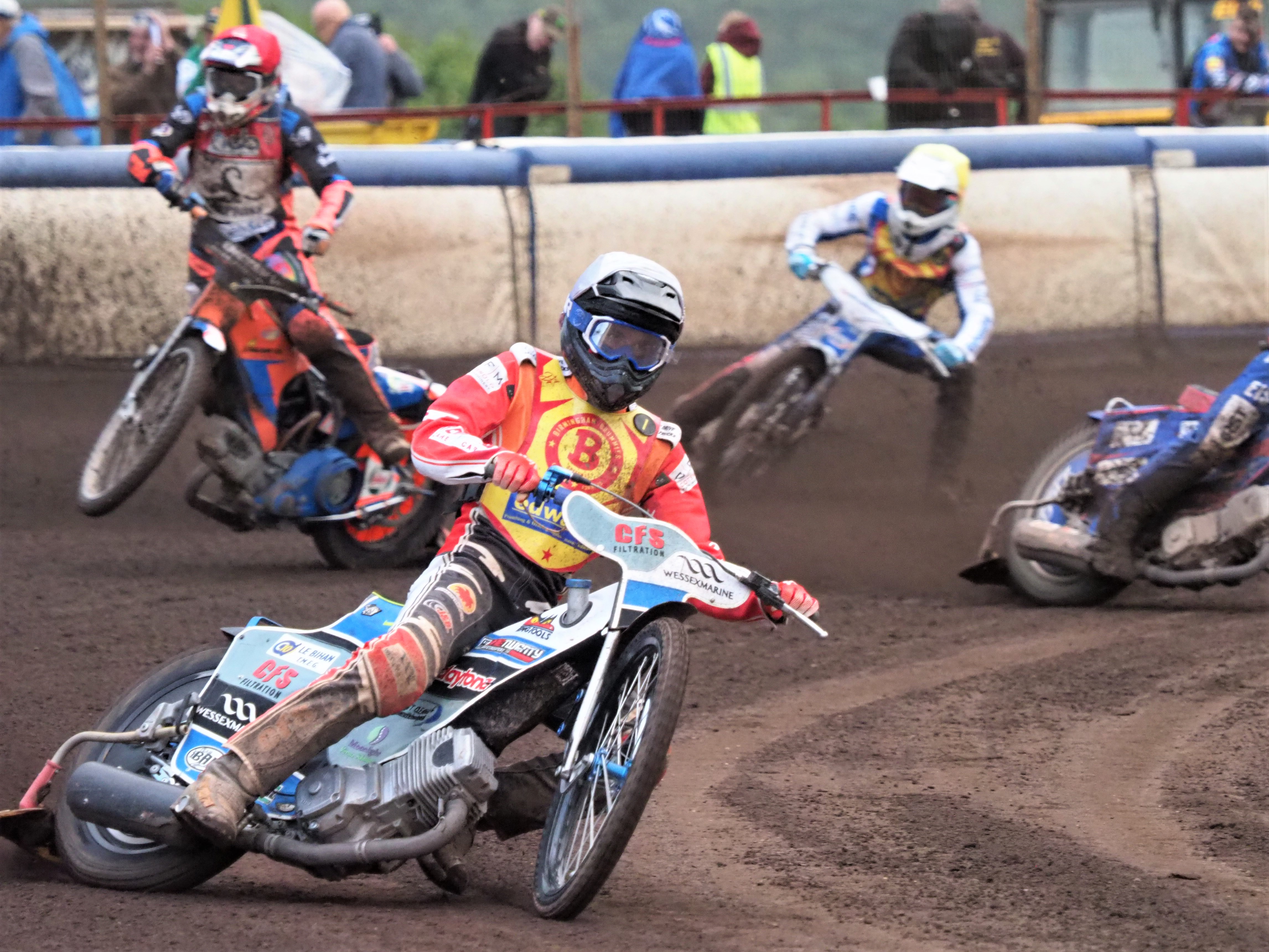 SCUNTHORPE SCORPIONS 45 BIRMINGHAM BRUMMIES 45 (CHAMPIONSHIP)
A BROKEN CHAIN cost HEB Scunthorpe Scorpions victory in a thrilling meeting at the Eddie Wright Raceway last night (Friday), with Scorpions having to settle for a 45-45 draw with Birmingham Brummies.
It was all square entering the final race in Heat 15. Josh Auty hit the first bend in front, then a magical second bend from Ben Barker saw him slice in between Adam Ellis and Jason Garrity to move from fourth to second.
With Scorpions holding a match-winning 5-1 and Barker fending off the Brummies' duo, it all looked good. But entering the third bend of the second lap, the Cornishman's bike threw its rear chain and he took an awkward tumble. Despite being in some discomfort with his hand, Barker managed to push his bike off the track so that the race could continue, with Auty securing the draw.
The meeting featured a fantastic performance from 20-year-old Ryan Kinsley, who produced his best-ever performance at Championship level, with a paid 11 score from reserve for Scorpions, including a brilliant ride in Heat 11.
In that race, Barker was first away ahead of James Shanes, while Kinsley shot past the previously unbeaten Ellis on the back straight. Kinsley then started to head wide in the dirt on the outside. He shot around Shanes on the second bend of the third lap in a courageous move, then fended off Shanes' attempts to re-pass him.
That 5-1 moved Scorpions six ahead, and Brummies placed Garrity in Heat 12 as a tactical substitute and then took two successive 5-1s, to edge in front at 40-38.
Heat 14 saw a barnstorming ride from Auty, who moved from last to first, while Kinsley lost a battle to Shanes for second place, but crucially kept Paco Castagna at the back, as Scorpions levelled the scores.
Auty top scored with Scorpions with 13 points, and he was backed up by Kinsley (9+2), Barker (7), Simon Lambert (6+2) and Danny Ayres (6).
Garrity scored paid 15 from six rides on his return to his old track, while Ellis totted up 11 points. Another former Scorpion, Tero Aarnio, started slowly but was involved in two 5-1s for Brummies in the second half of the meeting.
It was a meeting which contained plenty of exciting racing, including Heat 8, where Shanes pipped Ayres after the two spent all four laps trading blows. It was also a meeting where it was impossible to predict a race result, with plenty of twists and turns.
There were concerning falls for Stefan Nielsen in Heat 5 and Barker in that final race, but the good news is that both should be OK to take their place in the away meeting at Leicester tonight (Saturday).
Speaking post-meeting Ryan Kinsley said: "I've had a lot of things go wrong recently, but I've now got my engine right, and I give thanks to my tuner, because I've got my machinery back to where it should be.
"I got my head down for this meeting, because I wanted it to be the turning point of my season, and everything just went right.
"There was a nice bit of dirt out there, and the bike was working well, so I thought I'd go for the outside line in my race against James Shanes and Adam Ellis (Heat 11) and see what the outcome was. I had one or two moments, but I kept it going and got a bit of drive to come through and take the second place.
"The Birmingham riders put a shift in and deserved the result that they got. We wanted to win the meeting to get the points, but Birmingham gave us a battle and I think it was a good meeting for the fans to watch, with good racing.
"It was a nice boost for me, and we've got a lot of meetings coming up, so hopefully I can take this forward."
SCUNTHORPE 45: Josh Auty 13, Ryan Kinsley 9+2, Ben Barker 7, Simon Lambert 6+2, Danny Ayres 6, Jake Allen 3+2, Stefan Nielsen 1.
BIRMINGHAM 45: Jason Garrity 13+2, Adam Ellis 11, James Shanes 7+1, Tero Aarnio 6+1, Paco Castagna 6+1, Nick Agertoft 1, Jordan Jenkins 1.
* HEB Scunthorpe Scorpions are again due to be at full strength for their visit to Leicester's Beaumont Park tonight (Saturday, 7.30pm).
PHOTO: Stefan Nielsen in a spot of bother in Heat 5, with Adam Ellis leading the race from Josh Auty (pic: Ian Rispin).
Related Posts By Category