Howe's that? David is new manager
Nov 16th, 2023
1353 Views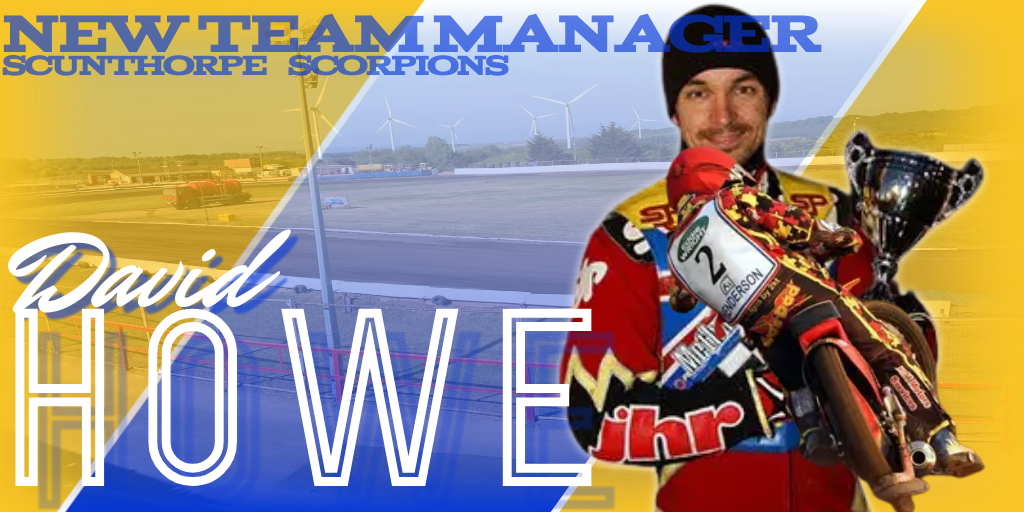 SCUNTHORPE SCORPIONS have appointed former captain David Howe as their new team manager for the 2024 season.
Leicester-born Howe spent a seven-year spell with Scorpions between 2009 and 2015, joining the club as an out-an-out No 1 in 2009.
He had previously started his career at Peterborough in 1997, while he was British Under-21 Champion in 2000. He twice reached the British Grand Prix as a wildcard rider – in 2003 and 2007 and also rode in the 2003 Slovenian Grand Prix.
Howe retired after the 2018 season, while in more recent times, he has served as the mechanic for Ryan Douglas, who was the No 1 at Scunthorpe last season.
Scunthorpe promoter Rob Godfrey said: "I'm delighted to announce David Howe as our new team manager, following Dave Peet's decision to stand down from the role after winning the Knockout Cup with Scorpions.
"With Ryan Douglas not coming back to us next year, David will be focusing on helping Ryan in the Premiership with whoever he ends up with in that division, and so it's left him available to come to Scunny on a Friday night.
"If there are any away matches that he can't do for whatever reason, I will cover them, which is pretty much the status quo as it was with Dave Peet.
"David has been a rider and he's been a mechanic. I think he was a little apprehensive of the rules but they are quite simple and he's always got me and other people to fall back on for that. His talent is going to be in motivating the team and helping with set-ups and passing on his experience, I am so excited to have him on board
.
"I liken him to Simon Stead at Sheffield in that David's quality will be that when a rider is having a bad night, he will turn him around. There was a situation at Poole in the Knockout Cup Final when Jake (Allen) was struggling and David, although he was focused on Ryan, said, 'do this and do that' and Jake came back in and said, 'wow, that was miles better'.
"He brings so much quality to the position and I just think, even though I know it's very early to be saying this, that appointing him is one of the catalysts for us being able to challenge for the title next season.
"I know David enjoyed his time at Scunny with Ryan and he was a part of the team, just not on the riding side, so this will be different for him, but it won't be that much different to what he was doing before, he just won't be getting his hands dirty this time.
"He will be giving them the benefit of his experience and the other beauty about David is that he is still involved with Ryan on a day-to-day basis with the engines and the set-ups, so whatever information he gives is going to be current.
"He's up to speed with how the bikes ride and perform and what the set-up could be because we all know nowadays that set-up is absolutely key to winning races and winning meetings.
"We've not had many team managers in our current era of the club but Kenny Smith won loads of stuff at the start in the Conference League, Richard (Hollingsworth) won the league title and Dave (Peet) won the Knockout Cup this year, so they all won something – which means I'm expecting David to win the double next season!", Godfrey quipped.
Speedway's AGM is currently taking place in Tenerife and Scunthorpe's first signing is due to be announced next week.
Related Posts By Category