Scorpions' season complete
Oct 12th, 2021
1076 Views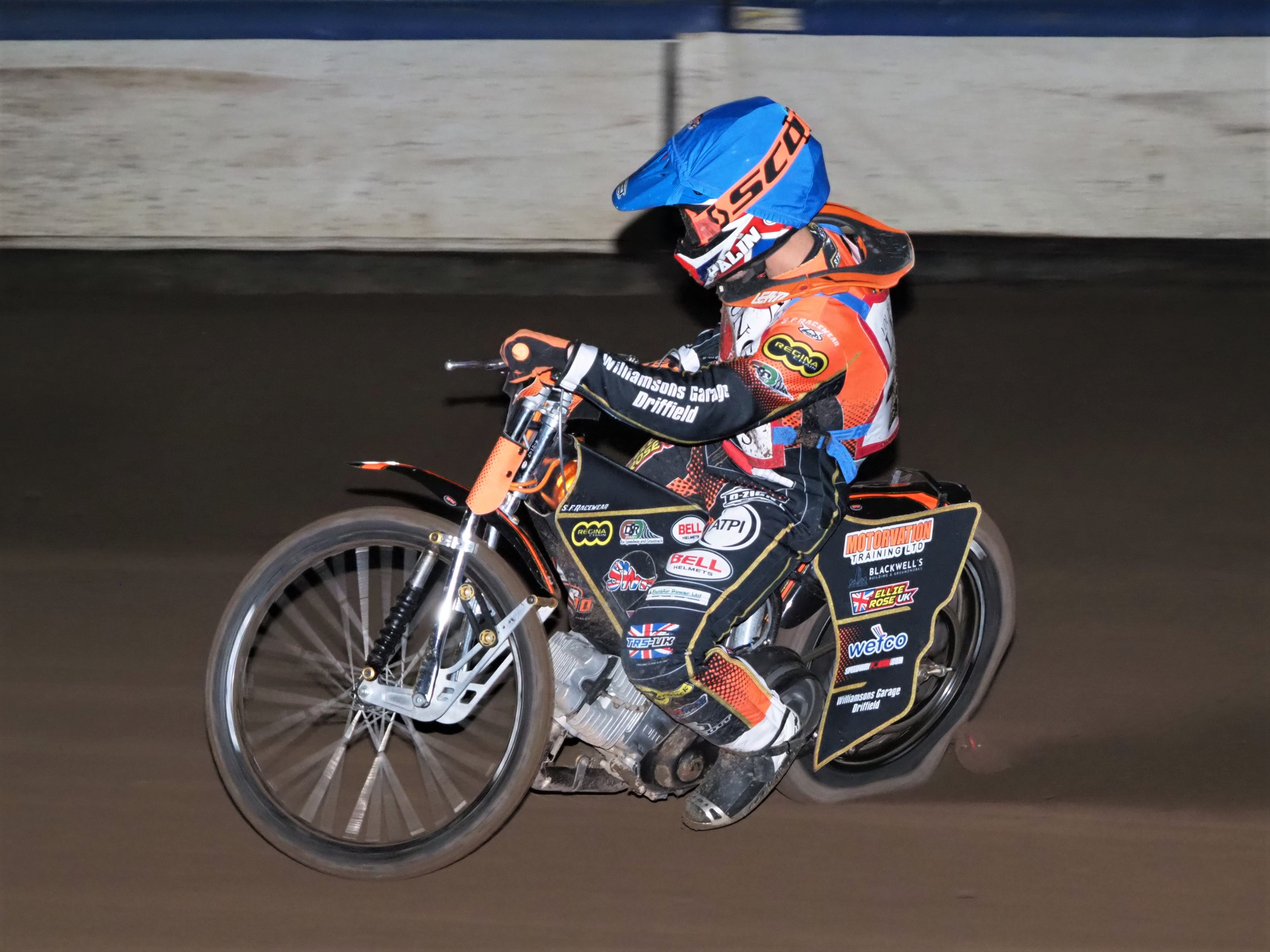 LEICESTER LIONS 38 SCUNTHORPE SCORPIONS 28 (Play-off, quarter-final, second leg)
Leicester win 92-64 on aggregate
ATTIS INSURANCE Scunthorpe Scorpions have taken to the track for the final time in 2021, after the second leg of their Championship play-off quarter-final at Leicester's Beaumont Park was completed last night (Tuesday). Leicester Lions were 38-28 ahead, when proceedings were halted after 11 races due to deteriorating conditions. The result will stand, and Lions won 92-64 on aggregate and will proceed to the semi-finals to face Poole.
The meeting seemed ill-fated, since successive Saturdays had seen a complete wash out and then a call off with everyone in the stadium, after the ambulance broke down en route.
It was third time lucky… but only just! A pre-meeting shower left conditions very heavy, but both teams agreed to race, to get the fixture completed.
Scorpions, who had no realistic chance of progressing on aggregate, kept right in there for eight races, and it was 25-23 to Lions after seven successive 3-3s.
Naturally, the heavy conditions meant passing was at a premium, while there were four fallers in the opening three races.
Jordan Palin (pictured) continued his impressive recent form by trapping to defeat both Kyle Howarth and Ryan Douglas in Heat 3, and the 17-year-old produced one of the night's few overtaking moves when he bustled under Dan Thompson on the third bend of Heat 6, with team-mate Josh MacDonald follwoing through the gap.
Scorpions' other heat winners were guest Connor Mountain in Heat 2 and Adam Ellis in Heat 5.
But Scorpions gradually ran out of functioning machinery in the challenging conditions, with the bikes clogging up with mud, while Palin was excluded after an alarming accident with Dan Thompson in Heat 10. Fortunately, both riders were soon back to their feet.
The good news for both Peterborough and Great Britain, who both have important fixtures coming up with Palin in their sides, was that the rider was unhurt, although one of his machines took a lot of damage.
Meanwhile, conditions were obviously getting worse and Mountain got into real trouble on the outside after a tight second bend in Heat 12, with the bike taking off after he went into the rough stuff on the outside half of the track.
Following that, both sides requested a track inspection and experienced referee Tony Steele halted the meeting after speaking to both captains. It was a sensible decision, with all 12 riders getting through a challenging night without major injury.
Nick Morris scored a maximum for Lions, while Mountain top-scored for Scorpions with 7+2.
CHAMPIONSHIP PLAY-OFF QUARTER-FINAL, 2nd leg
LEICESTER 38: Nick Morris 12, Kyle Howarth 9+1, Ryan Douglas 8+2, Zaine Kennedy 4+1, Dan Thompson 3+1, Joe Thompson 2, Hans Andersen r/r.
SCUNTHORPE 28: Connor Mountain 7+2, Jordan Palin 6+1, Adam Ellis 6, Simon Lambert 5+1, James Shanes 3, Josh MacDonald 1+1, Thomas Jorgensen r/r.
Abandoned after 11 heats due to weather/track conditions – result will stand.
Leicester win 92-64 on aggregate.
Related Posts By Category