Report: Scunthorpe 49 Eastbourne 41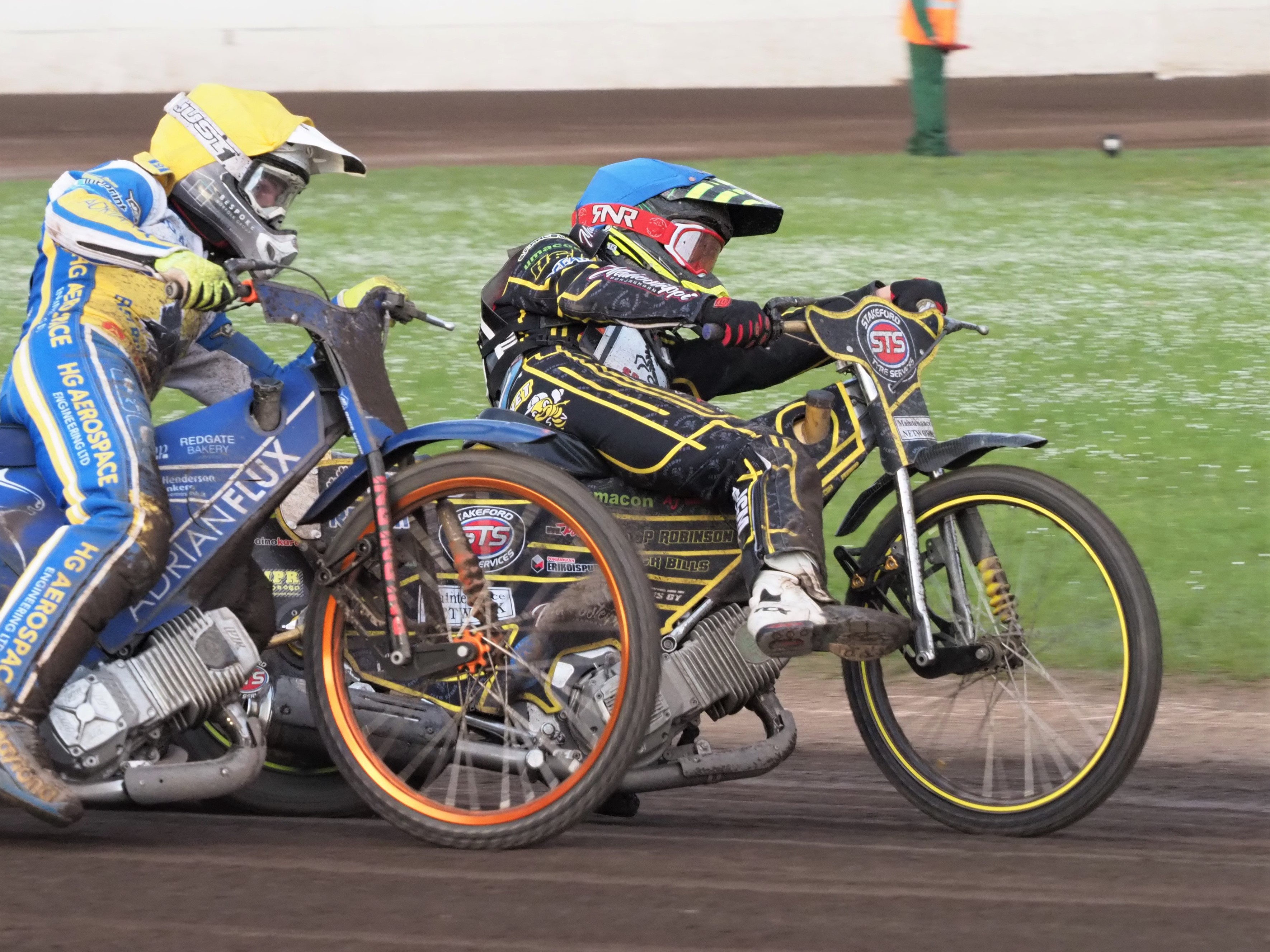 SUPER SCORPIONS MOVE UP TO SECOND
SCUNTHORPE SCORPIONS 49 EASTBOURNE EAGLES 41 (CHAMPIONSHIP)
A TOTALLY transformed Tero Aarnio, plus a superb performance from 17-year-old local sensation Jordan Palin, helped Attis Insurance Scunthorpe Scorpions to a 49-41 win over highly-fancied Eastbourne Eagles in a top-quality speedway meeting at the Eddie Wright Raceway last night (Friday).
The victory moves Scorpions up to second in the early-season Championship table, after their second win in three league matches.
Scorpions returned to full strength, despite Thomas Jorgensen being involved in a nasty spill at Ipswich on Thursday evening. The Dane was still feeling slightly second hand but was determined to ride last night.
Palin's fantastic 11+1 tally saw him top Scorpions' scorechart for the first but certainly not the last time. The youngster was in fabulous form, scoring several of his points from the back.
Arguably, the success of Finnish star Aarnio (10+1) was even more pleasing. The previous weekend had seen the usually cheerful Finn suffer a mechanical nightmare.
After a last place in Heat 3, Aarnio took a 5-1 with Theo Pijper in Heat 5. Eagles placed Lewis Kerr into Heat 9 as a tactical substitute, but a brilliant final lap from Aarnio saw him charge around Richard Lawson down the down straight, before roaring under Kerr on the line to snatch victory.
The Finn completed the evening, by just losing out by inches to Lawson in a thrilling Heat 15 duel, prompting both men to come around on a lap of honour.
The two previous clashes at the EWR in 2021 had both seen the track affected by pre-meeting rain showers. Last night, the rain stayed away, and fans were treated by some spectacular action, with over 30 overtakes after the first half-lap and at least three photo- finishes where it wasn't possible to write down the result until it was announced.
Skipper Simon Lambert was certainly using the outside line to great effect. He passed Lawson in superb style to win Heat 6, and moved from last to first in Heat 8, a race where he and Palin transformed the race from a 1-5 to a 4-2.
Palin and Pijper did even better in Heat 12, as a 1-5 changed to a 5-1, as both passed Kyle Newman and Jason Edwards. Newman was a little unlucky, as his tyre blew just as he was attempting to get back inside Pijper on the final bend.
A hugely relieved and happy Tero Aarnio said: "I did have pressure on me heading into this meeting. Last weekend was an absolute nightmare – I had seven rides and six stops in those. Of course, nobody was happy about that.
"It's a professional sport. If you don't perform, whether it's mechanical or down to yourself, you get pressure. It is what it is.
"In my first race, I was feeling that pressure. I tried to anticipate the start, but I penalised myself. But, fortunately, I pulled myself together after that.
"I know what I can do around Scunthorpe. In 2019, every time I came here, I scored double figures and didn't drop many points.
"In Heat 9 [passing both Richard Lawson and Lewis Kerr on the final lap], half the credit has to go to Theo (Pijper).
"He was pressing them on the inside and they were covering for him. But, as a result, they left the outside line open for me and I spent a couple of laps collecting speed. They were still busy blocking Theo, and it gave me almost the whole track to get past.
"This was my seventh meeting in all countries this season and it's the first meeting I've been happy with. I've had mechanical problems all over the place in them and that leads to a lack of confidence. It's been the toughest start to a season that I can remember.
"It's been also been a very expensive week. It's well into four figures, because I wasn't sure what was wrong with my bikes, so we've got so many new different parts.
"The main reason I race speedway is for enjoyment. It's not for the money or for anyone else – it's because I like doing it. When I was having the battle with Richard Lawson in Heat 15, I was grinning for all four laps. He's a very fair rider and I knew he wasn't going to be dirty, so I knew I could be racing close to him. In the end, he won by around 10 centimetres, but I enjoyed the race.
"It was a good night. We won the meeting and now I can approach my next meeting with confidence."
SCUNTHORPE 49: Jordan Palin 11+1, Tero Aarnio 10+1, Simon Lambert 8, Theo Pijper 7+2, Thomas Jorgensen 7+1, Josh Auty 5, Josh MacDonald 1.
EASTBOURNE 41: Richard Lawson 12+1, Lewis Kerr 9+1, Tom Brennan 7, Edward Kennett 6+1, Kyle Newman 5+1, Jason Edwards 2, Nathan Ablitt 0.
* ATTIS INSURANCE Scunthorpe Scorpions are next in action when they host Newcastle Diamonds at the Eddie Wright Raceway next Friday (June 11) at 7.30pm.
REPORT by Rob Peasley.
PHOTO: Tero Aarnio passing Lewis Kerr on the final bend of Heat 9, to win the race in brilliant style, having also overtaken Richard Lawson earlier on the final lap (pic: IAN RISPIN).
Related Posts By Category