Bank Holiday Monday preview: Stags v Leicester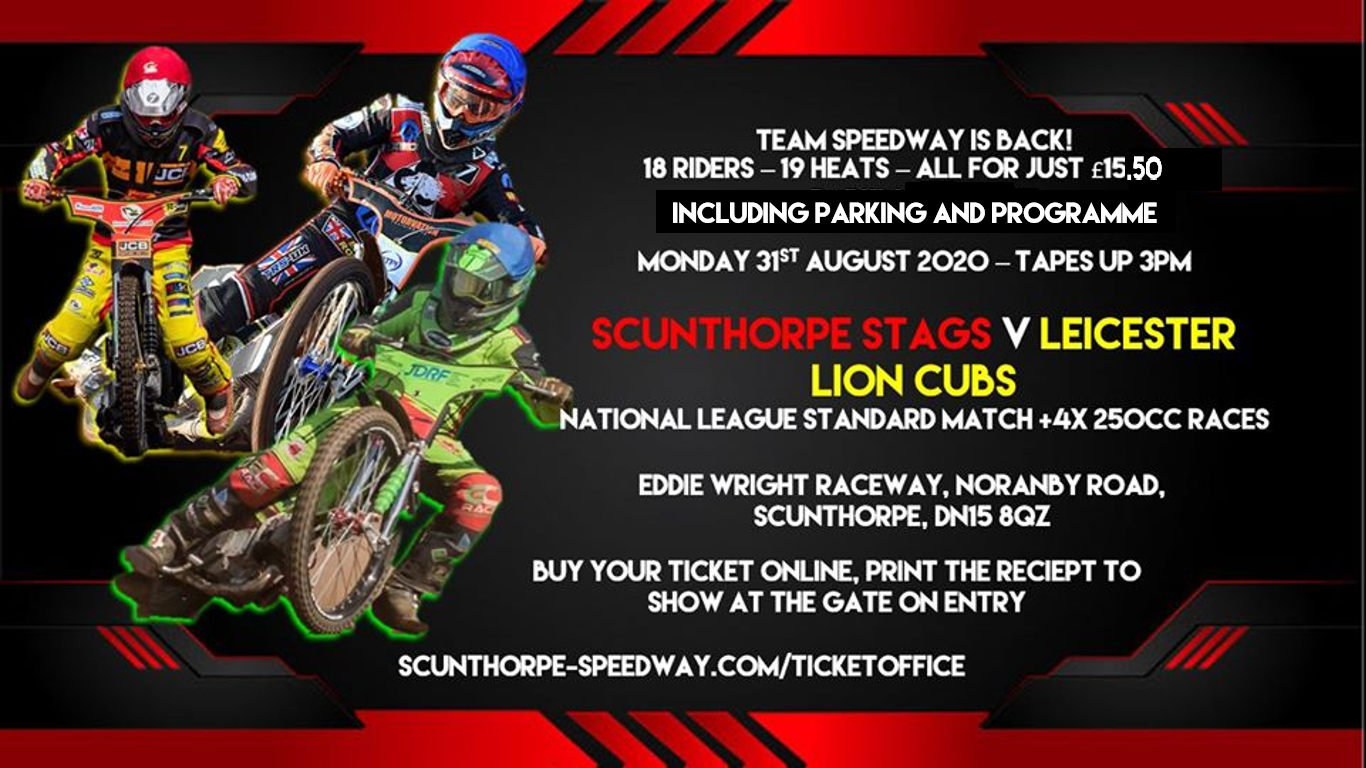 A MOUTH-WATERING array of talent will be on display when HEB Scunthorpe Stags take on Leicester in their National League challenge at the Eddie Wright Raceway on Bank Holiday Monday (August 31st, 3pm).
The grassroots event is the first team speedway meeting in the UK in 2020. There are a limited number of tickets remaining, which are being sold on a first-come first-served basis on the Scunthorpe Speedway website.
Leicester Lion Cubs have revealed the ten riders who will represent them, led by Connor Mountain, Danyon Hume and Joe Lawlor, while the highly rated Thompson twins, Dan and Joe, complete a powerful top five.
HEB Stags had already announced their completed team earlier in the week, with Wayne Carter, a legend at the club, announced as their skipper. The Scunthorpe side mixes the experience of Carter and Simon Lambert with some upcoming stars of the future.
16-year-old Jordan Palin, who forms the opening partnership with Lambert, received some fabulous news during the week. He had been selected to ride for Great Britain in the final of the FIM Team Speedway Under-21 World Championship in Denmark on September 5th. It comes hot on the heels of Palin finishing seventh in the European Under-19 championship earlier this month.
Scunthorpe promoter Rob Godfrey explains: "We've had to start from scratch in putting a Scunthorpe Stags team together, whereas it was easier for Leicester because they already have a National League team.
"We've tried to put a side together that's broadly representative of Scunthorpe and, apart from Archie Freeman, I think we've managed to do that – and even Archie has been riding in our Amateur Championship meetings.
"I think both teams are of a pretty similar standard, so we should have two good matches ahead because there will be a second leg at Leicester.
"We don't know when that will be yet, that's for Leicester to determine, but I do believe that with the positive news coming from Stewart Dickson, it will happen with spectators in attendance."
The innovative 19-heat heat format for Monday's meeting includes four 250cc races, with a total of 19 riders on display across the two sides.
Godfrey says: "It is an intriguing feature. The four 250cc races will be slotted in after Heats 3, 6, 9 and 12.
"They're counting towards the overall score, so in effect we have a 19-heat match. Perhaps this might be something we want to look at in the future because it's another way of doing things that involves youth riders.
"We had Luke Harrison and Max James going wheel to wheel here for four laps in an Amateur meeting last Sunday, which was breathtaking to watch, and those two are up against each other again with Ashton Vale and William Hocaniuk thrown in for good measure."
Tickets are only available online via this club website – entry is by pre-purchased ticket only.
The price for all adults aged 16 and above is £15.50 (£15 plus a 50p handling fee – the handling fee goes to PayPal, not the club). This all-inclusive price includes the programme and parking. Under 16s admitted free with a contact tracing responsible adult.
Members of the public are expected to respect the safe distancing advice given. If they do not, or show signs of Covid-19, they may be asked to leave. Any individual already showing signs of Covid-19 must not visit the venue.
Tickets are available under the Ticket Office menu on the club website at:
http://scunthorpe-speedway.com/ticketoffice
Expected teams for Bank Holiday Monday:
HEB Scunthorpe Stags: 1. Simon Lambert, 2. Jordan Palin, 3. Jamie Halder, 4. Wayne Carter (captain), 5. Ryan Kinsley, 6. Harry McGurk, 7. Archie Freeman, 8. Luke Harrison (250cc), 9. William Hocaniuk (250cc).
Leicester Lion Cubs: 1. Connor Mountain, 2. Joe Thompson, 3. Joe Lawlor, 4. Dan Thompson, 5. Danyon Hume (captain), 6. Kean Dicken/James Chattin (shared position), 7. Tom Spencer, 8. Max James (250cc), 9. Ashton Vale (250cc).
NOTE REGARDING TICKETS: Please note that your PayPal confirmation email is your ticket. We DO NOT send out tickets in the post. Please print out your PayPal confirmation email and bring it on the day. You should take this document to the staff at the entry point at the Eddie Wright Raceway. NO CASH ADMISSION ON THE DAY. Please note there is a 50p handling fee for each ticket ordered – this goes to PayPal, not the club. This will show on your PayPal invoice as postage and packing. If you have any problems when ordering your tickets, please contact the club and we will assist you.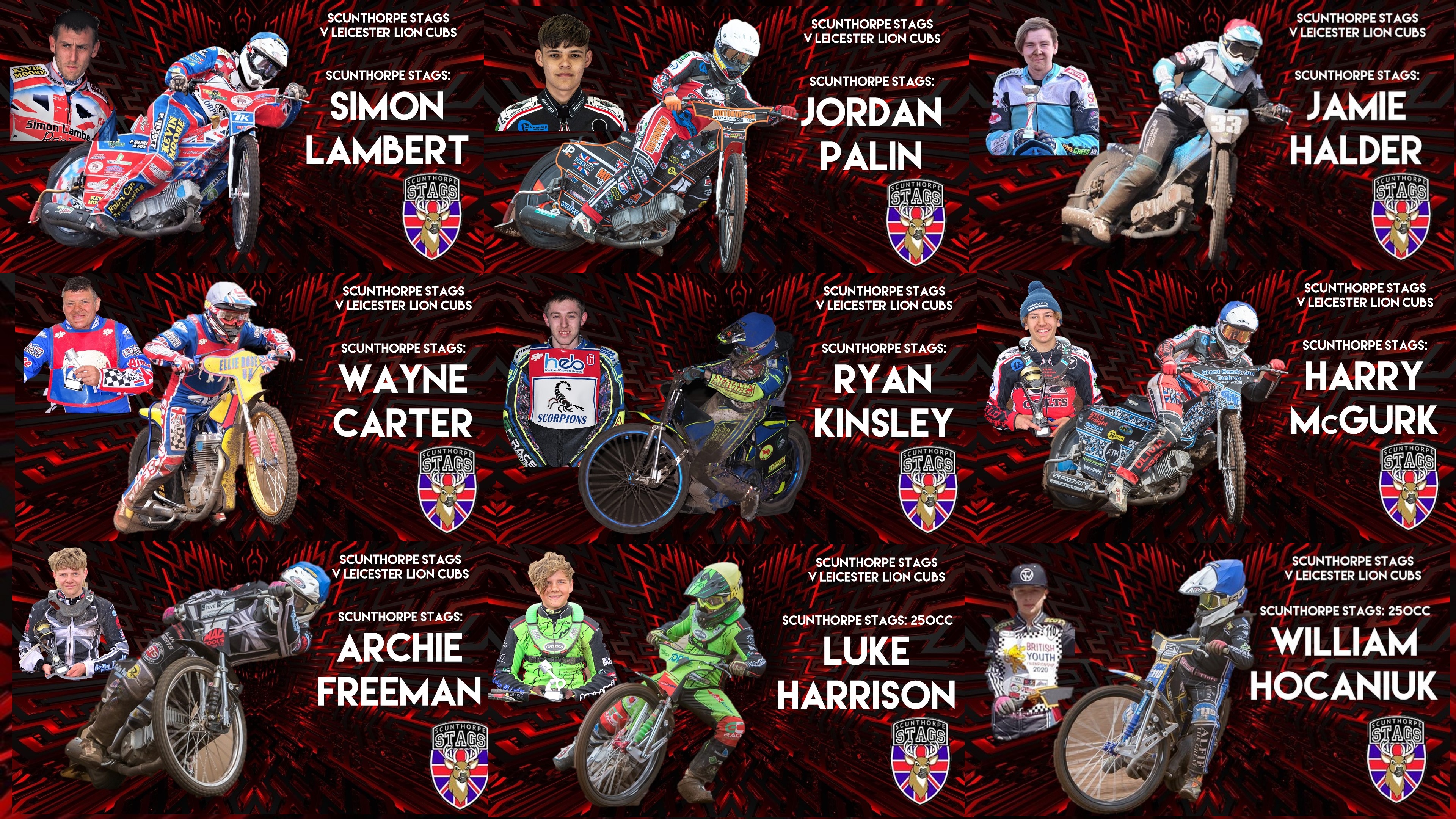 Related Posts By Category