Scorpions' boss takes over top role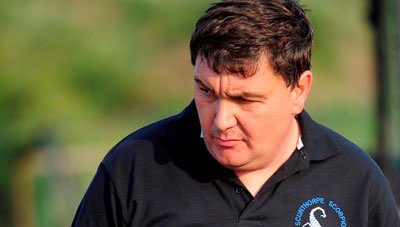 SCUNTHORPE SCORPIONS' promoter Rob Godfrey is the new Chairman of the British Speedway Promoters' Association (BSPA).
Godfrey has been Vice-Chairman for the last four years, and has taken over from Keith Chapman, who has stood down due to personal and work circumstances.
Sheffield's Damien Bates is now the Vice-Chairman. The other Directors of the BSPA are Debbie Hancock (Somerset), Chris Louis (Ipswich) and Stewart Dickson (Leicester).
Godfrey says: "I would like to pay tribute to what Keith has done during his time as Chairman. I started the journey with him four years ago, and a lot of people don't realise just how hard he has worked over that time.
"Keith battled in meetings with high-profile people to ensure the survival of Belle Vue, and he put his own money into Leicester to stop it shutting – and then to move Peterborough into the Premiership last winter.
"The day-to-day running of the BSPA is so different now to what it was four years ago, he's been the leader of that, and it's sad that his personal and work circumstances have seen him stand down – and my thanks also to Neil (Machin) and Colin (Pratt) for their work over that time.
"But I'm very proud and pleased to have the new team around me. We want to take the next step with some fresh ideas, and also it's great to welcome Debbie as the first female Director since Pat Bliss over twenty years ago."
Scunthorpe Scorpions will be one of the teams in the second-tier (Championship) for a thirteenth successive season, and have already announced Jake Allen, Thomas Jorgensen and Jordan Palin as part of their 2020 team.
Other news from the BSPA conference is as follows:
* Sheffield's elevation to the Premiership has been confirmed. The Tigers will take their place in a seven-team top flight in 2020, with Poole moving into the Championship.
* The second-tier features Kent for the first time after members accepted an application from the Central Park club to move into the professional levels of the sport.
* It is hoped that the Championship will feature 12 teams next season, although at this stage Newcastle are unable to confirm their participation. The Diamonds have been handed a period of grace to allow them time to resolve their current issues.
* An application from Plymouth to join the Championship was also considered; however, this has unfortunately proved unsuccessful at this time.
* The Championship will operate a new-style league format in 2020 aimed at giving clubs more meaningful and more local fixtures. Clubs will be split into North and South sections, and will race the other clubs from their section twice and home and twice away, whilst facing those from the opposite section once at home and once away.
* In addition, the play-offs for the second tier have been extended and will feature the top six clubs.
Godfrey said: "One message which has come out very strongly from supporters is that they don't want things tinkered with, and we've taken that on board.
"These are challenging times to get everyone back to the table for next year, but this has largely been achieved and we hope Newcastle are able to confirm their position in the near future.
"We do have plenty to look forward to, we have a fantastic new TV deal with Eurosport on a massive platform, and it's great to have brought in real commercial expertise via outside agencies to work on this and other issues.
"Naturally, league sponsorship is another step we would like to take, and another key feature of the AGM was that many clubs are working hard on promotional initiatives, which they will make public in the build-up to the new season.
"We also have a thriving Youth scene, which is now paying dividends with 26 riders who have graduated from that scene racing in the Championship last season, and there's more to come in 2020, so there are plenty of good things happening."
LEAGUE MEMBERS & FORMATS
PREMIERSHIP:
Clubs: Belle Vue, Ipswich, King's Lynn, Peterborough, Sheffield, Swindon and Wolverhampton.
Race-nights: Monday and Thursday as before.
Points limit: 42.50
League format: Teams will meet twice at home, twice away.
Play-offs: Top four clubs as before.
Premiership Supporters' Cup: North – Belle Vue, Sheffield, Wolverhampton; South – Ipswich, King's Lynn, Peterborough, Swindon. Top club from each section to the Final.
This is an early-season competition with the Final scheduled to take place in week commencing June 1. The clubs wish to further examine and grow the social media interaction of this competition.
A proposal will also be considered at the 2020 AGM for clubs to retain their existing one-to-seven for the following campaign, with any changes to that team seeing them return to the points limit.
CHAMPIONSHIP:
Clubs: Berwick, Birmingham, Eastbourne, Edinburgh, Glasgow, Kent, Leicester, Newcastle*, Poole, Redcar, Scunthorpe and Somerset.
*Subject to confirmation (see above).
Race-nights: Tuesday, Wednesday, Friday, Saturday and Sunday as before.
Points limit: 41.00
League Northern section: Berwick, Edinburgh, Glasgow, Newcastle*, Redcar, Scunthorpe.
League Southern section: Birmingham, Leicester, Eastbourne, Kent, Poole, Somerset.
Clubs race opponents from their own section twice at home and twice away, and opponents from the other section once at home and once away.
Play-offs: Top six clubs.
KO Cup and Championship Shield: Details for these competitions will be confirmed when the future of Newcastle is resolved.
In both leagues, the regulations for 'no facility' will be amended. A rider absent for an unauthorised reason can now be replaced by a rider with an average of 2.50 lower than the missing rider.
NATIONAL LEAGUE AGM (third-tier)
This will take place on November 26.
Godfrey confirmed: "The new Board of Directors have a commitment to retain the success of the National League.
"We will be working hard with the clubs to make sure it continues to thrive – it certainly wouldn't be in the interests of British Speedway for it to end, and there are also senior clubs who have expressed an interest in being involved in the future."
Related Posts By Category