Line-up for Sunday's big meeting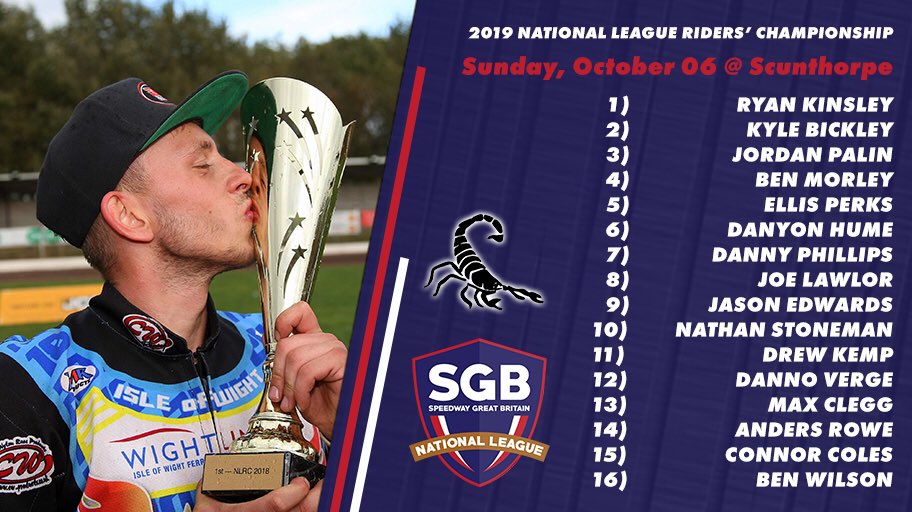 THE line-up has been confirmed for the re-arranged National League Riders' Championship at Scunthorpe's Eddie Wright Raceway on Sunday.

There are two changes to the original field after the meeting was postponed due to the weather at Leicester last month.
Belle Vue star Danny Phillips replaces Stoke's Tom Perry, whilst Danno Verge of the Isle of Wight is in for Phillips's Colts team-mate Leon Flint.
Admission prices are £15 adults, £10 concessions with under-16s free. Programmes £2.50. Gates open at 4.30pm with start-time at 6pm.
LINE-UP: Ryan Kinsley (Mildenhall), Kyle Bickley (Belle Vue), Jordan Palin (Belle Vue), Ben Morley (Isle of Wight), Ellis Perks (Leicester), Danyon Hume (Leicester), Danny Phillips (Belle Vue), Joe Lawlor (Stoke), Jason Edwards (Mildenhall), Nathan Stoneman (Plymouth), Drew Kemp (Kent), Danno Verge (Isle of Wight), Max Clegg (Cradley), Anders Rowe (Kent), Connor Coles (Stoke), Ben Wilson (Plymouth). Reserves: Dan Thompson (Leicester), Joe Thompson (Leicester).
Please note the presence of both current Scorpion RYAN KINSLEY and 2020 Scunthorpe Scorpion JORDAN PALIN in the line-up.

Related Posts By Category