Scorpions finish on a winning note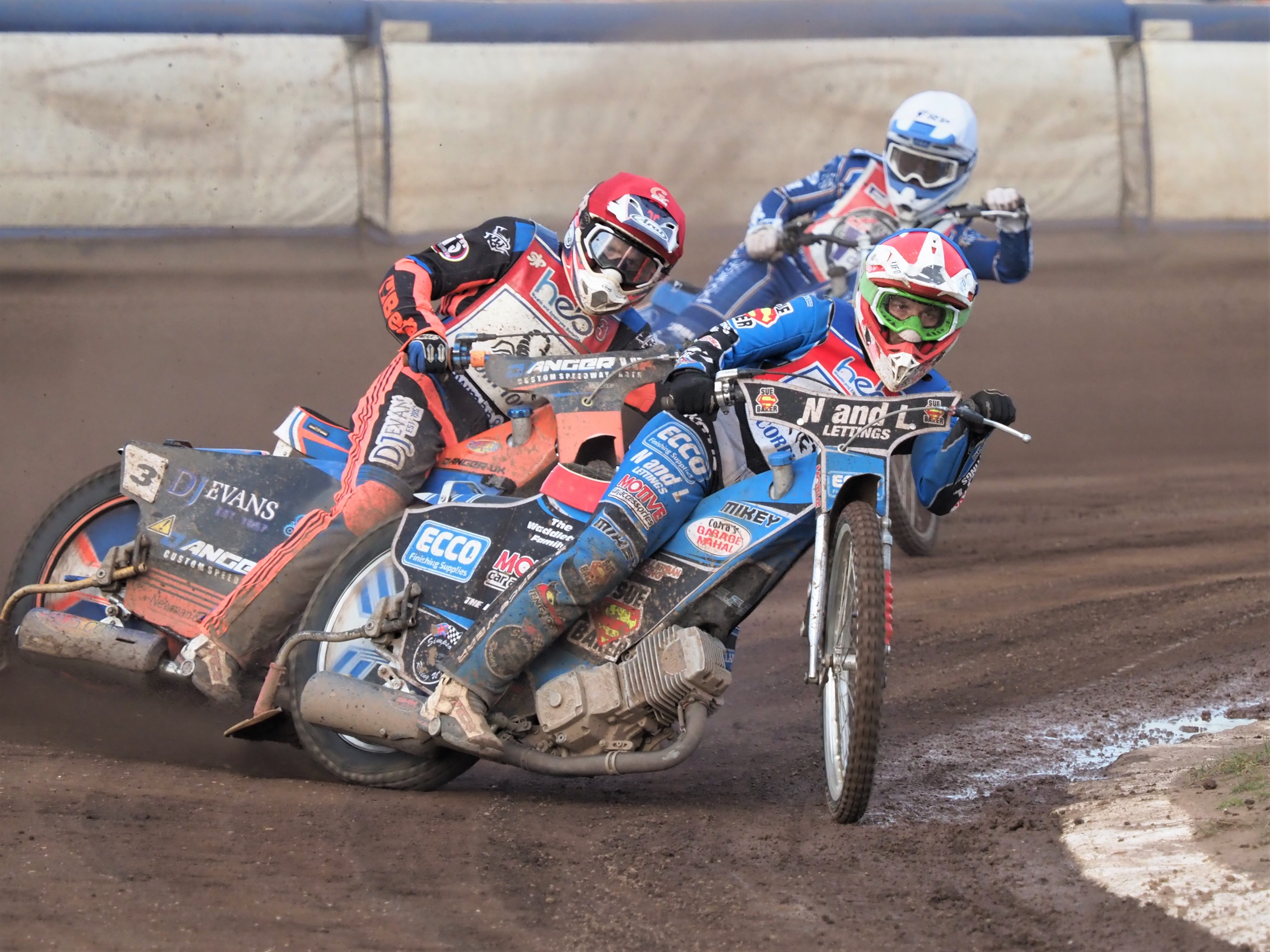 SCUNTHORPE SCORPIONS 47 REDCAR BEARS 43 (CHAMPIONSHIP)
HEB Scunthorpe Scorpions completed their 2019 season with a fine 47-43 victory over a strong Redcar Bears outfit at the Eddie Wright Raceway yesterday (Sunday).
The final scoreline suggests a close contest, but the Scorpions had the three league points in the bag with four heats remaining, with a 42-24 lead after 11 races.
Bears then closed right up with a trio of 5-1s and a 4-2, as the track slickened off – a problem with afternoon meetings. The visitors snatched a bonus point with their late haul which moves them up to second place in the Championship league table and clinches their place in the play-offs.
Meanwhile, the victory moves Scorpions up to sixth in the table. Looking at remaining fixtures, Scorpions are guaranteed at least seventh place, which represents their best league position since 2014.
It was a pleasing all-around team performance from Scorpions, who won despite supplying the minority of heat winners.
Scunthorpe conceded a 5-1 in the opening race, after a debatable exclusion for Josh Auty after a fall for Ryan Douglas – the second week in succession that there had been an incident between these two riders.
But Scorpions then took control with four successive heat advantages and never looked back.
After a torrid few weeks, Stefan Nielsen came good to top score for Scorpions with 11+2.
Nielsen started his afternoon with a fine fourth to second in Heat 3, passing both Jordan Stewart and Kasper Andersen to join Ben Barker for a 5-1, and he seemed to grow in confidence with each ride.
Barker and Jake Allen got into double figures, with 10 points apiece, while Ryan Kinsley finished his first season at this level with a fighting 7+2 return. It was Kinsley's last gasp third place in Heat 11 against Andersen after a race-long battle that wrapped up the meeting for the home side.
That had followed an exciting Heat 10 that had seen Auty pip Nathan Greaves on the line to join Allen for a 5-1, with tempers momentarily boiling over between Auty and Greaves after the race.
Auty, celebrating his 29th birthday, looked out of sorts and was struggling with his machinery, but he's produced the goods enough times for Scorpions at the EWR this season to be entitled to one off-night.
Bears largely relied on Erik Riss (17+1 from 7 riders) and Douglas (11+1), although some of their other riders came to the party late in the meeting.
Scorpions' top scorer Stefan Nielsen said: "It's ironic that my last meeting of the season for Scunthorpe is my best one.
"The last few weeks have been tough for me. I was going alright until I picked up the injury (torn knee ligaments while riding for Swindon at King's Lynn), but it was difficult coming back from that. That was annoying, because it wasn't even my fault.
"I think I've just been a bit low on confidence, and you can't afford that in this league, because it's so competitive – there's such a small margin between winning a race and finishing last.
"It was nice to have this meeting before we head into the winter to prove to myself that I can score good points in this league.
"I can use this to motivate myself to get training during the winter and come back fighting again next season.
"It seems crazy that we only won the meeting by four points, after being 18 points ahead at one stage. But, fortunately, we'd already done the hard work.
"The track did become slick on the outside and they adapted better than we did, but we won the meeting and that's the main thing."
SCUNTHORPE 47: Stefan Nielsen 11+2, Ben Barker 10, Jake Allen 10, Ryan Kinsley 7+2, Simon Lambert 5+1, Josh Auty 4+2, Danny Ayres r/r.
REDCAR 43: Erik Riss 17+1, Ryan Douglas 11+1, Jordan Stewart 6+1, Kasper Andersen 5, Nathan Greaves 3+1, Tom Woolley 1, Michael Palm Toft r/r.
PHOTO: Ben Barker and Stefan Nielsen take a 5-1 over Erik Riss in Heat 9 (pic: Ian Rispin).
Related Posts By Category