Scunthorpe v Redcar: Big match preview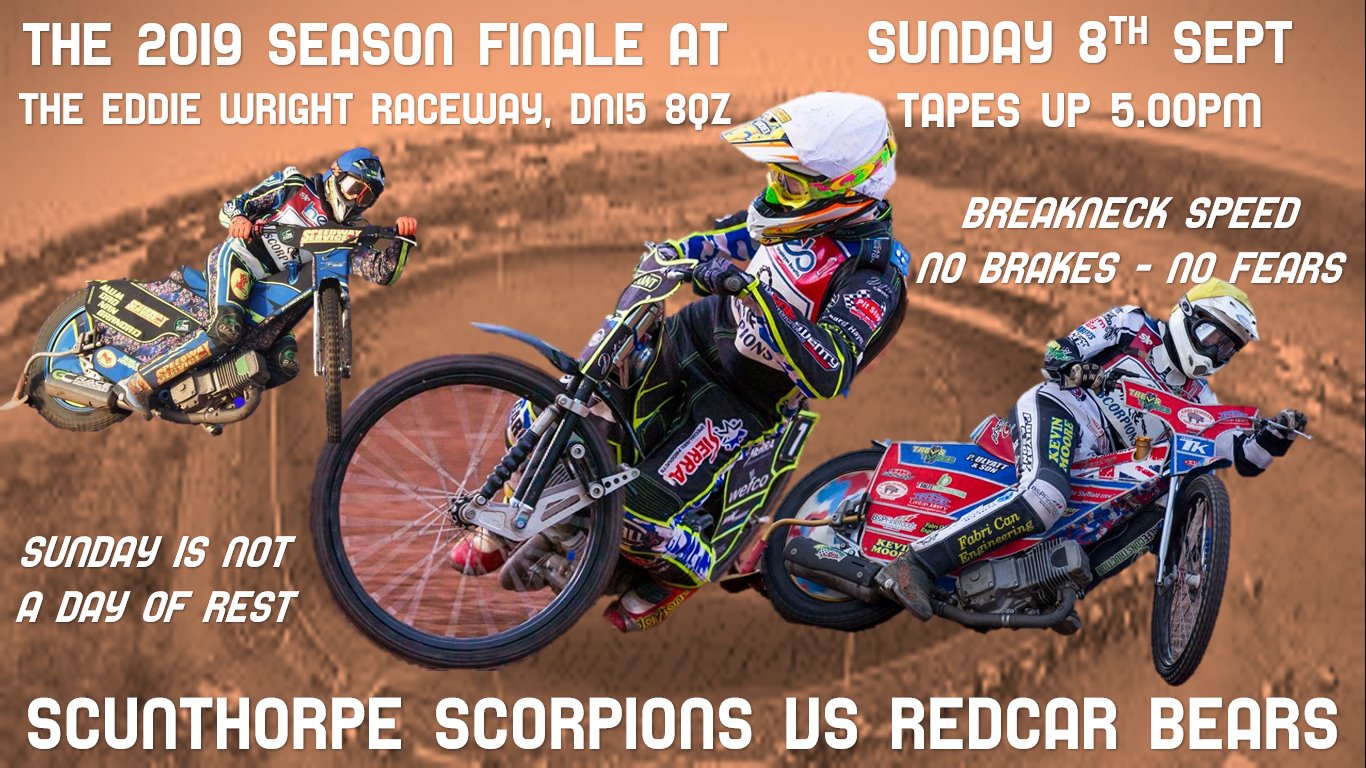 SCORPIONS AIM TO BOW OUT IN STYLE
HEB Scunthorpe Scorpions are determined to finish their 2019 season on a high note when they entertain the Redcar Bears in what looks a humdinger of a meeting at the Eddie Wright Raceway on Sunday (5pm).
Since losing at home to Leicester last Friday, Scorpions have battled back with an astonishing 53-37 victory at Glasgow, which equalled the largest-ever away league win for Scunthorpe at second-tier level, plus a 45-45 draw at Birmingham.
Those six away points have left Scorpions in sixth position, and a home victory against Bears would guarantee Scunthorpe's most successful season since 2014 – although their exact final league position will depend on results involving other teams.
Scorpions will use rider replacement for the injured Danny Ayres, while Redcar No 1 Charles Wright is ruled out through concussion and his guest replacement is former Scorpion Ryan Douglas, who performed so well with Leicester last week.
Scorpions' promoter Rob Godfrey says: "The year hasn't exactly panned out how as we'd hoped, as every year we aim for the play-offs and those are out of reach.
"Having said that, there's a few teams who would willingly swap our position in the league table with theirs.
"The away performances at Glasgow and Birmingham have demonstrated that the lads want to bow out in style this season."
Godfrey reckons the match against Bears could be a tremendous final speedway meeting of the season at the Eddie Wright Raceway.
He enthuses: "It's going to be an absolute corker on Sunday – it promises to one of the matches of the season at the Eddie Wright Raceway.
"Redcar still need the odd point or two to make sure they are in the play-offs, while we'd like to win to finish as high as we've finished in the league for a long while.
"We know how well that Ryan Douglas rode for Leicester last week. He'll want to emulate that, while Josh Auty and Jake Allen and the rest of the lads will be keen to get one over Ryan this time around.
"Add in the likes of Erik Riss and Michael Palm Toft, battling against our boys, and you can see what a thrilling meeting it could be.
"It's a long winter and this is the final chance to see the Scorpions in thrilling action around the EWR in 2019, so I hope the fans will turn out in force to get behind the lads."
Admission prices for Sunday:
Adult: £16.00
Student/OAP: £14.00
Child (10 – 17): £5.00
Child (0 – 9) Free (accompanied by paying adult)
Family Ticket £37 (2 adults, 2 Children 10-17)
Match Programme: £1.00
Expected teams for Sunday:
HEB Scunthorpe Scorpions: 1. Josh Auty, 2. Rider replacement for Danny Ayres, 3. Stefan Nielsen, 4. Ben Barker, 5. Jake Allen (captain), 6. Ryan Kinsley, 7. Simon Lambert.
Redcar Bears: 1. Ryan Douglas (guest), 2. Kasper Andersen, 3. Michael Palm Toft, 4. Jordan Stewart, 5. Erik Riss, 6. Tom Woolley, 7. Nathan Greaves.
Related Posts By Category