"They stuck by me: this one is for Scunthorpe"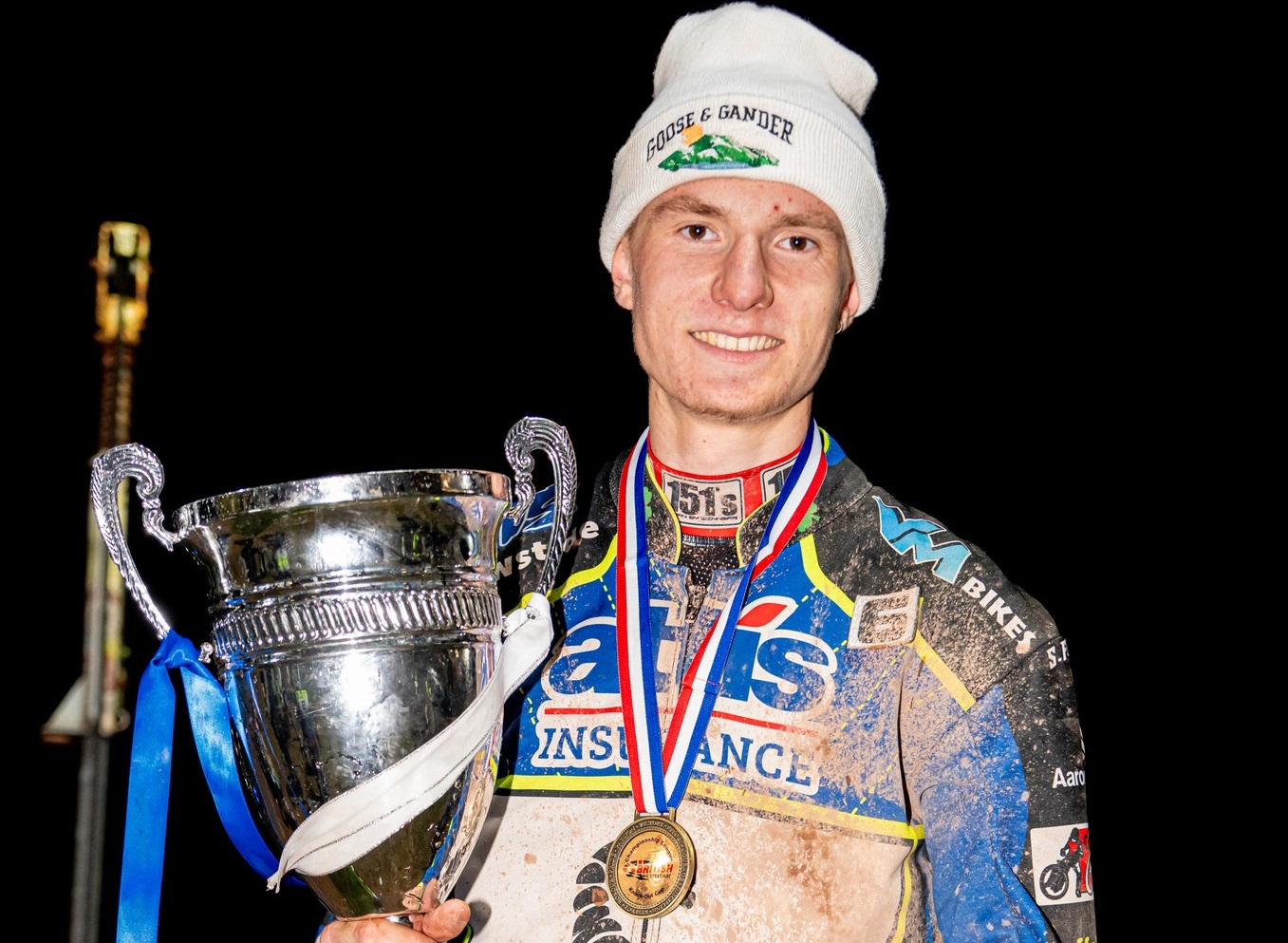 YOUNG Englishman Drew Kemp was initially unaware that he had produced the Cup-winning ride for the Attis Insurance Scunthorpe Scorpions at Poole on Saturday evening.
Scorpions beat cup holders Poole Pirates by 92-88 on aggregate, despite only holding a four-point lead going into the night. The team rode out of their skins in the second leg at Wimborne Road, and clinched victory with a 4-2 from Kemp and Jake Allen in a tense Heat 14 that left Scorpions 43-41 ahead on the night and six points ahead on aggregate with just one race remaining.
The race had had to be halted after Poole's Kyle Newman fell, with Scorpions on a 5-1 at the time of stoppage. It left one of Kemp or Allen needing to beat remaining Pirate Zach Cook in the re-run to clinch the Knockout Cup at Championship level for the first time in the club's history.
Kemp and Allen again led, but Cook flew around Allen with a lap to go and then closed right in on Kemp. But the 21-year-old Englishman held onto victory in a tight finish. When Kemp saw his Scunthorpe team-mates converging at the pit gate, he realised Scorpions were triumphant and then both he and Allen celebrated on one wheel on a lap of honour.
Kemp did the double with Poole Pirates last season but found himself without a team place in British Speedway at the start of 2023 and concentrated on his Polish commitments. He joined Scunthorpe in late May – as a replacement for the off-form Max Clegg – and later also joined top-flight Leicester as their Rising Star rider.
Across the two legs of the Cup Final, Kemp's contributions from the No 7 spot were vital. He scored 10+1 at the Eddie Wright Raceway and 10+2 at Wimborne Road.
He said: "I didn't know exactly what we needed in Heat 14. I'm not one of those riders who wants to know – I'd rather just go out and race like it's just a normal heat. I thought we needed a 5-1, when obviously we just needed a 4-2.
"It's never nice having to do the race twice, especially when you're out in front the first time when it's stopped. It paid off in the end and we came out on top – it's a good feeling.
"I think we were surprised a few people. I don't think Poole really expected us to come here and take the Cup off them. I think a few of the Scunthorpe fans also doubted that we could do it, but we knew we were capable of winning and we proved that.
"Revenge is sweet, since Poole knocked us out of the play-offs, so it showed character for us to bounce back in the Cup.
"I've enjoyed riding for Scunthorpe this year. There was a time when I thought I was letting them down – I went through a rough patch when I was crashing a lot. I thought I was letting down the club and the fans and, because of that, I lost my temper with myself.
"But I knuckled down at the end of the year, and got my equipment and my head sorted, and it was very nice to finish my year off on a high.
"I'm more pleased for the Scunthorpe management and the supporters than myself. It was nice that I had two good meetings in both legs of the final so that Scunthorpe won a trophy, because I know the effort that Rob (Godfrey, Scunthorpe promoter) puts into the club. They stuck by me when I was having a rough patch, so this one is for Scunthorpe."
Meanwhile, Scunthorpe No 1 Ryan Douglas scored 9+2 in his final meeting in his second stint with Scorpions.
The 30-year-old Australian was determined to put right a lack of team silverware since he joined the club as a raw teenager in 2013.
In two previous visits to Wimborne Road this season, Douglas won 11 outings after posting scores of 18 (full maximum) and 17. He didn't take the chequered flag in front once on Saturday, although he was very much playing the team game and took two paid wins behind Scunthorpe skipper Simon Lambert.
The Poole track staff did a sterling job after heavy rain in preceding days, but conditions were very heavy early on. When Douglas and Poole's Anders Rowe both came crashing down on the first bend of Heat 1, Douglas disappeared under the safety fence and re-emerged covered in mud, but still took a 5-1 with Lambert when the race was completed at the third time of asking.
Douglas said: "It's unreal to win the Cup with Scunthorpe. It was a tense meeting – it was close all the way through.
"It's pleasing that we came to Poole and rode so well as a team, because that's not easy to do at this track, because Poole always have plenty of good riders in their line-up. Simon, in particular, was riding really well while all the boys were chipping in.
"I've won a lot of races around here this year, but if my partner is last, the team isn't gaining anything. I was quite happy taking second places behind Simon, knowing it would mean a 5-1 and how important those could be to the final scoreline.
"I'm stoked for Rob (Godfrey) and all the fans. Rob puts his heart and soul into this club and he said at the start of this year: 'I think we've got something'. Thanks to Rob and Dave (Peet, team manager) for believing in us all year.
"I've been at this club for a long time, and we've not won anything as a team. I'm over the moon to help the club win the Cup before I leave. The fans at Scunthorpe are so passionate and I'm glad they have something to celebrate. It's unreal and it hasn't quite sunk in yet, but it will on the drive home.
"Thanks to the club for supporting me all these years and helping me to develop into the rider I am. You never know what's going to happen in the future, but it's a great way to finish off for Scunthorpe for now."
Story by Rob Peasley
PIC: STEVE HONE
Related Posts By Category