No nonsense from super Scorpions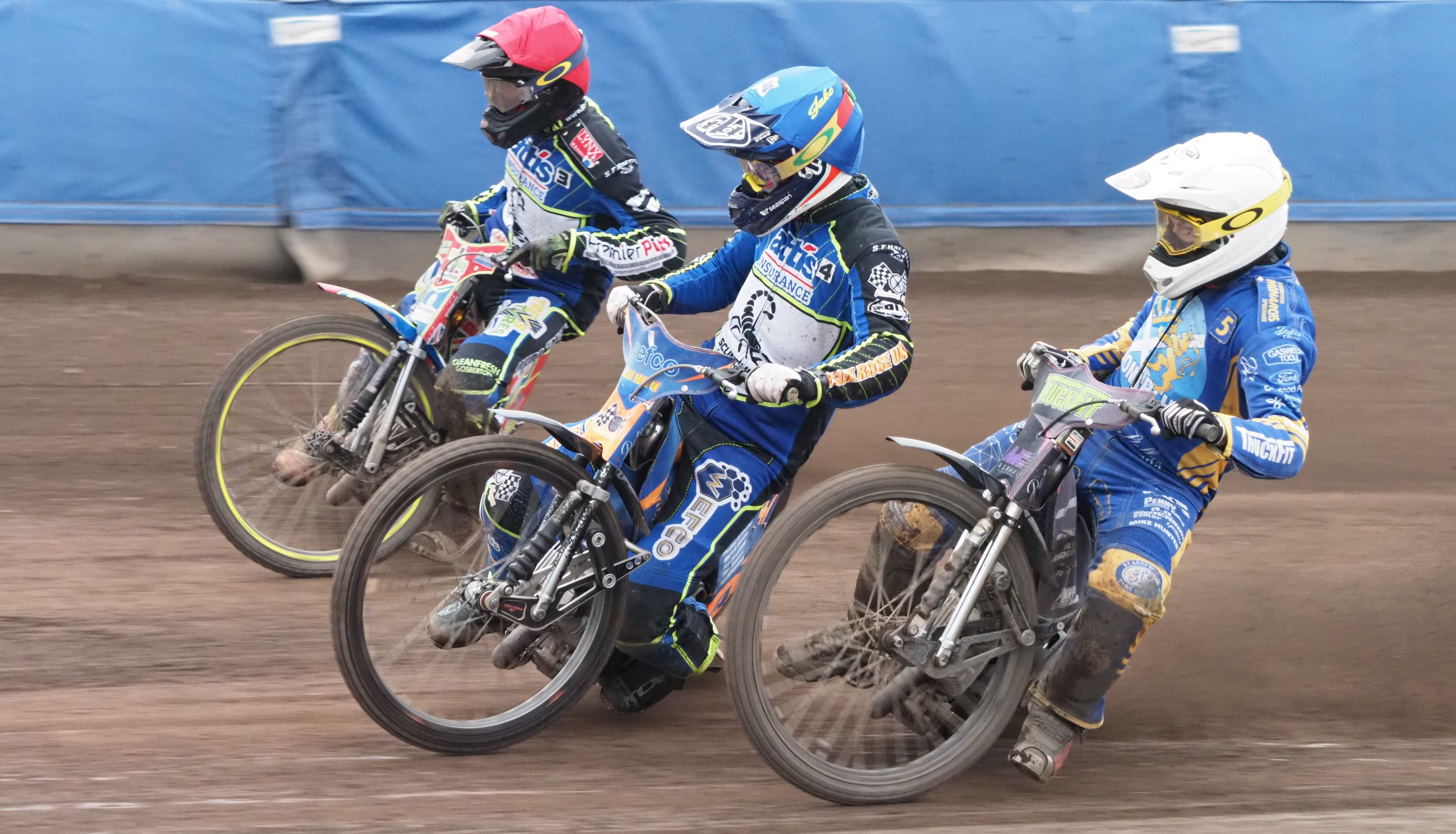 SCUNTHORPE SCORPIONS 59 EDINBURGH MONARCHS 31 (Cab Direct Championship Play-Off)
ATTIS INSURANCE Scunthorpe Scorpions swept to the top of their Cab Direct Championship play-off group with an emphatic 59-31 victory over the Edinburgh Monarchs at the Eddie Wright Raceway yesterday (Sunday).
Buoyed by a positive performance at Poole last Wednesday – when Scorpions took the table-topping Pirates all the way to a Superheat and gained a priceless away point – Scorpions were in fabulous form, as they dismantled Monarchs.
They swept into a 27-9 lead after taking heat advantages in all six of the opening half dozen races and the meeting was won after 11 races, at which the scoreline stood at 47-19. Edinburgh did not even provide a race winner until Heat 12, although Monarchs' skipper Josh Pickering then won three out of the four remaining races.
Despite the lopsided scoreline, there was some memorable racing on display, most of it involving Pickering against the Scorpions. In Heat 9, Pickering eventually saw off Scunthorpe skipper Simon Lambert on the final lap, as the two riders had passed and re-passed.
Pickering swept around both Michael Palm Toft and Ryan Douglas to win Heat 13 in exciting style. The meeting concluded with a duel between Douglas and Pickering in Heat 15. Every move that Douglas made was countered by Pickering, as again the race involved several overtakes.
Jake Allen won all his four races to collect a full 12-point maximum, while both Douglas and Palm Toft both scored 12+1, after only dropping points to Pickering in Heats 13 and 15.
Lambert (7+2), Connor Mountain (7+1) and Drew Kemp (6+1) piled up the points in a solid Scunthorpe display, while Nathan Ablitt battle all the way to a three-point tally.
With the rain threatening, all 15 races were held within 70 minutes yesterday, with the meeting commencing at 5pm and concluding at 6.10pm.
Maximum man Jake Allen said: "We all rode really well today. In the play-offs, you've got to win as many points as you can at home and then also try to win on the road. We go into every meeting home and away trying to win it.
"We've had two really good performances in our opening meetings in the play-offs. We held Poole at their place and now we've got a good home win over Edinburgh. Hopefully we can capitalise on that in the second legs on Friday and Saturday.
"I was happy with my night. I took four wins in a row, and you can't do much better than that, so I was happy for the other boys to go out in Heat 15.
"Our spirits are high heading into next weekend. Arguably we've done the harder work against Poole by going to their place and coming out of it at 45-45. On Friday, we'll just focus again on scoring as many points as we can and that would be enough to not only win the meeting but take the aggregate bonus point and take three points off Poole.
"We are taking positive thoughts onto Friday. We do seem to be hitting our best form now. Tofty (Michael Palm Toft) had a spell out injured, while Drew only came into the team halfway through the season, so it's only recently there's been all seven of us.
"We're now getting regular meetings and we're in the swing of things. We have some momentum going and hopefully we can take it into the two meetings next weekend and reach the final."
Scunthorpe's concluding two fixtures in the Group A of the play-offs are next weekend – they host Poole at the Eddie Wright Raceway on Friday (September 22) in a huge clash, while they must also perform at Edinburgh on Saturday (September 23). Victory in both meetings would take Scorpions into the play-off final, no matter what happens in the two meetings involving Poole and Edinburgh.
CAB DIRECT CHAMPIONSHIP PLAY-OFF GROUP A
SCUNTHORPE 59: Ryan Douglas 12+1, Michael Palm Toft 12+1, Jake Allen 12, Simon Lambert 7+2, Connor Mountain 7+1, Drew Kemp 6+1, Nathan Ablitt 3.
EDINBURGH 31: Josh Pickering 15, Paco Castagna 5, Justin Sedgmen 4, Bastian Borke 4, Kye Thomson 2+1, Lasse Fredriksen 1, Dayle Wood 0.
* ATTIS INSURANCE Scunthorpe Scorpions host Poole Pirates at the Eddie Wright Raceway on Friday (September 22, 7.30pm) and then travel to Edinburgh on Saturday (September 23) in a re-arranged clash. A date has also been agreed for the first leg of the Knockout Cup semi-final clash with Redcar – it will take place at the EWR on Friday, September 29.
Report by Rob Pealsey
Photo by IAN RISPIN
Related Posts By Category