Scorpions take point but deserved more
Aug 28th, 2021
1303 Views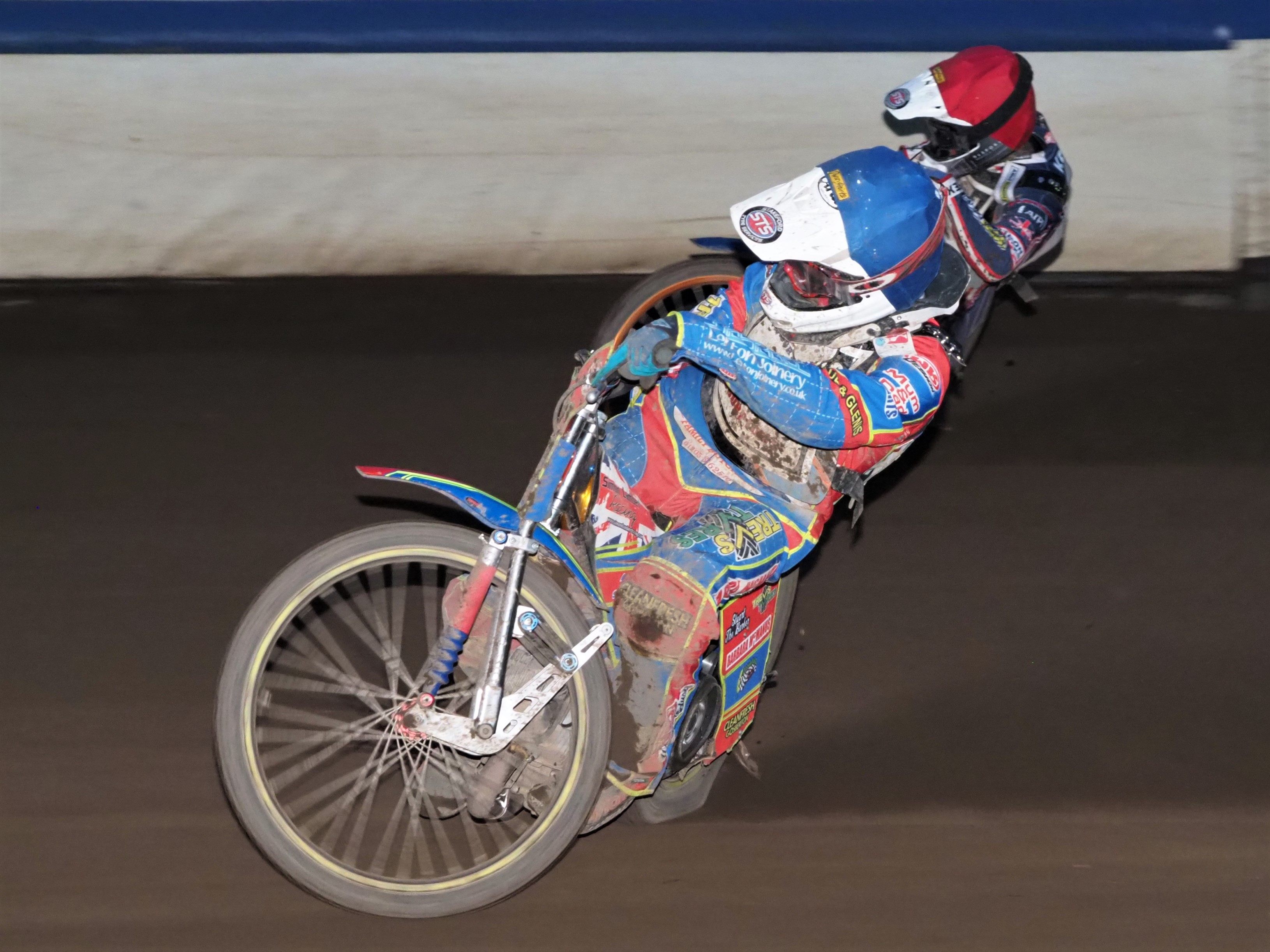 SCORPIONS TAKE POINT BUT DESERVED MORE
REDCAR BEARS 47 SCUNTHORPE SCORPIONS 42 (CHAMPIONSHIP)
ATTIS INSURANCE Scunthorpe Scorpions took a further step towards the Championship play-offs at Redcar last night (Friday) by picking up the point awarded for a narrow away loss, but they were denied the chance of victory when up-and-coming star Jordan Palin crashed out of the meeting with a collarbone injury. Second-placed Redcar Bears capitalised on Scorpions' misfortune to take a 47-42 victory in a humdinger of a match.
Scorpions were clearly on a mission, and British Champion Adam Ellis burst from last to first to join skipper Simon Lambert for an opening 5-1 in Heat 1.
Lambert was unbeaten in his opening four outings, while Scorpions were 19-11 and then 27-21 ahead, while Bears had already exhausted their tactical substitute option.
Palin and Thomas Jorgensen were on a 5-1 in Heat 9, that would have moved Scorpions ten points clear at 32-22.
But the 17-year-old picked up drive and spun around on the fourth bend and both Scorpions hit the deck. Palin withdrew and and went off to hospital for a check-up, while Jorgensen continued in the meeting, despite feeling less than 100%.
A 5-1 to Scunthorpe turned to a 4-2 to Redcar in the re-run and provided Bears with the momentum they needed to get back into the meeting in an enthralling and entertaining speedway meeting containing some fabulous racing as these two teams served up a cracker for the second time in a fortnight.
Even without Palin and with a semi-fit Jorgensen, Scorpions continued to put a fight, but a controversial Heat 13 went a long way to settling matters.
Scunthorpe went into that race two points behind. At the first time of asking, Bears' No 1 Charles Wright lost control on the second bend and he and Ellis both came crashing down, with Wright earning an exclusion.
Jorgensen then touched the tapes and was replaced by Josh MacDonald. MacDonald had looked lively all evening and emerged from the second bend in second place behind Ellis. But Michael Palm Toft came hard under MacDonald on the third bend and the Australian fell. They appeared to be contact, and some of the crowd had already put an X by MPT's name, but it was MacDonald who was excluded.
Instead of a 5-0, Scorpions only took a 3-2 after Ellis handed Palm Toft his only defeat of the evening in the fourth attempt to stage the race.
Scorpions made sure of a point in Heat 14. Jake Allen won the race, while Jorgensen and MacDonald kept Anders Rowe at the back.
Redcar went into the final race one point ahead, and Allen and Wright took a tapes-to-flag 5-1 over Ellis and Lambert to clinch the meeting.
Speaking post-meeting, Scorpions' team manager Dave Peet said: "It was a bruising night for us! We're not sure if Jordan Palin has broken his collarbone or whether it has just popped out.
"Thomas Jorgensen also came off in that incident. He went out in the re-run because the adrenalin was still flowing, but when he came back to the pits, he started to fell sick and unwell. A massive thank you to Thomas for going out for us in Heat 14, because he didn't want to do it, but we needed him out in that one to make sure he at least got a point.
"Adam was also a bit bruised when he came off in Heat 13, although I think his bike came off worse than he did.
"The turning point was Heat 9 when Jordan crashed out – up until that point the meeting was going our way. We'd been in charge since Adam and Simon Lambert took a 5-1 in Heat 1.
"If we'd have taken a 5-1 from Heat 9, we'd have been ten points up and then you would have backed us to win it.
"I did feel hard done by when Josh MacDonald was excluded in Heat 13. I thought there definitely was contact, but the referee said he didn't see any, so Chunk had to go.
"After Jordan crashed out, we weren't left with a lot of options, but Josh stepped up to the plate, took seven points and rode superbly. His score didn't reflect his efforts, which has been the case all season.
"The team battled in every race tonight – as is always the case. But it does feel that if it wasn't for bad luck, we wouldn't have any luck.
"Redcar are a good team, as we are, and they pushed us close at our place. There's no disgrace in losing here and coming out of the meeting with a point. Before the meeting, I'd have settled for a point, but as things turned out on the night, we could have taken and probably deserved more, but that's speedway."
REDCAR 47: Jake Allen 15, Michael Palm Toft 11, Charles Wright 9+2, James Sarjeant 4+2, Anders Rowe 4, Jordan Jenkins 4, Jordan Stewart r/r.
SCUNTHORPE 42: Adam Ellis 12, Simon Lambert 10+2, Thomas Jorgensen 9, Josh MacDonald 6+1, Jordan Palin 4, Max Clegg 1, Tero Aarnio r/r.
* ATTIS INSURANCE Scunthorpe Scorpions are back in action at home at the Eddie Wright Raceway next Friday (September 3rd) at 7.30pm when they entertain reigning champions Leicester Lions in what is certain to be a thrilling encounter.
REPORT: Rob Peasley.
PHOTO: Skipper Simon Lambert was unbeaten in his opening four races last night (pic by IAN RISPIN).
Related Posts By Category