Seventh heaven as super Scorpions smash Kent
Jul 10th, 2021
1202 Views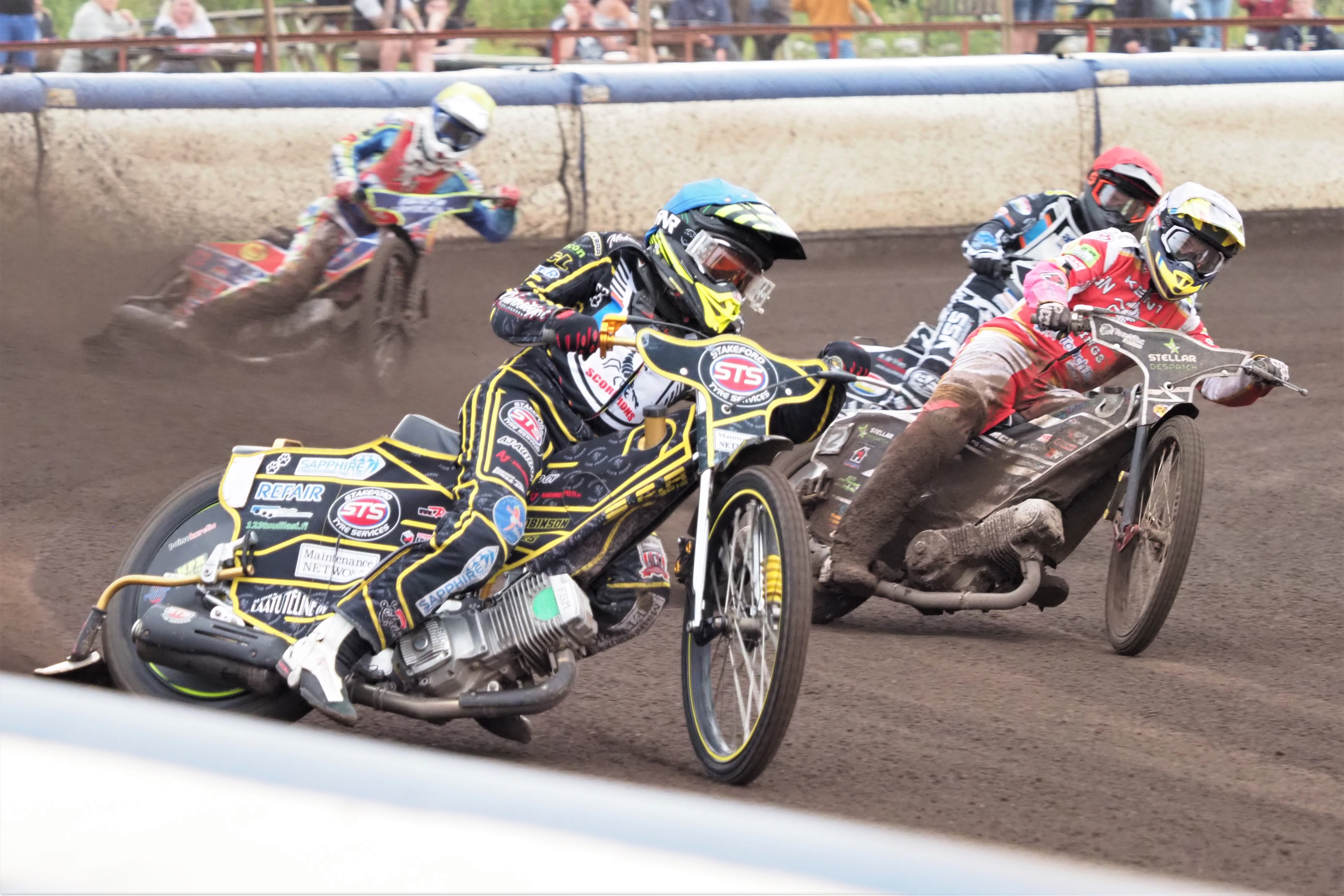 SCUNTHORPE SCORPIONS 63 KENT KINGS 27 (CHAMPIONSHIP)
SECOND-PLACED Attis Insurance Scunthorpe Scorpions recorded their biggest victory for over three years by annihilating Kent Kings by 63-27 at the Eddie Wright Raceway last night (Friday).
Not since Redcar Bears were beaten 65-25 in May 2018 have the Scorpions been in such dominant mood.
Seven was Scunthorpe's lucky number last night. Not only was it their seventh home victory out of seven in the Championship, but also all seven Scorpions won a race during the evening and the side recorded seven maximum 5-1 heat advantages.
Finnish star Tero Aarnio became the first Scorpion to score a maximum this season, but this was a true team performance. Scorpions provided 13 of the heat winners, while they ran only two last places.
Such a lopsided scoreline can often result in a dull meeting, but this was far from the case on this occasion.
There was a fascinating battle in Heat 9, when Kings' No 1 Scott Nicholls was brought in as a tactical substitute. Nicholls fought inside Aarnio for second place, but the Finn regained the position. Theo Pijper and Aarnio then combined to shut Nicholls out with some tremendous team-riding.
Aarnio completed his paid maximum in Heat 15, but not before he had to repass Paul Starke, after Starke had battled from third to first place.
Both Jordan Palin (10+2) and Josh MacDonald (8+1) had bumper nights at reserve for Scorpions, while Pijper and guest Steve Worrall were both only denied maximums by the classy Nicholls.
It was particularly pleasing to see MacDonald have such a good night. He won a battle for second place with Kent's very lively No 8 Jake Mulford in Heat 8, and MacDonald then burst through in exciting style from last to first on the opening lap in Heat 12, with Pijper then settling behind him to ensure the 5-1. MacDonald even led Heat 13 for over three laps, before Nicholls eventually overhauled him on the final lap.
The points scored by some of the Kent riders didn't reflect the effort they put in. As well as his battle with MacDonald, Mulford was also involved in a ding-dong battle with Palin in Heat 11.
Maximum man Tero Aarnio said: "I believe my last maximum at Scunthorpe was 11 years ago. I think it was against Glasgow in 2010.
"Scott Nicholls is class. There's a reason why he was in the Grand Prix series for many years. I love riding against a rider like him – it's even better when I manage to beat him, and I beat Scott twice tonight.
"I think I only left him around one metre on the inside of me [in Heat 9]. There are not many riders who can use that, but he did. Fortunately, I saw he was coming though, and that allowed me to then cut back inside him on the next bend.
"Theo and I ride really well as a pair. Later in the race, Theo was able to see that Scott was trying to come around us and he was able to block that.
"But I think the whole team has a good understanding at the moment and we all ride well together. It's good fun to come here on a Friday night. It doesn't feel like work. When everyone is relaxed, you get good results.
"As for Heat 15, I did have to battle back into the lead. But I don't panic if someone passes me, because there's three or four different lines I can take. There's a game plan that I can take for each corner.
"It was a good performance from us. Josh MacDonald made some changes to his clutch and it really worked – he rode like a superstar today."
Theo Pijper (who scored 8+2) said: "All the boys chipped in and that's we need. We are a winning team around here and we want to keep winning.
"In the race with Scott Nicholls [Heat 9], I was working with Tero. On the final bend, I could see Nicholls coming up the inside, so I moved Tero across to block him, and then moved back out myself.
"I also team rode with Josh MacDonald [in Heat 12]. I almost got myself in trouble behind him in that one, but that managed to get back to my own line. It was good that Josh showed what he can do today.
"The track was just right for us today – it suited us down to the ground. There was a bit of material down.
"I've got a busy week coming up. After Leicester, I'm going over to Europe, because it's the first round of the World Longtrack Championship at Marmande in France on Tuesday. It's back over to the UK to ride for Scunthorpe at Birmingham on Wednesday, and then over to Poland after that, because my son (Ace) is in the European 250cc final over there."
SCUNTHORPE 63: Tero Aarnio 14+1, Jordan Palin 10+2, Steve Worrall 10+1, Theo Pijper 8+2, Josh MacDonald 8+1, Thomas Jorgensen 7+1, Simon Lambert 6+1.
KENT 27: Scott Nicholls 10+1, Paul Starke 6, Dan Gilkes 5, Cameron Heeps 3+1, Ben Morley 2, Jake Mulford (No.8) 1, Paul Hurry 0, Tom Bacon r/r.
* ATTIS INSURANCE Scunthorpe Scorpions travel to Leicester tonight (Saturday, 7pm). Danny King will guest for No 1 Adam Ellis, who will be riding in the European Pairs Championship in Hungary tonight, while Danish star Hans Andersen will make his debut for Leicester Lions.
Theo Pijper says: "Leicester is quite a hard track for me, but I'll do my best to chip in. We'll try to run them close and get something and who knows maybe even a win."
REPORT: Rob Peasley.
PHOTO: Maximum man Tero Aarnio ahead of Scott Nicholls and Theo Pijper in Heat 5 (PIC by IAN RISPIN).
Related Posts By Category