Report: Scunthorpe 51 Glasgow 39
Jun 21st, 2021
1098 Views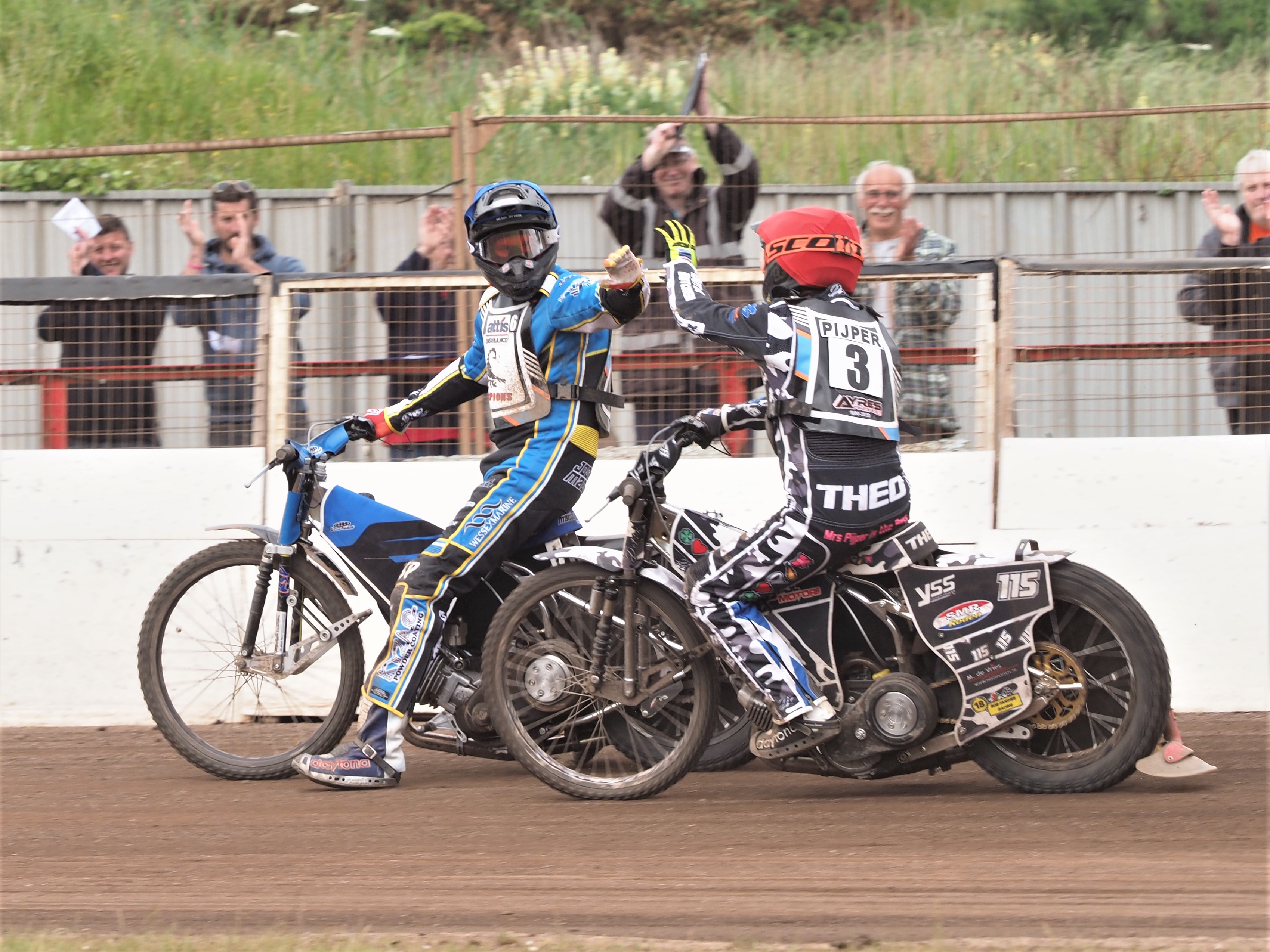 SCORPIONS IN GRANDSTAND FINISH TO DEFEAT LEADERS
SCUNTHORPE SCORPIONS 51 GLASGOW TIGERS 39 (CHAMPIONSHIP)
SECOND-placed Attis Insurance Scunthorpe Scorpions took a brilliant 51-39 over league leaders Glasgow Tigers at the Eddie Wright Raceway yesterday afternoon (Sunday) which reduces the lead of the Scottish side at the top of the Championship table to five points.
Tigers led for most of the meeting, while it was level at 36-36 going into the final three races.
An astonishing climax started in Heat 13, as both guest Jake Allen and Thomas Jorgensen overtook early leader Craig Cook for a 5-1 that put Scorpions ahead for the first time.
Australian Josh MacDonald had a much better meeting and he concluded it with victory in Heat 14, while Theo Pijper sat back in second place and protected MacDonald from the Glasgow pair of Sam Jensen and Broc Nicol. The 5-1 clinched the meeting for Scorpions.
Victory may have already been in the bag, with Scunthorpe wanted to become the first side to stop Glasgow scoring a point from a league meeting this season, and they achieved that in a sensational Heat 15.
Ricky Wells and Justin Sedgmen led from the tapes, but Jorgensen came through on the opening lap. The Glasgow pair then bundled the Dane wide on the fourth bend, but Allen carved a way through the inside and shot from fourth to first. But that wasn't the end of it, since Jorgensen then chopped up the inside on the opening bends of the second lap, as a 5-1 to Glasgow changed to a 5-1 to Scunthorpe in not much more than a blink of an eye!
There was so much to admire from this Scunthorpe performance and the highly debatable exclusion of Pijper from Heat 9 only seemed spur on the side, with Jorgensen overcoming Ulrich Ostergaard in the re-run, and then skipper Simon Lambert and Allen levelled the scores with a 5-1 in Heat 10.
Lambert had earlier produced a great ride to snatch Heat 3 from under the nose of Nicol.
Scorpions used rider replacement for Tero Aarnio, who was still feeling a bit battered after an incident in the Grand Prix qualifier at Glasgow on Saturday evening, but the Scunthorpe riders scored a 11+1 paid maximum from Aarnio's rides.
Scunthorpe skipper Simon Lambert (who scored 11+1) said: "I'm so proud of the whole team. To be four down against Glasgow and then win by 12 points with a flourish of 5-1s at the end, it's unreal really.
"We're really buzzing after that, because we know Glasgow are strong. But it was such a good team performance from us. A lot of people wrote us off at the start of the season, but we're showing what we can do.
"We've now got Adam Ellis coming in and he'll add even more to the team.
"It's never nice to be dropped, we've all been there at some point, and it a bit of a shock to see Josh Auty go. But Rob (Godfrey) wants to win the league, as we all do, and the addition of Adam Ellis turns us into a real force.
"It was good to see Josh MacDonald have a good meeting – that will help his confidence and encourage him to relax.
"It's about helping the team to win. An example was Theo (Pijper) today who didn't have the strongest meeting, but then went out and helped Josh to a 5-1 in Heat 14. It was great team riding – he really helped Josh big time going into bend three and that's what it's all about."
SCUNTHORPE 51: Thomas Jorgensen 13+1, Jake Allen 12+2, Simon Lambert 11+1, Josh MacDonald 9, Theo Pijper 4+2, Jordan Palin 2+1, Tero Aarnio r/r.
GLASGOW 39: Ulrich Ostergaard 8+1, Ricky Wells 7+1, Craig Cook 7, Justin Sedgmen 6+3, Broc Nicol 5, Sam Jensen 5, Jack Smith 1+1.
* STENE PIJPER (main class) and Ethan Hoare (support class) were the winners in the 125cc/150cc class of the British Youth Championship that followed the Scunthorpe v Glasgow clash.
REPORT by Rob Peasley.
PHOTO: Theo Pijper and Josh MacDonald celebrate a match-winning 5-1 in Heat 14 (pic by IAN RISPIN).
Related Posts By Category