Battling Palin third after thriller at EWR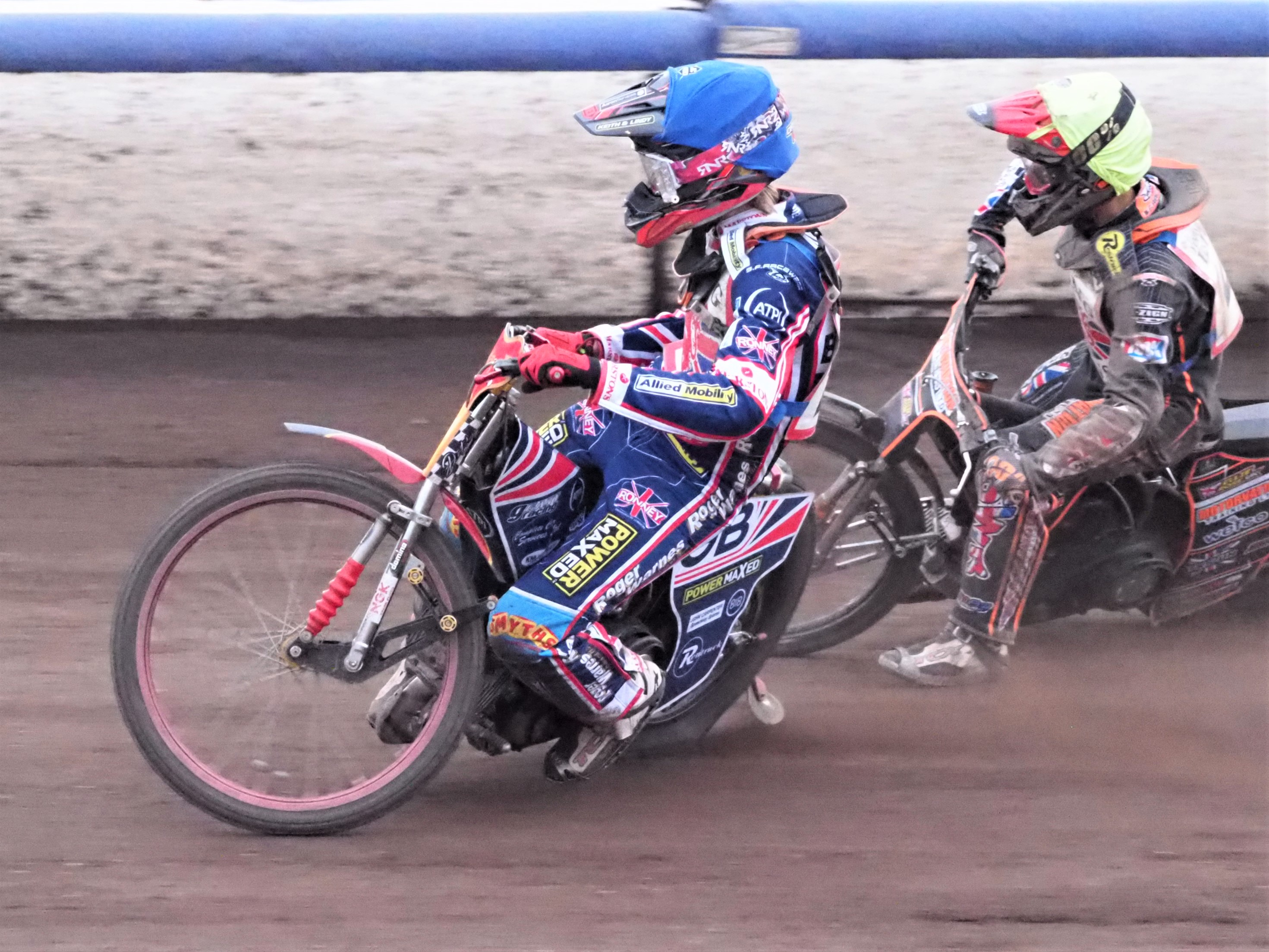 HEB Scunthorpe Scorpions' 16-year-old star Jordan Palin recovered from an opening race exclusion to finish third in the British Under-19 Championship at the Eddie Wright Raceway yesterday (Sunday).
The meeting provided some tremendous action, with defending champion Drew Kemp deservedly winning on a superb 15-point-maximum.
In Heat 11, Kemp was pushed wide on the first turn and was still only third by the third lap. But he passed Leon Flint during that circuit and then just pipped Jason Edwards in a photo finish after an outside dash coming out of the final turn.
Dan Gilkes was also tremendous form and completed his five outings on 14 points. It meant Kemp needed a win from Heat 20 to clinch the championship or a second to force a run-off with Gilkes.
Palin made a superb start from the outside, and he did well to keep his opponent back until the second lap, but Kemp then came racing through to join Tai Woffinden and Stefan Nielsen as double winners of the championship.
It left Palin in a three-man run-off with Joe Thompson and Henry Atkins, as all three riders had scored 10 points, and the Beverley-based rider led all the way.
Palin had started his meeting with a debatable exclusion from Heat 1. In second place, he attempted to pass race-leader Atkins, but came crashing down on the third bend, after Atkins appeared to momentarily lose control.
Rather than grumble about the harsh decision, Palin attacked the rest of the meeting and deserved his podium slot, especially as he suffered another fall. The first attempt to run Heat 12 saw Palin come down after contact with Gilkes in a tight first turn – on this occasion, all four riders were allowed back into the re-run.
There was some excellent racing throughout the meeting. Atkins won a ding-dong battle with Edwards in Heat 17, with the two riders passing for fun. A race later, Jordan Jenkins and Dan Thompson were involved in a similar thrilling battle.
Scunthorpe star Jordan Palin said: "I'm happy with myself to finish in third place in the meeting. After the exclusion in my first race, I knew I wasn't going to win it, especially as Drew (Kemp) was flying, so I just wanted to finish on the podium and I accomplished that. I can take plenty of positives away from this meeting.
"In Heat 1, I thought I got knocked off. But the referee always has the final decision and you can't do anything about that – you just have to get on with it.
"It was good to keep Drew back for a while in Heat 20 when he was riding so well – but I knew he was coming through.
"I wasn't that happy when I picked gate two out of the hat for the run-off, but I made that gate work, so that was a positive as well.
"In some ways, the way this season has worked out has been a blessing in disguise. Some riders have been sat at home and not doing much, or doing a regular job, but I've had the chance to go abroad for meetings and had different riders to race against. I've been gaining experience the whole time.
"I've got another busy week ahead. I'm racing at Belle Vue on Thursday and then I'm going abroad again at the weekend, to Gustrow in Germany to ride in the European Under-19 Pairs.
"I've taken it as it comes and enjoyed everything. I've gained some valuable experience this season and I feel I am much more ready to race for Scunthorpe at Championship level in 2021."
Palin was 16 in Feburary, so he will have another three chances to become British Under-19 Champion. 18-year-old Kemp, who was due to ride for Ipswich and Eastbourne this season, has the chance of becoming the first treble champion in 2021.
The meeting marked the last meeting open to the public at the Eddie Wright Raceway in 2020.
In a much-curtailed campaign, Scunthorpe hosted the Ben Fund Bonanza in March, shortly before lockdown, and then three staged three meetings with Covid restrictions in place: the opening round of the British Youth Championship, a National League challenge against Leicester, and yesterday's British Under-19 Final.
The Scunthorpe management would like to thank everyone involved for their help in staging these meetings. They would also like to sincerely thank the supporters for adhering to the Covid rules in place and making these very enjoyable events.
BRITISH UNDER-19 CHAMPIONSHIP RESULT: Drew Kemp 15, Dan Gilkes 14, Jordan Palin 10+3, Joe Thompson 10+2, Henry Atkins 10+1, Jordan Jenkins 9, Dan Thompson 9, Tom Brennan 8, Harry McGurk 7, Leon Flint 7, Elliot Kelly 6, Jason Edwards 6, Jake Mulford 3, Kean Dicken 3, Kyle Bickley 2, Mickie Simpson (res) 1, Archie Freeman 0.
PHOTO: Drew Kemp passes Jordan Palin in Heat 20 to complete his maximum and win the meeting.
Related Posts By Category