Preview: British Under-19 championship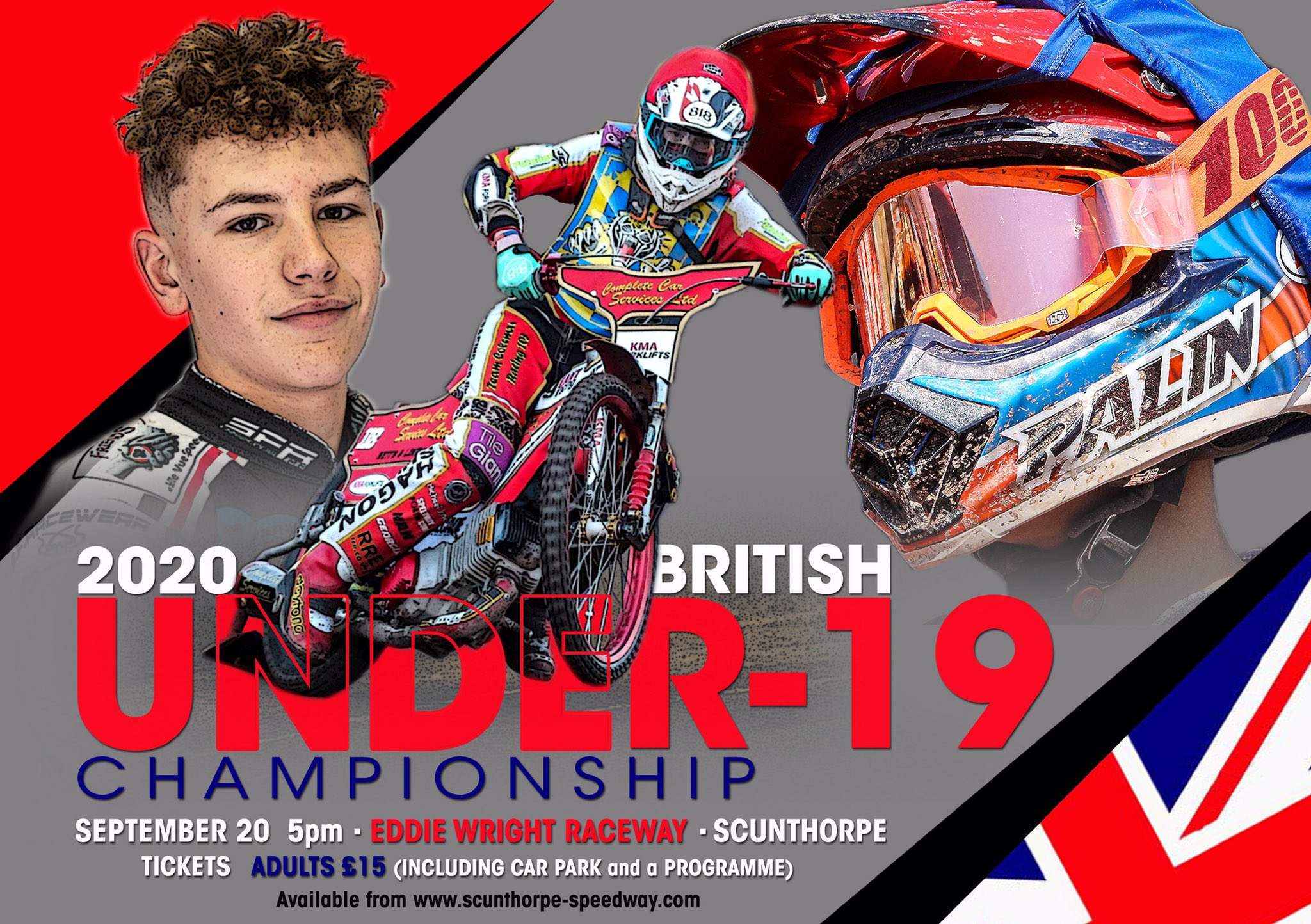 THE British Under-19 Championship will return to Scunthorpe's Eddie Wright Raceway for the first time in over a decade tomorrow (Sunday, 5pm), with 16 riders looking to follow in the footsteps of triple World Champion Tai Woffinden and bag the prestigious title.
There are a limited number of tickets remaining for this grassroots event, which are being sold on a first-come first-served basis on the Scunthorpe Speedway website.
It is the first of three national finals being held in the UK, and it will be followed by the British Final at Ipswich on September 26 and the British Under-21 Final at Berwick on October 17.
The defending champion is Drew Kemp, while last year's runner-up Jason Edwards joins Kemp in this year's line-up.
Another fancied competitor is Scunthorpe's 16-year-old star Jordan Palin – the highest-placed Brit in the European Under-19 championship in August.
The winner will be determined by the highest scorer in the 20 races, with run-offs if there are ties for any of the top three places. Every point scored and dropped during the meeting could prove to be vital.
Scunthorpe promoter Rob Godfrey said: "This competition has quite a history since it first took place as the British Under-18 Championship in 2004.
"The list of winners includes Tai Woffinden, a lad born in this town, who won it twice in 2007 and 2008. I don't really need to remind folks from around this way that Tai has gone on to become a triple World Champion, because they're as proud of his achievements as I am.
"It's quite a coup for any rider to add their name to the list of winners for this championship.
"The reigning champion Drew Kemp will be here to attempt a successful defence of his title, while Jason Edwards was runner-up to Kemp at Redcar last year and he will be hoping to go one better this time.
"Tom Brennan and Leon Flint, second and third at Ipswich in 2018, and Kyle Bickley, who was third at Plymouth in 2017, are also likely to be strong contenders.
"We've got the Thompson twins, Dan and Joe, who have already shown they known their way around the Eddie Wright Raceway this season, while our own Jordan Palin will have plenty of home support behind him and finished higher than every other British rider in the European Under-19 competition.
"Every one of the riders on show is capable of challenging for a place on the rostrum, so this is a meeting I've been looking forward to seeing at the Eddie Wright Raceway to for a long time."
The meeting is highly likely to be the last meeting open to the public at the Eddie Wright Raceway in 2020.
BRITISH UNDER-19 CHAMPIONSHIP DRAW: 1. Henry Atkins, 2. Jake Mulford, 3. Leon Flint, 4. Jordan Palin, 5. Tom Brennan, 6. Elliot Kelly, 7. Dan Thompson, 8. Jason Edwards, 9. Sam Hagon, 10. Archie Freeman, 11. Joe Thompson, 12. Harry McGurk, 13. Daniel Gilkes, 14. Drew Kemp, 15. Kyle Bickley, 16. Jordan Jenkins. Reserves: 17. Kean Dicken, 18. Mickie Simpson.
HISTORY OF THE BRITISH UNDER-19 CHAMPIONSHIP
The competition was first held at Wolverhampton in 2004. It was then called the British Under-18 Championship, while Danny King became the inaugural champion.
Both the 2008 and 2009 finals were held at the Eddie Wright Raceway.
Scunthorpe-born Woffinden had first won the competition as a Scunthorpe Scorpion at Wolverhampton in 2007. He successfully defended that crown at the EWR in 2008 – a year in which he was solely riding in the UK for Rye House Rockets in the Premier League. Josh Auty finished second in the meeting.
Scorpions again provided the winner in the 2009 competition at Scunthorpe – in the shape of Jerran Hart.
ROLL OF HONOUR
(British Under-18 Championship in 2004-2010, became British Under-19 Championship in 2011).
| | | | |
| --- | --- | --- | --- |
| YEAR: VENUE | CHAMPION | RUNNER-UP | THIRD |
| 2004: Wolverhampton | 1 Daniel King | 2 James Wright | 3 Edward Kennett |
| 2005: Wolverhampton | 1 William Lawson | 2 Lewis Bridger | 3 Jack Hargreaves |
| 2006: Wolverhampton | 1 Lewis Bridger | 2 Tai Woffinden | 3 Ben Barker |
| 2007: Wolverhampton | 1 Tai Woffinden | 2 Lewis Bridger | 3 Joe Haines |
| 2008: Scunthorpe | 1 Tai Woffinden | 2 Josh Auty | 3 Jerran Hart |
| 2009: Scunthorpe | 1 Jerran Hart | 2 Kyle Howarth | 3 Kyle Newman |
| 2010: Somerset | 1 Brendan Johnson | 2 Joe Jacobs | 3 Kyle Howarth |
| 2011: Rye House | 1 Jason Garrity | 2 Shane Hazelden | 3 Ben Morley |
| 2012: Sheffield | 1 Stefan Nielsen | 2 Ashley Morris | 3 Joe Jacobs |
| 2013: Coventry | 1 Stefan Nielsen | 2 Ashley Morris | 3 Ben Morley |
| 2014: Kent | 1 Oliver Greenwood | 2 Josh Bates | 3 Jack Kingston |
| 2015: Berwick | 1 Josh Bates | 2 Max Clegg | 3 Danny Phillips |
| 2016: Birmingham | 1 Max Clegg | 2 Ellis Perks | 3 Jack Smith |
| 2017: Plymouth | 1 Zach Wajtknecht | 2 Dan Bewley | 3 Kyle Bickley |
| 2018: Ipswich | 1 Dan Bewley | 2 Tom Brennan | 3 Leon Flint |
| 2019: Redcar | 1 Drew Kemp | 2 Jason Edwards | 3 Anders Rowe |

TICKETS FOR MEETING
Tickets are only available online via this club website – entry is by pre-purchased ticket only.
The price for all adults aged 16 and above is £15.50 (£15 plus a 50p handling fee – the handling fee towards the fee payable to PayPal, not the club). This includes the programme and parking. Under 16s admitted free with a contact tracing responsible adult.
Members of the public are expected to respect the safe distancing advice given. If they do not, or show signs of Covid-19, they may be asked to leave. Any individual already showing signs of Covid-19 must not visit the venue.
Tickets are available under the Ticket Office menu on the club website at:
http://scunthorpe-speedway.com/ticketoffice
NOTE REGARDING TICKETS: Please note that your PayPal confirmation email is your ticket. We DO NOT send out tickets in the post. Please print out your PayPal confirmation email and bring it on the day. You should take this document to the staff at the entry point at the Eddie Wright Raceway. NO CASH ADMISSION ON THE DAY. Please note there is a 50p handling fee for each ticket ordered – this goes towards the fee payable to PayPal, not the club. This will show on your PayPal invoice as postage and packing. If you have any problems when ordering your tickets, please contact the club and we will assist you.
Related Posts By Category