Match report: Scunthorpe Stags 53 Leicester 61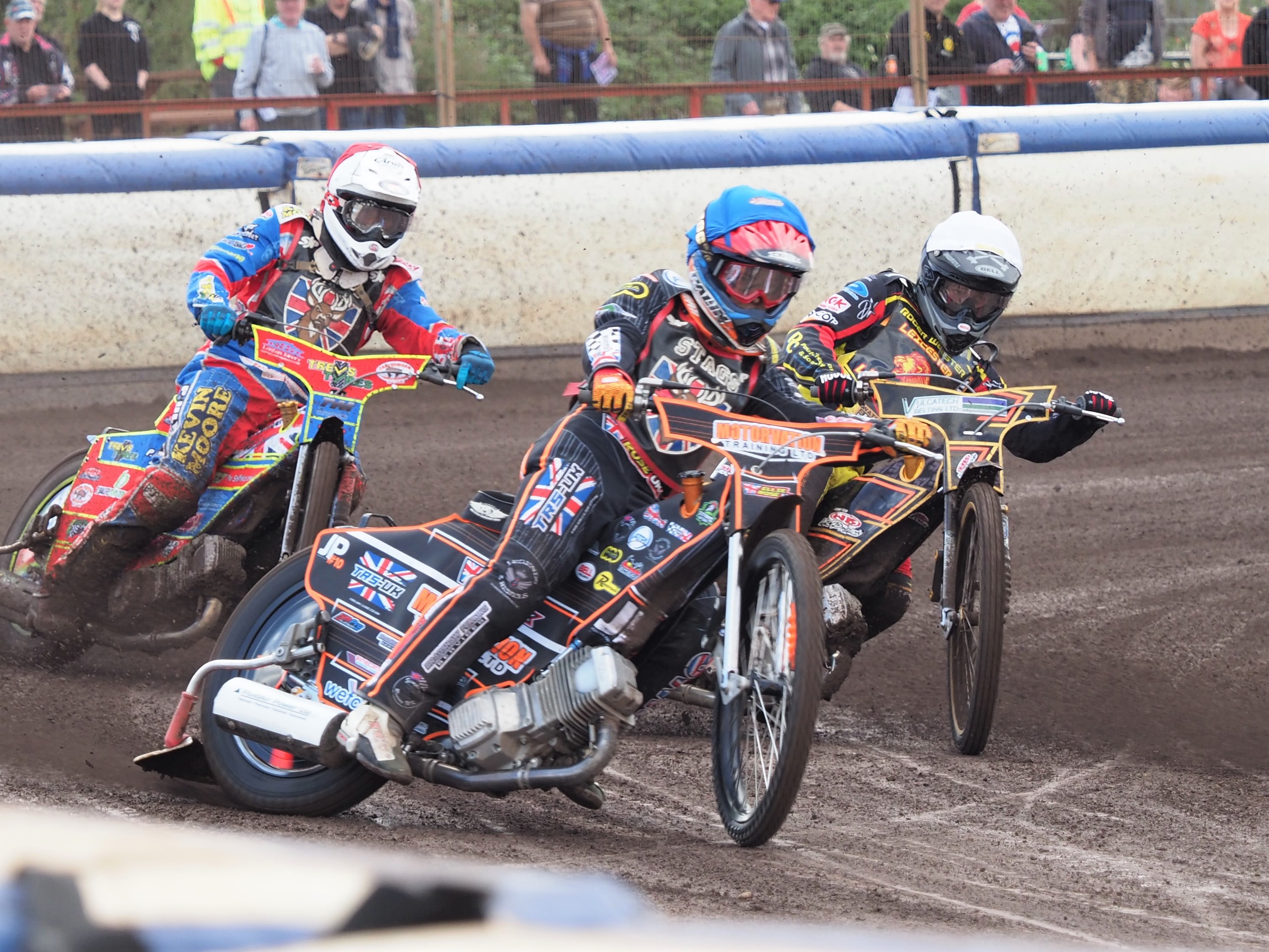 SCUNTHORPE STAGS 53 LEICESTER LION CUBS 61 (National Development League challenge)
HEB Scunthorpe Stags lost out by 53-61 to Leicester Lion Cubs in their National Development League challenge match at the Eddie Wright Raceway yesterday (Bank Holiday Monday), although arguably the result was secondary to the joy of the supporters seeing the return of team speedway.
The grassroots event was the first team speedway meeting in the UK in 2020 and the result remained in the balance until the final few races, when Leicester – the reigning National League champions – took a grasp on proceedings.
The youngsters took centre stage in the meeting. 16-year-old Jordan Palin top scored for Stags with 14+1 and his only three defeats came to fellow 16-year-old Dan Thompson, who was the top visitor on 13+1.
Meanwhile, 13-year-old Luke Harrison scored a full 12-point maximum from the four 250cc races, after overcoming rival Max James in all their clashes. It is believed that Harrison is the youngest rider ever to score a maximum in a National League standard match.
The race of the afternoon came in Heat 6, when Palin moved from third to first with a tremendous burst of speed, to join Simon Lambert for a 5-1 over Danyon Hume. Palin had previously shown a clean pair of heels to Connor Mountain in Heat 1.
Stags' youthful reserves – Archie Freeman and Harry McGurk – looked highly competitive and took a 5-1 from Heat 2, a race that sadly saw Lions' Tom Spencer crash out of proceedings after a fall on the final bend.
15-year-old Freeman scored a terrific victory over Joe Lawlor in Heat 12 that kept Stags in the hunt for three races remaining.
One of the deciding factors in the meeting was when Ryan Kinsley – a 2019 reserve with Scorpions – hit mechanical troubles. The talented 21-year-old won his opening two rides, including a win over Dan Thompson in Heat 7, and it looked he would take some stopping.
But Kinsley hit trouble prior to Heat 11 and just beat the two-minute time-limit. He finished last in that race, while he came to a halt in Heat 13. Lion Cubs took 5-1s in both races.
With the visitors six points ahead, Palin took a tactical substitute ride in Heat 14, but Dan Thompson won the race to clinch victory for Leicester, and then a lively final race saw Thompson come through for another win.
Sam McGurk came in as a late replacement for William Hocaniuk as a 250cc rider for Stags, after Hocaniuk suffered a foot injury in the British Youth Round at King's Lynn on Sunday. McGurk is now a 500cc rider, but still eligible to ride in the 250cc class. He was kindly lent a machine by Luke Harrison, but that bike stopped in McGurk's opening outing and eventually McGurk withdrew from the meeting. But the Scunthorpe management thank him for agreeing to step in at the last minute.
Scunthorpe promoter Rob Godfrey quipped: "The meeting went really well and everyone enjoyed their day, but it could have gone even better if we'd won!"
"But, seriously, it was terrific to hear the Leicester fans doing their L-I-O-N-S warcry after they'd won the meeting. It brings back a bit of normality and shows the passion that the supporters still have for their clubs.
"It was so good to see how well all the younger riders did out there. There were all the points that Jordan Palin scored for us; the way the Thompson twins rode for Leicester; the brilliant ride that Archie Freeman produced to keep us in it and how he and Harry McGurk were getting stuck in; and the brilliant maximum that young Luke Harrison scored in the 250cc races.
"These riders are the future of British Speedway. It's such a shame that this season has almost been wiped out, because it would have been such a good year with all the youngsters coming through. But we should see that next year instead, and it will be fantastic to see."
The return date at Leicester for the second leg will hopefully be confirmed later this week, after the Leicester management have further talks at local authority level. A mid-September date has been mooted.
Scunthorpe Speedway will also confirm the date of their next home fixture in due course.
NATIONAL DEVELOPMENT LEAGUE CHALLENGE
SCUNTHORPE STAGS 53: Jordan Palin 14+1, Luke Harrison 12, Archie Freeman 7, Ryan Kinsley 6, Simon Lambert 5+1, Wayne Carter 4+1, Harry McGurk 3+1, Jamie Halder 2, Sam McGurk 0.
LEICESTER LION CUBS 61: Dan Thompson 13+1, Connor Mountain 9+2, Joe Thompson 9+1, Danyon Hume 9+1, Max James 8, Joe Lawlor 6+1, Ashton Vale 4+4, Kean Dicken 2, James Chattin 1+1, Tom Spencer 0.
REPORT: ROB PEASLEY
PHOTO: Jordan Palin leads Connor Mountain and Simon Lambert in Heat 1 (pic: IAN RISPIN).
Related Posts By Category