British Youth Championship: preview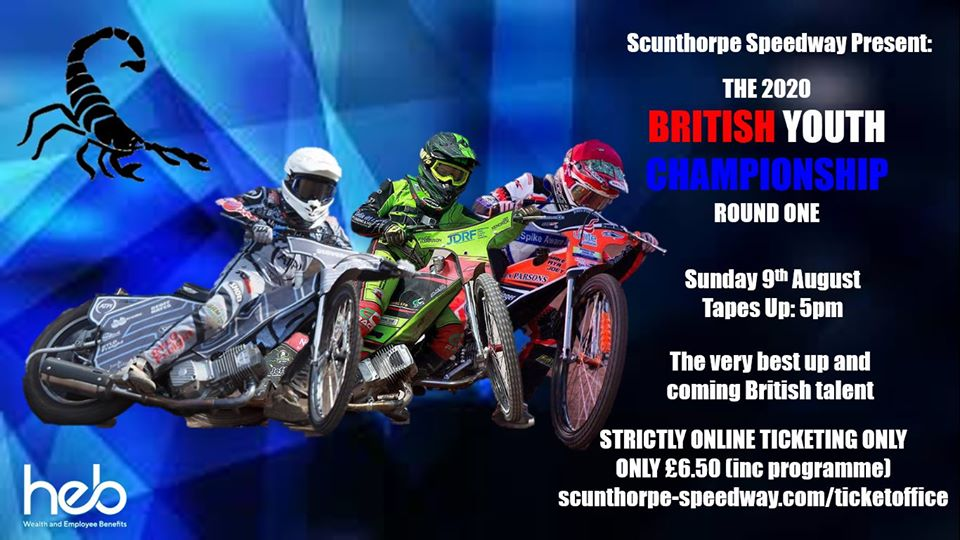 SPEEDWAY IS BACK!
SCUNTHORPE SPEEDWAY will proudly present the opening round of the British Youth Championship at the Eddie Wright Raceway tomorrow (Sunday, 5pm) – the first public speedway meeting for 148 days in the UK since the same venue staged the Ben Fund Bonanza on March 14th.
Admission is by pre-purchased ticket only.  There have been a restricted number of tickets on sale on the club website, available on a first-come first-served basis. These tickets are now very close to being sold out.
The local heroes on display are Jordan Palin and Luke Harrison.
16-year-old Palin, from Beverley, was due to ride for HEB Scunthorpe Scorpions in the Championship this season before the professional season was cancelled. He is defending the 500cc class that he won in 2019.
Harrison, aged 13, won the British 125cc crown last season and moves up to the 250cc class this year.
The 500cc class, in particular, boasts a mouth-watering line-up. Of the 11 programmed riders, seven were due to ride in the National League in 2020 and three – Palin plus Joe and Dan Thompson – were also due to ride in the Championship.
There are a total of 34 riders across four classes, competing in 38 races.
Scunthorpe promoter Rob Godfrey said: "I think it's going to be a terrific day on Sunday. The weather looks set fair, there's absolutely no sign of any local lockdowns in this area, and we've got a terrific line-up with the future of British Speedway on display.
"It's a tremendous competition. All you have to do is take a look through the roll of honour to see how valuable it's been over the last sixteen years.
"Josh Auty was the initial champion in the 500cc class, winning in both 2004 and 2005, and he's gone to become our highest-ever points-scorer here at Scunthorpe – he's a club legend.
"Look a bit further down, and Robert Lambert was the 250cc class champion in 2010. Less than a fortnight ago, Robert became European Champion and he'll be in the Grand Prix next season.
"I can't wait for the meeting on Sunday. I'm getting excited and I think a lot of the supporters will be the same.
"I would like to reassure the fans with we have Covid-19 procedures in place – we want everyone to feel safe and enjoy the day."
Members of the public are expected to respect the safe distancing advice given. If they do not, or show signs of Covid-19, they may be asked to leave. Any individual already showing signs of Covid-19 must not visit the venue.
BRITISH YOUTH CHAMPIONSHIP ROUND 1 LINE-UP:
500cc class: Jordan Palin, Harry McGurk, Elliot Kelly, Archie Freeman, Dan Thompson, Sam Peters, Joe Thompson, Mickie Simpson, Sam McGurk, Katie Gordon, Sam Hagon.
250cc class: Luke Harrison, Max James, William Hocaniuk, Ashton Vale, Cameron Taylor.
125cc class (a): Max Perry, Jamie Etherington, Ben Trigger, Charlie Wood, Cooper Rushen, Sonny Springer, William Cairns, Ace Pijper, Jack Shimelt.
125cc class (b): Oliver Bovingdon, Jake Lee, Owen Booth, Stene Pijper, Rico Joyce, Caydin Martin, Rebecca Weston, George Colvin, Billy Budd.
NOTE REGARDING TICKETS: Please note that your PayPal confirmation email is your ticket. Please print it out and bring it on the day. You should take this document to the staff at the entry point at the Eddie Wright Raceway. NO CASH ADMISSION ON THE DAY.
COVID-19 MEASURES
WE know speedway fans are a sensible bunch, while we would like to reassure people that we have undertaken risk assessments and have social distancing measures in place at the stadium. There is signage on display around the stadium.
ADMISSION
Admission to the stadium for members of the public is through the turnstiles. There are marked lines outside the stadium – please also make sure you are socially distanced as you queue to get into the stadium. Please try to avoid turning up at the last moment.
We have NOT been sending out tickets in the post. Please note that your PayPal confirmation email is your ticket. Please print it out and bring it on the day. It MUST be handed over at the turnstile on request as proof of purchase. After entering the stadium, please pick up your programme from the table.
BAR AREA
The bar within the clubhouse will be open. There is a one-way system in operation, which will be clearly marked. Please do not stand on the small viewing area outside the clubhouse since this is being used as the entrance. The exit will be the usual way in and out of the clubhouse.
FOOD/DRINK
For this particular meeting, we will be using the burger van as the food outlet. It is situated outside the clubhouse – again it will be clearly marked where you should queue and, as throughout, please respect social distancing.
For future meetings, we are planning to have food/drink within the clubhouse. However, for this meeting, only the bar is situated inside the clubhouse. We simply didn't want to complicate matters too much for our first public meeting.
TOILETS
Both toilet blocks – one at either end of the stadium – will be open.
There are marks on the floor in the toilets to indicate safe distancing. It obviously would be intrusive to have marshals within the toilets, so we ask you to use your common sense.
Each set of toilets will be closed every 30 minutes for cleaning.
SOCIAL DISTANCING
Please note that should you socially distance at two metres from all other members of the public, unless they are in the same bubble. With speedway being a family sport, you may see people grouped together who are within the same bubble – please do not be alarmed at this.
As everyone who has visited before will know, the Eddie Wright Raceway is a very open stadium with plenty of space. We ask you to respect others and make sure you stay a safe distance.
A limited number of tickets have been on sale for this meeting, and you will be able to comfortably practice social distancing within the stadium.
FACE MASKS
Please note that the wearing of face masks is not compulsory. However, if people feel more comfortable wearing one, then they should feel free to do so.
NO ACCESS TO PITS
As we are sure you will appreciate, we sadly cannot open the pits for members of the public before and after the meeting in the way that we usually do.
The pits area is strictly one-rider and one-mechanic per rider plus track officials. Riders are entitled to one further guest, but this additional person will be given a guest pass and must enter the stadium through the turnstiles.
EXIT TO STADIUM
After the meeting, please leave via the turnstiles. Please make sure you respect social distancing as you leave.
COVID MARSHAL
The name of our lead Covid Marshal on the day of the meeting is Geoff Hayes.
Members of the public are expected to respect the safe distancing advice given. If they do not, or show signs of Covid-19, they may be asked to leave. Any individual already showing signs of Covid-19 must not visit the venue.
Above all, we want you to enjoy your day out and feel safe while watching some speedway. Please have a great day and act with common sense so that everyone else has an enjoyable day as well. Thank you.
Related Posts By Category