Big meeting preview: the NLRC comes to town!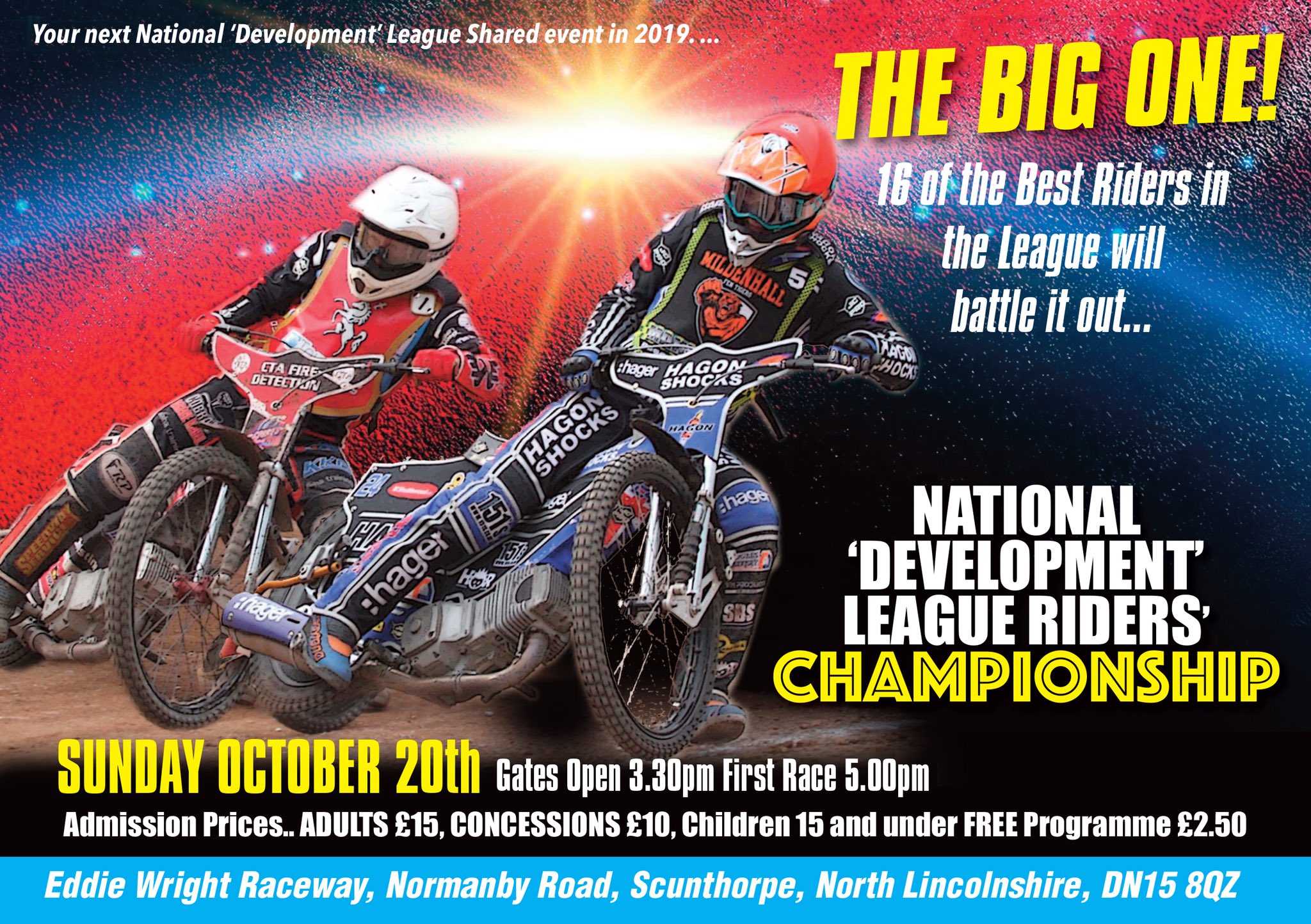 THRILLING CONCLUSION TO SEASON AHEAD AT EDDIE WRIGHT RACEWAY!
SCUNTHORPE SPEEDWAY will proudly stage the hugely prestigious National League Riders' Championship at the Eddie Wright Raceway on Sunday (5pm).
The individual event is the biggest meeting of the year at third-tier level, and it is the meeting that all the riders desperately want to win.
The meeting celebrates its 25th birthday in 2019, having first been staged in 1994, when Cleveland's Andy Howe won the event.
Scunthorpe-born treble World Champion Tai Woffinden was the winner of the 2007 event at Rye House, while representing Scunthorpe Scorpions.
This year's staging has been rained off twice, at Leicester on September 22 and Scunthorpe on October 6, but the weather forecast is far more favourable on Sunday and it will be third time lucky.
All eight National League clubs are represented by at least one of their star riders, while both Leicester and Belle Vue have three riders on show.
Amongst those riders in this year's competition are Ryan Kinsley and Jordan Palin.
Kinsley has been part of the HEB Scunthorpe Scorpions in 2019, and he has taken some big scalps around the Eddie Wright Raceway, including that of seven-times British Champion Scott Nicholls. Kinsley will represent Mildenhall, having signed for the Suffolk club late in the season as injury cover for Danny Ayres.
15-year-old Palin has been promised a reserve berth with Scorpions in 2020. The local youngster is one of the hottest prospects in the speedway and has enjoyed a tremendous season with Belle Vue Colts.
Scunthorpe promoter Rob Godfrey said: "I'm really enjoying to seeing the NLRC around the Eddie Wright Raceway, because we'll do everything we can to produce a top-notch racing strip, to ensure it's a great meeting.
"The Scunthorpe fans will be cheering on Ryan Kinsley and Jordan Palin, and while I'd love to see them do well, I wish the very best of luck to all 16 competitors.
"It's so difficult to pick a winner. You could look at Ellis Perks, who had a brilliant meeting here for Leicester, while Ben Morley is a past double champion who knows exactly what is required to win this meeting.
"Anders Rowe loves racing around Scunthorpe, as does Drew Kemp – both have impressed around here.
"But you could pick a dozen riders who could end up as the victor – it's a great line-up.
"What makes it interesting is that it's a straight shoot-out across 20 heats, so every single point is crucial to the final standings.
"We also have an amateur meeting earlier on Sunday, which starts at 11am, so there's a chance for people to come along and enjoy a bumper and brilliant day of racing at one of the best racetracks in the country."
Admission prices for the NLRC are £15 adults, £10 concessions with under-16s free. The special souvenir programme is £2.50. Gates will open at 3.30pm, with racing commencing at 5pm.
LINE-UP: 1. Ryan Kinsley (Mildenhall), 2. Kyle Bickley (Belle Vue), 3. Jordan Palin (Belle Vue), 4. Ben Morley (Isle of Wight), 5. Ellis Perks (Leicester), 6. Joe Thompson (Leicester), 7. Dan Thompson (Leicester), 8. Joe Lawlor (Stoke), 9. Jason Edwards (Mildenhall), 10. Danno Verge (Isle of Wight), 11. Drew Kemp (Kent), 12. Leon Flint (Belle Vue), 13. Tom Young (Plymouth), 14. Anders Rowe (Kent), 15. Connor Coles (Stoke), 16. Jack Smith (Cradley).
* THERE is also an Amateur Meeting at the Eddie Wright Raceway on Sunday (start-time 11am). It is the final round of the Summer Championships and admission is free. While the NLRC will conclude the season of professional speedway racing at the venue, amateur speedway will continue at Scunthorpe throughout the winter.
Related Posts By Category