Super Scorpions overwhelm Monarchs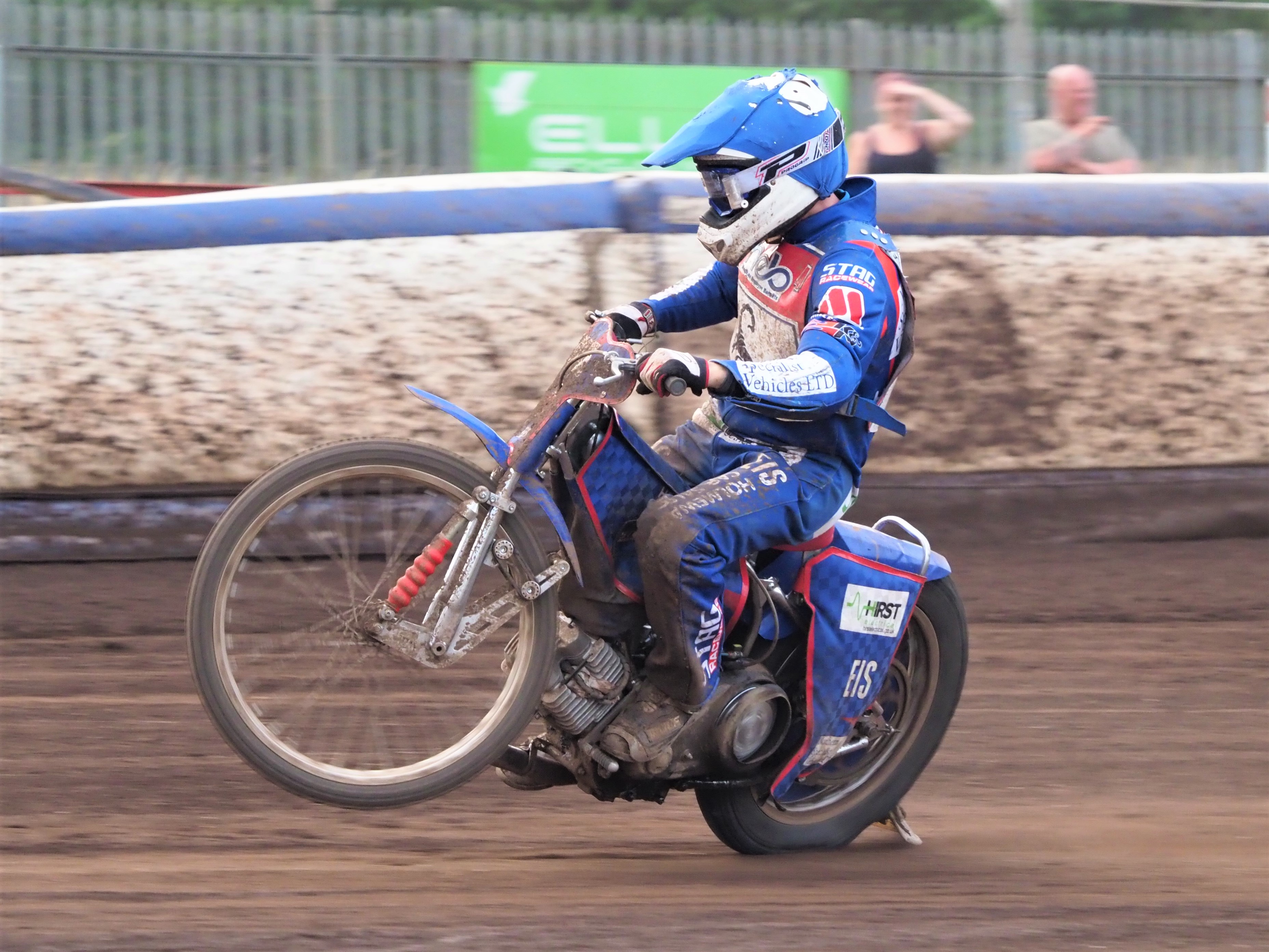 SCUNTHORPE SCORPIONS 56 EDINBURGH MONARCHS 34 (CHAMPIONSHIP)
A BRILLIANT 15-point maximum from Josh Auty helped HEB Scunthorpe Scorpions to a comfortable 56-34 victory over Edinburgh Monarchs at the Eddie Wright Raceway yesterday (Sunday).
As often is the case, the racing at EWR was out of the top draw, with no finer example than a thrilling Heat 9.
Rasmus Jensen and Cameron Heeps led from the tapes, but Stefan Nielsen and Auty went either side of Heeps on the opening lap.
Nielsen then wound it on around the outside and charged around Jensen as the riders completed two laps. Auty then also raced Jensen on the third lap, but the Dane stayed in contention.
Race-leader Nielsen locked up slightly on the final bend, and in a blanket finish, Auty took the chequered flag, while Nielsen held onto second ahead of Jensen, as a 1-5 from the tapes turned into a 5-1 at the finish.
Scorpions had the points in the bag with three heats remaining and equalled their biggest win of the season.
Auty, who made the start in three races out of five, went through the card, while Simon Lambert's only defeat of the evening came to Josh Pickering in Heat 12. Lambert (who ended with 11+3) was placed Heat 15 by stand-in team manager Richard Hollingsworth and – after Pickering crashed out of the race – responded by joining Auty in a 5-1 over Jensen.
Ben Barker (9+1) scored a number of points from behind, making profitable use of the inside, while skipper Jake Allen recovered from an opening last place to score 8. British Final hero Danny Ayres and Nielsen both scored 6+1 and both were in the thick of the action.
The meeting started 30 minutes late, after the paramedic was late turning up, while riders had to adapt to light rain in the early stages of the meeting. There was a track inspection after Heat 4, requested by Edinburgh, but referee Michael Breckon quickly determined that racing should continue. The meeting was still completed before 7.30pm, less than two hours after the advertised start-time of 5.30pm.
Speaking post-meeting, Simon Lambert said: "We got tonked at Edinburgh on Friday night, although I had a decent meeting there, so it was nice for us to bounce back and give them even more of a hammering than they gave to us.
"Personally, it was my best meeting of the season. I only dropped the one point, which is frustrating in a way, because it's so close to a maximum, but I can't really grumble. Since I joined Scunny, I've been enjoying my speedway.
"I was given two goes at Heat 15. At the first attempt, I messed it up, but obviously we ended up with a re-run [after Josh Pickering fell].
"I took onboard what the boys told me, and I learnt from my mistake and kept Rasmus Jensen behind. He's been on fire recently, so I'm well chuffed to have got one over him – it's a good scalp.
"I was watching some of the other races and despite the fact we hammered them, there was some really good racing out there. There's good racing week in, week out at Scunthorpe – you're guaranteed 12 good races out of 15.
"When it was raining early on, we just got on with it and adapted to it. I didn't understand why Edinburgh called for a track inspection, since their track was wetter on Friday night just from track watering without any rain.
"We've had a good night tonight and hopefully we can now build up a bit of momentum because we've got a busy August, so it would be great if we can keep it going."
SCUNTHORPE 56: Josh Auty 15, Simon Lambert 11+3, Ben Barker 9+1, Jake Allen 8, Danny Ayres 6+1, Stefan Nielsen 6+1, Ryan Kinsley 1.
EDINBURGH 34: Rasmus Jensen 9, Josh Pickering 8, James Sarjeant 5+2, Ricky Wells 5+2, William Lawson 5, Cameron Heeps 2, Matt Marson 0.
* HEB Scunthorpe Scorpions are back in action at the Eddie Wright Raceway on Friday (7.30pm), when they entertain the Birmingham Brummies, who include former Scorpion Jason Garrity in their line-up.
Related Posts By Category