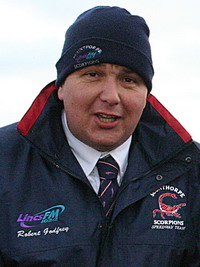 An archive of Rob Godfrey's programme notes from the Scunthorpe Speedway programme.
FROM SCUNTHORPE SCORPIONS V PETERBOROUGH PANTHERS
Sunday April 2nd, 2017
AS we start a new season, I would like to reflect on the winter passed.
I would like to firstly thank Richard and Anne, Graham and Dan and all the volunteers for keeping the track action going throughout the winter whilst I was busy elsewhere.
Then there was Nigel Franklin, who has spared as much time as he could throughout the winter to do the essential maintenance and the much-needed painting with Dave Cook to keep an eye on him. I thank them both.
Then there's the team who helped erect and transform the 10 buildings into a clubhouse that I am so proud of…and I hope you all are too.
Many, many hours have been spent on it and I would like to thank Ian Becroft, our resident builder, for the block work and ramp; Ian Hunter from Sheffield Windows for the new doors he generously gave us; Shaun Halder, who sorted the leaks out on the roof when I had given up; and Andy Harrison for the handrails. I thank them all.
To Shane, Mandy, Gail, Tom and Gavin for the many hours that were put into the clubhouse to make it what it is today and once again Dave and Nigel for the paintwork.
Paul Cook for his support and help with cranes and steel supplies and a big thanks to Dawn and Colin for putting the cafe back together after the winter's weather.
Hopefully, you will have visited the clubhouse by now. We hope to have the cafe relocated into it by the end of the year and plan to use it as much as possible, with presentation nights as well as get-togethers.
Anyway, thank goodness the winter's over… I can have a rest, enjoy our favourite sport and look forward to what I believe will be a very good season for us. We took the pain last year so now I am looking for the gain and to hit the ground running and hopefully put early points on the board.
We get started this evening with a visit from the Peterborough Panthers, so it's a big Eddie Wright Raceway welcome to Ged Rathbone, Carl Johnson and the Panthers riders, as well as their supporters who have made the trip up the A1.
For the benefit of any of you who may not have been following the winter developments in speedway too closely, don't be confused by the SGB Championship! No, we haven't been promoted or relegated, we're in the same division as last year but the Premier League has been renamed, that's all!
It may be very early days but we know we're in for a tough match because we've already faced the Panthers at their place a week last Friday. About this time last season in the League Cup, they gave us a right hiding there but last week we gave as good as we got and put up a hugely improved display. Okay, we may have lost but a 51-42 scoreline away against a team that most people seem to be tipping for a good year gives us plenty of encouragement as the new season gets underway.
So, with no introductions necessary (that's because it's the same team as last year!) let's get behind the lads for what should be a good year.
One final word…and it's to you, the supporters. I thank you all for supporting this great sport and I hope we can put a smile on everyone's face this year, including mine.
ROB
FROM SCUNTHORPE SCORPIONS V GLASGOW TIGERS
Sunday April 9th, 2017
NOT the start to the season any of us had hoped for or expected, that's for sure.
Last Sunday's home defeat by Peterborough was a huge disappointment, coming as it did after two very bright and encouraging away performances.
Had the 46-44 scoreline against the Panthers been in our favour instead of against us, this column would have been all about our positive start to the season, with three league points on the board and two battling, confidence-building away displays.
Unfortunately, it ended up being 44-46, not 46-44, and on such fine margins we're now contemplating three straight defeats to open the season.
That's the bizarre thing. We had two good away ones, so you expect that we're up to speed and we'll nail Peterborough on our own track, as our lads all rode here last year and theirs didn't.
That's life but when you have expectations, and I did, one of the reasons I brought the same team back was because we'd have familiarity.
Unfortunately, it didn't make a ha'porth of difference last Sunday.
It all puts a bit of pressure on for this week now. We were on our travels again on Friday, away at Edinburgh, and we have the return match against Glasgow this afternoon.
The Tigers are one of the sides expected to do well again this season and most people would have them marked down as top four material, so we know we're going to have our work cut out getting the better of them. But I still have every faith in our boys. I wouldn't have brought the same team back if I didn't feel it was good enough to be competitive and seeing as we matched Glasgow on their track for more than two-thirds of the match last weekend, we should have the belief that we can defeat them today.
If you look back at the Peterborough meeting last Sunday, it was pretty obvious to anyone where it was won and lost. Our top five came up with 42 points and had only one last place between them, which ought to have given us enough of a platform to win. But poor old Fritz had an absolute nightmare at No. 6 and didn't even score a point and young Josh managed only a second place in Heat 2. Compare that to the Peterborough reserves, who managed 15 paid 17 between them and, well, I don't really need to say anymore, do I…
What made it even more frustrating was that Fritz had been impressive in both of our first two away matches. He won Heat 2 at Peterborough and Glasgow and had two race wins in each match, so to come here and score nought was way, way below what was expected obviously. Had he even just won Heat 2 again, that would have tipped the balance in our favour.
But anyway, it's all water under the bridge and there's nothing we can do about it now, other than concentrate on improving and trying to win today's match.
We'll be busy again next weekend, with a trip to Workington on Saturday followed by a home match against Redcar on Easter Sunday. Don't forget the action will be starting earlier next Sunday at 3 pm because we have a double header for you. The Stags will be taking on Halifax after the main match between the Scorpions and the Bears.
ROB
FROM SCUNTHORPE SCORPIONS V REDCAR BEARS
Sunday April 16th, 2017
BOY, did we need that! What a match and what a result for the lads last Sunday against Glasgow as we managed to put some league points on the board with our first win of the season.
I think we all recognise that it's been a tough start this year with a few things going against us and if we'd lost again, we really would have had some thinking to do. But as I said last week, I have faith in the riders because I wouldn't have brought them all back this season if I didn't. And finally, we got a win our efforts deserved and one that has restored a lot of confidence to the team as well.
When Glasgow got themselves in front in the middle part of the meeting, after we'd been six points up early on, there must have been a few people out there who doubted whether we could pull the match out of the fire and get the win. But these lads are made of stern stuff, they all dug deep and in the end we managed to turn it round and get the better of what is, don't forget, a very strong Glasgow side that I'm sure will be up near the top of the table all season. When you take that into account, it just underlines what a great result it was for us.
It was hard to single anyone out after the match but Josh Auty deserves special praise for his performance, which was absolutely vintage Josh. Some of his passes from the back had to be seen to be believed and that's why we all love this sport.
Michael Palm Toft was excellent with three wins; Wilko did what Wilko does with a typical rock solid seven paid eight from No. 2; Lewis kept his head after two blanks to come up with four points and a crucial 5-1 with Tofty in Heat 9; and what can you say about Ryan's ride in Heat 13 to get past Aaron Summers on the last two corners? World class, is what I say!
Young Josh Bailey won Heat 2, which is what we like to see, and I thought he deserved more points to be honest because he was really getting stuck in. Matt Williamson came in as a guest to replace Fritz Wallner and, like young Josh, he was worth more. We were all glad that he managed to walk away from what looked a very nasty crash on the second bend of Heat 11.
We will need to book a guest again today because Fritz is going to be out for a while after breaking his hand in the away match at Edinburgh on the Friday before the Glasgow meeting.
That's a real blow for us because, apart from the nightmare he had against Peterborough, Fritz had been shaping up as one of the best reserves in the league this season in our early matches.
We will have to consider what options we have open to us in the coming days and weeks once we have fully established the extent of the break and how long he is going to be out.
Our visitors this afternoon are Redcar Bears, a team who have injury worries of their own after Tobias Busch crashed at Peterborough last Sunday. A big EWR welcome to everyone who has journeyed down from Teesside and let's hope for another match as exciting as last Sunday's…with a similar favourable outcome of course!
Next Sunday, we have another toughie when Edinburgh, who always seem to do well here, will be providing the opposition (back at our normal 5.30 pm start-time of course). I'll see you then.
ROB
FROM SCUNTHORPE SCORPIONS V EDINBURGH MONARCHS
Sunday April 23rd, 2017
IT might have to be a case of 'back to the drawing board' as we reconsider our options in the wake of last Monday's unexpected home defeat by Redcar.
I must admit, after the great victory over Glasgow the week before and then an excellent performance away at Workington where we only lost by three and collected a losing bonus point, I was fully expecting us to put Redcar to the sword.
Unfortunately, things went completely awry and we ended up on the wrong side of a 46-44 scoreline for the second time in three home meetings.
While there were a few mitigating circumstances which contributed to the eventual outcome, one thing is very clear: because we basically built the team around strength-in-depth and having one very strong reserve, the injury to Fritz Wallner is crippling us right now.
With broken bones in his hand, Fritz is unlikely to be back with us very soon, so that effectively forces us into making a team change to replace him at the earliest opportunity we have.
Something has got to be done because we've lost six out of our first seven matches and, as I've already said publicly, I am not going to stand for another season like the last two.
Fritz's injury is clearly a big blow but what is particularly frustrating is that we are not far away at all from being a very good side. We are obviously not a bad side because we're not getting hammered and if only those two home matches against Peterborough and Redcar had come out 46-44 in our favour rather than against, we'd be on 10 points and sitting pretty at the right end of the table amongst the early frontrunners.
Instead, I have some thinking to do as to how we proceed from here. The No. 6 situation has got to be addressed first and foremost but if I also think changes to other areas of the team need to be made for the good of the club, I won't hesitate.
Broadly speaking, the top five are doing their jobs. None of them had what you would describe as a bad meeting against Redcar and all five of them won a race, which is good. But, at the end of the day, we still lost the match and that's the bottom line so they all need to be thinking to themselves, 'how can I score at least one more point every match?'
Looking on the bright side, it's a long season this year thanks to the winter changes in British league speedway so we're not at the stage of all-out panic just yet! We meet every team home and away twice, and seven matches does not a season make…
We've had a much busier start to the season than everyone else and it continues again this weekend because we were due at Berwick last night before dashing back to take on Edinburgh this evening.
A warm welcome to the Monarchs' riders, officials and supporters who have journeyed down from Scotland. They are a side who know what it's like to win at the Eddie Wright Raceway because they have done so on more than one occasion in the past and they are sure to give us another great match.
No one can complain about the entertainment levels in our first three home meetings of the season and I wouldn't be surprised in the slightest if we get another 46-44 today. But please, God, can we have the 46 this time for a change…
ROB
FROM SCUNTHORPE SCORPIONS V BERWICK BANDITS
Sunday April 30th, 2017
LET me start this week by offering a big Scunny welcome to our new signing Stefan Nielsen, who joins us on loan from Swindon for the rest of the season.
Not that Stefan is a total newcomer to the Eddie Wright Raceway, as he began his career here in 2011 in the combined Scunthorpe and Sheffield NL team which won the league that year. It would be nice if he could repeat that feat, eh!
Stefan has been sitting on the sidelines since the start of the season waiting for a club to offer him a team place. He was our number one choice to fill the gap at reserve caused by Fritz Wallner's hand injury and I'm delighted to have got our man.
Fritz's injury was a severe blow to the team because, as I said last week, we basically built our team around having a big-hitting reserve – which was Fritz. Take him out of the equation and you have problems, as has become painfully obvious since he was hurt.
We wish Fritz well in his recovery and I'm sure we have not seen the last of him at Scunthorpe, but for the time being, we had to take action when we had the chance and it would have been madness not to sign a rider of Stefan's calibre when the opportunity presented itself.
He rides our track very well and I know for a fact that he is not a reserve, even though that's where he will be starting out in the team. He's way, way better than that and I fully expect him to be moving up into the top five when the next set of averages comes out. Basically, our season starts again right now with the team restored to full strength.
Realistically, we probably all knew what the outcome of last Sunday's match against Edinburgh was likely to be once we lost Lewis Kerr to injury in the match at Berwick the previous night (and what a win that was, by the way!). No Josh Auty. No Lewis Kerr. No Fritz Wallner. And unbeaten Edinburgh rocking up. Great, just what we wanted!
I was amazed when we were 19-11 up early on and full marks to our two guests, Dimitri Berge and Richard Hall, and all the boys for making a decent fist of it until Edinburgh's much greater strength wore us down in the end. We just have to write that one off because of the state we were in, with three-sevenths of our team being out injured.
The good thing, of course, was that we managed to get three points up at Berwick from our first away win of the season – and hopefully not our last. It was a great performance from the lads and it could have been four match points if Michael Palm Toft had managed to keep Lewis Bridger at bay in the last race.
I've got to mention Tofty at this point, who has been absolutely superb for us so far this season. He really did rise to the cause and he'll be our No. 1 from today as well now that the new averages are out.
A warm welcome to the Bandits riders, officials and supporters who, like us, have not enjoyed the best of starts to the season. Let's hope this meeting marks the turning point of the season for us and we can start putting an unbeaten run together.
We've got to go to every away track now believing we can win and we've got to start winning all our home matches to get ourselves back in the play-off race.
It's going to be mega tough but I think there's a lot more points to come out of this team, so keep the faith!
ROB
FROM SCUNTHORPE SCORPIONS V SHEFFIELD TIGERS
Sunday May 14th, 2017
AFTER a little bit of a break following our very hectic start to the season, we get back down to it today with a match that is bound to be one of our toughest of the year.
Sheffield are in town with a strong-looking team that's sure to give us a heck of a run for our money. Anyone for another last heat decider?
On Thursday night, we were away at Ipswich, also a team you'd fancy to be in the reckoning at the end of the season, so if we can come through these two fixtures with some points on the board,things will be looking up.
I feel that if we stayed safe at Ipswich and get to today without suffering any more injuries, we're going to be in a good position to put another three points on the board against the Tigers.
We may not have had any league matches in the last fortnight but some of the boys were in the wars during the British Championship semi-final at Sheffield. In the end, it was a pretty decent night for us as a club, although we had a couple of scares along the way.
Stefan Nielsen had a fall when he clipped the kerb and then Wilko had a purler in the run-off for the last qualifying place. When I saw it, my first thought was, 'oh my God' but Wilko just got up, red-faced and apologised to Stuart Robson for fetching him off. Wilko had caught a rut and that was the end of that. Unfortunately, his exclusion cost him a place in the British Final and Stefan also failed to make it, despite winning two races.
It was a really strong line-up at Sheffield but at one point I thought all four of our lads were going to qualify. Stefan beat Scott Nicholls in one race, convincingly too, but he had a crash in Heat 20 which was pivotal, just when I was thinking what a great story it was going to be, someone who had to sit out the start of the season actually qualifying.
Wilko and Stefan didn't finish in the top eight on the night to qualify, but Josh Auty and Lewis Kerr did, which means we are going to have two riders representing Scunny in the British Final at Belle Vue next month. Congratulations to both Josh and Lewis.
Returning to team matters, I just think we need a clear run now without any injuries and if we can string a few wins together, we can start moving up that table to get ourselves in the thick of the playoff race.
Hopefully, we've got our one-to-seven firmly in place for the rest of the season because what we have now is a very good team. Barring injuries, the only alterations will be in the order. If Stefan moves up from reserve into the team proper, we're still going to be strong at reserve because you would think it will probably be Wilko who moves down.
Wilko is as tough as Teflon, but we need him to be for the run-in now. He's had two not-so-great matches in the last couple of home meetings but generally he's had one of the best starts to a season I can remember from Wilko.
Lewis had a slow start but he's got going now, Michael Palm Toft has been brilliant, and while Ryan Douglas found it tough at No. 1, he will find No. 4 a lot easier.
So, all in all, I'm feeling positive and confident about what lies in store for us. Get behind the boys today and hopefully we can continue our climb up the table with another three points against the Tigers. Don't forget, we're back here next Sunday at 5.30 pm again when Ipswich will be our visitors. I'll see you then.
ROB
FROM SCUNTHORPE SCORPIONS V IPSWICH WITCHES
Sunday May 21st, 2017
THERE seems to be no end in sight to our run of bad luck, which took another turn for the worse when we lost Ryan Douglas and Stefan Nielsen to injury in our match at Ipswich a week last Thursday.
Just when we thought we had turned the corner and got things sorted out, the team is wrecked again and we have another big hole to dig ourselves out of.
Ahead of the away match at Ipswich, I had high hopes for the rest of the season. Stefan had come in and done ever so well on his debut against Berwick, we were back to a full strength seven man team and I really thought we were in with a great shout of picking up some points against both the Witches and then Sheffield here last Sunday.
But what happens? Carl Wilkinson has to cry off from the Ipswich match because of the knocks he took at Sheffield in the British Championship semi-final, Ryan goes and concusses himself in his first ride at Ipswich, then Stefan comes a cropper later in the meeting and busts his collar-bone.
Honestly, you couldn't make it up, could you!
I really don't know what we've done to deserve bad luck like this but all we can do is rise above it, dust ourselves down and go again.
With our riders going down like flies at Ipswich, we obviously had no hope of getting a good result there and that match also had a huge bearing on the home meeting against Sheffield last Sunday. Sheffield is always going to be a tough match at the best of times but even allowing for our depleted team and having to use rider replacement, I still thought we might just have enough in our locker to get the three points.
In the end, it wasn't to be, they were just too good for us on the day, especially at the top end, and rider replacement for Ryan coming up with just three points was a killer for us. There's no way a fit Ryan would have scored as poorly as that.
With Stefan out for four to six weeks while his collar-bone mends, a decision had to be made as to what we could do, and I quickly got on to our old friend Tero Aarnio and agreed a deal for him to rejoin us.
I'm surprised he was still on the sidelines looking for a club, as Tero's a quality rider at this level and we know he can do the business for us around the Eddie Wright Raceway in particular. He's a club asset and slots straight into the team at reserve in place of Stefan, so I'm really pleased we've managed to solve that problem so quickly.
When Stefan is fit again, he will be back in the team but as to who makes way, we will just have to wait and see. If Tero comes in, does a good job and scores points, it's going to be hard to drop him, isn't it, and when a team is second off the bottom of the league table and struggling for wins, it's probably fair to say that no-one's job is safe!
If you think back to 2012, we probably weren't the strongest team and yet we won the league that year after a poor start. We need to get back to that very, very quickly. We need to get the team spirit back and we need to get people working as a team, not as individuals. I think that is a key ingredient that can be worked on.
A warm welcome to everyone from Ipswich today. I'm sure we're in for some more top class racing as always, but no injuries and three points would be nice as well!
ROB
FROM SCUNTHORPE SCORPIONS V NEWCASTLE DIAMONDS
Monday May 29th, 2017
OUR second Bank Holiday Monday fixture of the season brings Newcastle to the Eddie Wright Raceway – and let's hope that by the time the Diamonds are here again for our third and final Monday meeting at the end of August, we still have something to race for.
None of us are kidding ourselves, however, because after last Sunday's home defeat by Ipswich, we all recognise that it's going to be one heck of an uphill struggle from here to get into the top four and qualify for the play-offs.
Five home defeats from seven matches here at the EWR is the stuff of nightmares but when you consider that three of those losses have been by the margin of 44-46, it just goes to show how tight the SGB Championship is.
Last weekend, the entertainment was again top notch with never more than two points between the teams, which is exactly what you want. But you also want to come out on the right side of a 46-44 scoreline, especially as the home team, and for the third time this season, we didn't.
To say it's frustrating is an understatement and I'm sure you, the fans, and all the riders are feeling it as much as I am. So where do we go from here?
Well, trying to win the next match is all we can attempt to do for starters, so that means trying to get the better of Newcastle this afternoon. I'd like to welcome George English, his riders and any Newcastle fans who have made the trip today. I can virtually guarantee it will be another belter of a meeting because that's all we ever have here at Scunny – and you're all welcome to pop into our super new clubhouse to drown your sorrows with a drink after the Scorpions have won!
It's a busy spell for the lads as we were away at Redcar last Thursday and at Newcastle last night, so today's meeting will be our third in five days. Assuming the weather doesn't throw a spanner in the works, we will have raced 16 of our 36 matches once Heat 15 is done and dusted, so we're very nearly at the halfway mark of the season.
I'm stating the obvious to say that our league position is nowhere near where we want, or expect, to be in the table and I shall be looking for a massive improvement in the second half of the season, as was the case last year when things didn't go how we'd planned early on.
Tero Aarnio came in and did well against Ipswich last weekend, and once he gets himself fully dialled in again, he's going to be a great asset. We've got Stefan Nielsen on the sidelines waiting to come back in once his collar-bone has healed and that's going to be a boost when it happens, so it's not all doom and gloom and in speedway things can turn very quickly.
We've not had much good luck so far, but that will change and if we can catch a break and get a win or two under our belts to boost confidence, it's surprising sometimes how one or two wins can suddenly become three or four, and then you're on a roll and heading in the right direction again.
Don't forget that we have an extra 18 races for you today with the cream of Britain's youngsters taking to the track for the second round of the British Youth Championship at both 250cc and 500cc level. There are some great kids involved who have bright futures in the sport, so give them plenty of encouragement.
We're back here again on Sunday when Peterborough will make their second visit of the season in the Knockout Cup, so I'll see you then…
ROB
FROM SCUNTHORPE SCORPIONS V PETERBOROUGH PANTHERS
Sunday June 4th, 2017
WE'VE had less eventful weekends, that's for sure! Josh Bailey retiring. Josh Auty retiring. And very nearly a shock away win at Newcastle with a makeshift team. All within the space of 48 hours basically…
It continues to be a challenging season for us as a club and we now have to figure out where we go from here to replace the two Josh's.
There are several options open to us and possibly, by the time you read this programme, we may well have decided which route to go down.
There are riders available who are looking for team places but we have to bear in mind that we have Stefan Nielsen working his way back to fitness after his broken collar-bone, and he will come straight back into the side when he's fit again, so that has to be factored into the plan going forward.
The team we put out on track away at Newcastle last Sunday did ever so well at a venue where traditionally we rarely seem to do very well, and to lose by only 46-44 was a great compliment to the effort put in by the boys, especially Lewis Kerr, Michael Palm Toft and Tero Aarnio who scored a fantastic 38 points between them.
Poor old Ryan Douglas had a right nightmare though, and Carl Wilkinson had one race win, but scored only four altogether, so we need to work on sorting their problems out and getting them back amongst the points as quickly as possible.
We will again go with rider replacement for Josh Auty and a guest at reserve – this time, Nathan Greaves – for today's KO Cup match against a strong-looking Peterborough team, who have just signed Chris Harris as their new No. 1. In view of our performance at Newcastle, though, I have every confidence that we can get a positive result and open up a lead to take down to Peterborough for the second leg on June 16.
Whether we have seen the last of the two Josh's in a Scunthorpe race-jacket remains to be seen. Josh Bailey is taking time out to get himself over the collar-bone he broke so badly last season, something that has hampered him this year, and I'm sure he will be back on track at some point.
Josh Auty is adamant that he's had enough and is retiring from the sport for good. If that turns out to be the case, it will be a big loss to speedway and Scunthorpe in particular, because we all know how good an on-song Josh Auty can be around the Eddie Wright Raceway. He will always be welcome here and I can only thank him for his efforts for the Scorpions as a true club legend.
Annoyingly, we were rained off here on Bank Holiday Monday when we could probably have run against Newcastle in the end.
According to all the forecasts I get, rain was supposed to be coming in from 12 o'clock, then they pushed it back and said it was going to be raining from 4 o'clock… but in the end, that didn't happen at all and it missed us.
It's ever so difficult trying to make a decision over whether to go ahead or not. You're damned if you do and you're damned if you don't. The worst thing is that you don't want people in your stadium when it starts raining and you call it off, then everyone is saying, 'it was always forecast, why did you try and run it?' Now I get people saying, 'why have you cancelled it, it didn't rain?' so you can't win!
Next Sunday, we have another toughie in store when Sheffield make their second visit of the season. Can we turn them over this time? I certainly hope so – but be here and find out!
ROB
FROM SCUNTHORPE SCORPIONS V SHEFFIELD TIGERS
Sunday June 11th, 2017
ANOTHER busy week looms with home and away matches against Sheffield and a trip to Peterborough in the Knockout Cup, but at least we've been boosted by the great news that Josh Auty has had a rethink over his retirement announcement – and is not retiring anymore!
Josh realised he had been a bit hasty when he decided to throw the towel in after our away meeting at Redcar and even though I had a sneaky feeling we'd not seen the last of him, I didn't expect him to be back in Scorpions colours this quick!
What's happened has happened and it's water under the bridge now. We're looking forwards, not backwards, and after a little 'break' to get his head straight and sort a few problems out, let's hope we get a fully refreshed and recharged Josh Auty back in the No. 5 race-jacket as from this evening.
It's another tough meeting today against a Sheffield team that has already won here on their A visit in the SGB Championship last month. I'm sure the Tigers will be expecting to win again, given the respective league positions of the two teams, but with Josh back in the ranks, and the rest of the lads showing against Peterborough in the five heats that were staged last Sunday that they are starting to click, I'm optimistic about our chances.
As I'm sure you will have read in the press, Josh was fortunate that we hadn't managed to complete the signing of Dimitri Berge before he decided he wanted to race on, because if we had finalised that deal, there would have been no team place for him.
The beauty of signing Berge would have been that his average would come down, which would have given us a bit of scope later on for team strengthening. I have to admit, the 40-point limit is a disaster in terms of changing your team because if you're not winning meetings, but you're still scoring 40 points every time like we are, you're never going to have any options to strengthen up. It's just like-for-like and a 'hands tied' job.
Things happen for a reason though, and as we were still working on the Berge deal when Josh had a change of heart, luckily we were able to slot him straight back into the team.
The only two meetings he missed were away at Newcastle, where we did really well anyway, and Peterborough at home last weekend, which failed to go the distance because of the rain.
After working on the track, I thought we'd got it back right again but the riders obviously thought otherwise. It was very disappointing to have to abandon the meeting, especially as the Newcastle match on the previous Bank Holiday Monday was postponed and also because we had jumped out into an eight-point lead and had provided the race winner in all of the five heats that took place.
I think we would have gone well if it had continued after the rain and could have given ourselves a very useful lead to take to Peterborough for the second leg, which will now become the first leg this Friday of course.
Our KO Cup record as a club over the years, going right back through the Quibell Park and Ashby Ville years, defies description, it's that bad, so getting past Peterborough and into the semi-finals would be a start towards improving it!
We also have to be realistic, looking at the current Championship league table, and recognise the fact that our best and probably only chance of winning anything this season is the Cup, so these two matches against Peterborough are likely to be among two of our most important this summer.
ROB
FROM SCUNTHORPE SCORPIONS V BERWICK BANDITS
Sunday June 25th, 2017
AFTER a week's gap in the home fixtures, we resume this evening by welcoming Berwick to the Eddie Wright Raceway for the second time this year.
It's fair to say that the season has not gone according to plan for either of us so far and the current SGB Championship league table does not make pretty reading for either the Bandits or us, as we fill the bottom two positions between us.
We've passed the halfway point of the season now and have to accept that reaching the play-offs is beyond us, barring a miracle and something absolutely extraordinary happening, but that doesn't mean we've thrown the towel in.
In sport, you always set out to win every fixture you take part in and finish as high up the table as you possibly can, so today we will be looking to beat the Bandits, take the three points and look at overtaking the team above us in the table.
We've already done the double over Berwick in the Championship A matches and hopefully we can make it three wins out of three against them today. There will certainly be added interest in the meeting as we welcome old friend and Scunthorpe legend David Howe back to the Eddie Wright Raceway. It is certainly going to be very strange seeing David park his bike on the 'wrong' side of the pits and coming out wearing a white or yellow and black helmet colour, instead of red or blue!
Even though we had no home meeting last weekend, the boys were busy as we had a couple of away matches at Sheffield and Peterborough. We put up a very decent show at Sheffield, where we could have taken a losing bonus point in the last heat if we'd managed a 4-2 or a 5-1, but unfortunately it finished up as a 4-2 to Sheffield instead and we came away with nothing.
Having beaten the Tigers here a few days earlier in our previous home meeting, on aggregate over the two matches, Sheffield edged it by just two points, which shows how close we are to being one of the better sides in the division when we can more than match a team as good as Sheffield over two matches.
The difference was arguably at the top end where Sheffield No. 1 Josh Grajczonek raced to a five-ride 15-point maximum, something we couldn't match. And it was the same at Peterborough on Friday night in the KO Cup, where the Panthers also had a 15-point maximum man in Jack Holder.
Our strength-in-depth showed, though, because eight of the opening 12 races finished 3-3 and we were only trailing by 40-32 with three to go. Unfortunately, things then went wrong because Peterborough hit us with two 5-1s and a 4-2 and suddenly an eight-point deficit had become 18.
I'm sure everyone will mark Peterborough down as favourites now, but we know we are capable of turning them over here because we were eight points ahead after five races when the first leg was abandoned due to rain at the beginning of the month. If we can repeat that sort of form when the Panthers come back for another go, then I can't see any reason why we can't make a really good fist of retrieving those 18 points.
Next Sunday, we are back in action at the EWR when Redcar are here in the league – and you'll be in for a real feast of racing that day because we have rearranged the British Youth Championship round that was washed out at the end of May to follow the match against the Bears.
ROB
FROM SCUNTHORPE SCORPIONS V REDCAR BEARS
Sunday July 2nd, 2017
WELCOME to the Eddie Wright Raceway for some more thrilling Sunday evening speedway action, this time against the Redcar Bears.
Redcar did the double over us in the A fixtures and won here by 46-44 back in April, so we'll be looking to turn the tables on them this time and keep our improved run of form going.
Last weekend's win over Berwick made it back-to-back home victories after the success against Sheffield prior to that and if we can make it three in a row against Redcar this evening, we really will be moving in the right direction at long last.
The Berwick meeting was not going according to plan to begin with, because the Bandits were scrapping hard in the first half of the match. It was very frustrating as we just didn't seem able to get our noses in front, but I always felt we would come on strong later on and so it proved.
Berwick deserved a point to be fair to them, definitely, but we can't continue to throw points away like we did early in the match. We've got to be on it from the beginning if we're going to keep our winning record at home intact to the end of season, which is the aim.
There was a bit of a scare when Lewis Kerr crashed out in Heat 9 and was unable to take any further part in the match, but thankfully he's okay and should be fit to return today. I think the new injury rider replacement rule introduced for this season needs modifying to be honest because it was designed specifically to prevent three-rider races. Yet, we couldn't use it last Sunday for Lewis because he'd taken three rides and so what did we end up with? A three-rider race!
Earlier in the season away at Ipswich, we lost Ryan Douglas (in his first race) and then Stefan Nielsen to injury, so we were down to four fit riders because we were using 'normal' rider replacement from the start – and again the regulations prevented us from activating the injury r/r facility. It's a new rule that was introduced with the best of intentions, but I think it does need modifying.
Anyway, back to the Berwick match and how good was it to see Josh Auty back to his sublime best! It was the old Josh Auty of years ago, he was absolutely amazing. Heat 15 meant so much to him when he won it that he chucked his goggles into the crowd, so it even cost him money! I'm so glad he decided to come back.
He never gives up for four laps and he's back to working on things, working on his gating, trying to be the best he can possibly be which is really good to see. That shock really has, in my opinion, flicked a switch in his head and I'm really pleased for Josh, for the team and for the fans.
Great news, too, is that Wilko is right back on it and in amongst the points, but unfortunately Tero seems to have gone the other way all of a sudden. He set off from the tapes like he was on a 150 in Heat 1 last week and went through the tapes in his third ride but, to be fair, he redeemed himself when he went off 15 metres and went from fourth to second in Heat 8 to get a 5-1 with Wilko.
We are still waiting on Stefan Nielsen as to when he's going to be fit to return, but we do have options because Fritz Wallner is ready to come back. Unfortunately, I think bringing Fritz back right now would upset the stability of the team. Having Wilko down at reserve, or another strong reserve that knows the tracks, is what we need right now. We don't need another gamble at this stage.
ROB
FROM SCUNTHORPE SCORPIONS V NEWCASTLE DIAMONDS
Friday July 7th, 2017
AFTER two home wins in a row, we were brought crashing back down to earth with a bump against Redcar last Sunday.
The Bears had already won here in the A fixture, and repeated that feat in the B match, although I have to say that we pretty much threw the points away with the number of engine problems, falls and exclusions we had.
I felt some of the refereeing decisions were very debateable, to say the least, and those of us in the Scunthorpe camp had cause to feel aggrieved. But we can't solely blame the referee for another home defeat. That's the easy way out. We have to look at our performance, individually and as a team, to see what we did wrong and where we can get better, to start putting things right and getting a winning run going here at the Eddie Wright Raceway.
The season is over in terms of reaching the playoffs, we all know that, but that doesn't mean we give up. As always, the aim is to win every meeting and if we lose one, then we forget about it, move onto the next one and try and win that.
This is our third bad season in a row and we have got to take steps to try and ensure that it's the last one. I'm not sitting on my backside and taking defeat lightly, I can assure you. It really gets to me when we're losing and at the wrong end of the table and since the Redcar match last Sunday, I've been working hard on trying to pull the loose ends together of a potential new signing.
Maybe something will come off, maybe it won't, but I do think we need to do something to freshen the team up and it won't be for the want of trying if things don't happen.
Our problems have been compounded by the news that Stefan Nielsen needs further surgery on the collar-bone he broke at Ipswich in May. We had been hoping to have Stefan back out on track by now – or certainly very, very soon anyway – but if the injury has not been healing as well as it should have been and another operation is required, it sounds very much like a case of 'season over' for Stefan unfortunately.
Tero Aarnio crashed in the Redcar meeting last Sunday but we are hoping he will be fit enough to ride tonight. If not, we will have to use rider replacement against Newcastle, which looks like being another tough match for us.
The Diamonds have had injury problems of their own to contend with and tonight they are without their top two of Robert Lambert and Steve Worrall, who are out in Poland with the Great Britain team preparing for the World Cup Final at Leszno tomorrow.
Mind you, they have got two extremely capable guests in Richie Worrall and Kyle Howarth!
A reminder that we have a short break in our home fixtures now, as there is no meeting here next weekend. The Scorpions will be back in league action again on Sunday, July 23 against high-flying Glasgow, so I'll see you then.
ROB
FROM SCUNTHORPE SCORPIONS V GLASGOW TIGERS
Sunday July 23rd, 2017
GLASGOW make their second visit of the season to the Eddie Wright Raceway this afternoon, so let's hope for a repeat of the result back in April when we managed a 47-43 victory.
That was definitely one of our best results of the season, considering the Tigers are contesting top spot in the table, look virtual certainties to be one of the four play-off teams and have, at the time of writing, only lost four league meetings all year – one of which was here obviously.
Quite remarkably for speedway, which is a sport that can often by affected by injuries, the two sides that have been named for today's match are almost the same as the two that fought out such a thrilling meeting back in April.
For us, Fritz Wallner had just been injured at Edinburgh and we had to call in Matt Williamson as a guest, but the other 13 riders on duty that day will all be in action again this evening.
Our season may well be over in terms of reaching the play-offs but we continue to strive to win every match we take part in, and that will be no different today.
We can expect the Tigers to bring a good following of supporters with them, most of whom will be on their way back to Scotland following the British Grand Prix in Cardiff last night. I'm reliably informed by the Glasgow promoters that there will be a couple of coachloads here and I'm sure there will be some Tigers fans travelling independently as well, so a big Scunny welcome to you all and I trust you enjoy your day with us, the result apart of course! The one thing I can guarantee you is some fabulous racing on the best race track in the country.
On to Scorpions team matters, and we continue to fluctuate between looking a very good side and a very bad one, which is a continual source of frustration to me, as I'm sure it is to you, the fans.
Against Newcastle in our last home match, we were excellent and ran up our second best win of the season. Apart from Lewis Kerr, who had a terrible night with machine problems, all of the rest of the lads got stuck in, rode very well and were amongst the points, particularly Ryan Douglas who was absolutely superb with paid 17 points from six rides, only missing out on a maximum on the last bend of the last race.
Great stuff, things are looking up, I thought. And then we went to Redcar…
I honestly felt we had a decent chance of actually winning up there, but what happens? We get spanked and it's our worst defeat of the season! This time, Lewis was the only one to emerge with any credit and if it hadn't been for him coming up with 13 points, we really would have been on the end of a proper hiding. No one else was anywhere near the sort of score they are capable of, and should be, producing.
We've said all year that there is a good team in there waiting to break out, but the riders just don't seem able to find any consistent performances. One week, we can be very good; the next, we can be very bad…and that's why we are where we are in the league table.
We have no away meetings this week, but we will be back here again next Sunday evening when Workington will be our visitors. That match will bring ex-Scorpions favourites Thomas Jorgensen and Matt Williamson back to Scunny in Comets colours, and promises to be another excellent meeting. I'll see you then…
ROB
FROM SCUNTHORPE SCORPIONS V WORKINGTON COMETS
Sunday July 30th, 2017
THE big news of the last seven days is the departure of Carl Wilkinson from the club.
It's never easy to let a rider go at any time but it's doubly more difficult when it's someone like Wilko, who has been such a crowd favourite and fantastic servant over so many years.
It was 2008 when he first joined the Scorpions, the year we stepped up into the Premier League for the first time, although his connection with the Eddie Wright Raceway goes right back to day one, literally, because he rode in the first-ever meeting here (and should really have won it too, after racing to a 15-point maximum in the Scunthorpe Telegraph Trophy qualifying heats, before being excluded from the final for falling).
So to have to tell someone like Wilko that 'we're dropping you' is hard, very hard, but the time has clearly come when some tough decisions have to be made for the good of the club and we can't allow sentiment to get in the way.
Last Sunday's home defeat by Glasgow was the seventh time we've lost at home this season out of 12 matches and that statistic is nowhere near good enough.
Obviously, it was not solely Wilko's fault, even though he failed to score. Michael Palm Toft only managed four points, Lewis Kerr crashed out in his first ride and young Josh Bailey at No. 7 didn't beat a Glasgow rider in his three rides, so when four of your team can only contribute a total of five points between them, it's fairly obvious what the outcome is going to be.
By the end of the Glasgow meeting, we knew something had to be done and changes needed to be made, so for today's match against Workington, we will have a new signing in the team.
Exactly who that will be, I am not in a position to confirm as I put these notes together in the middle of the week. We have left a blank in the programme at No. 2, so all will be revealed tonight!
This is Workington's first visit of the season to the Eddie Wright Raceway, so a warm welcome to the Comets management, riders and any supporters who may have made the trip from Cumbria.
We pushed them hard at their place back in April when we lost by 48-45, so we know we are capable of matching them. Michael Palm Toft was on fire that night at Derwent Park, winning four of his five races and dropping his only point to Craig Cook in Heat 15, so hopefully he can recapture that form this evening and given us the springboard from which to take the three match points.
It's not going to be easy, especially with Cookie – the British Champion, Grand Prix wild card and British World Cup captain – at No. 1 for the Comets, and the likes of ex-Scorpions Thomas Jorgensen and Matt Williamson in their ranks as well, but it's time for our boys to step up to the plate and show us what they're capable of after what has been a very disappointing season for us so far.
On Saturday, we face Workington again in the B fixture at Derwent Park, but there is no home meeting here next weekend because of the Championship Fours at Peterborough on Sunday afternoon. Hopefully, we'll see plenty of Scorpions fans at that one giving the lads some support.
Talking of Peterborough, our KO Cup quarterfinal against the Panthers, which was abandoned at the start of last month after only five heats, has been rearranged and will be on a Friday night towards the end of September (the 22nd).
ROB
FROM SCUNTHORPE SCORPIONS V IPSWICH WITCHES
Sunday August 13th, 2017
AFTER a break last Sunday for the Fours at Peterborough, and a rain-off the previous Sunday against Workington, we're back in action at the Eddie Wright Raceway for the first time in three weeks this afternoon.
I'd like to welcome Chris Louis, our former rider Ritchie Hawkins and the Ipswich riders and supporters to a hopefully sunny Scunny today and no doubt the Witches will be looking for a repeat of their victory here in the A fixture back in May when they won 46-44.
They're looking very much on course to claim one of the four play-off places this season and given that they've beaten us three times already this season, we'll be glad to see the back of them for this year after today!
It's certainly going to be another tough match for us but the boys are very upbeat after last Saturday's trip to Workington. What a result that was! We'd done well on our previous visit to Derwent Park for the A match when we held the Comets to a 48-45 win in April and took a consolation bonus point, but this time we went way better than that and took all four points on offer.
We were never behind and at one stage led by 10, but even though the Comets fought back and took it to a last heat decider, Michael Palm Toft and Lewis Kerr did the business for us in Heat 15 with a huge 5-1 over Craig Cook, the top man in the league, and Ty Proctor, who had seven race wins between them going into that heat.
It really was fantastic stuff and showed what we are capable of when the boys all perform to their capabilities. Our new signing Jake Allen came in and did a great job on his debut with 6+3, Tero Aarnio got 10 at No. 6 – which is why we want a big-scoring reserve – and on the night we had only three last places.
I'm told it was the first time we had won away at Workington since 1980… although I'm far too young to remember that obviously!
In a way, our win there last weekend was a fitting and a very appropriate tribute to Brian Osborn, one of my predecessors as the Scunthorpe Speedway promoter, who passed away recently at the age of 75.
Brian was at the helm in 1980 at the time of that previous win at Workington. He was actually a Scunthorpe rider in the very early days of the club when we were at Quibell Park and made 18 appearances for the Saints in 1972, our very first season in Division Two, as it was known then. He took over as promoter in 1973 and was in charge throughout the Quibell Park years. The move to Ashby Ville in 1979 really only happened because of Brian's determination to see the project through.
With help from people like Ted Hornsby and Richard Judge, Brian got the new stadium off the ground and while no one would ever pretend it was the 'Wembley of the North' – far from it, in fact! – it did ensure the Scunny fans had another six and a bit seasons of speedway before the Stags closed in 1985.
Brian had sold his shares in the club by then and moved on. In recent years, he had been living in retirement in his native Ipswich.
It's probably fair to say that if it hadn't been for Brian's persistence in keeping speedway going in Scunny throughout the 70s and into the early 80s, none of us would be here today so for that the club owes him a debt of gratitude. RIP, Brian.
ROB
FROM SCUNTHORPE SCORPIONS V PETERBOROUGH PANTHERS
Sunday August 20th, 2017
NO-ONE can say we haven't had any luck this season – sadly, it's all been bad!
We lost Fritz Wallner in just our fourth meeting of the season, and his replacement Stefan Nielsen crashed out with a broken collarbone in his second outing for the Henderson Insurance Scorpions.
Jake Allen recently made an impressive debut for us at Workington, and was then our star rider in the fours at Peterborough.
However, we then received the news that Jake had been sidelined with a wrist injury, sustained while riding for Somerset. The only consolation is that we believe it's a minor break, and there's even a chance that Jake might be back today.
Mind you, we can't really blame Jake's absence for our disappointing home defeat to Ipswich last Sunday, since rider replacement scored 7+1.
The only consistent thing about us this season is our inconsistency, and we again showed that against Witches, as we lost from a winning position and undid some good work from earlier in the meeting. Danny King was totally immense for Witches, with some brilliant speedway, but it still felt that we had snatched defeat from the jaws of victory, and failed to consolidate on that excellent away victory at Workington.
Onto today's meeting against Peterborough, and it's a meeting that I fully expect to win, since they are below strength. Regrettably, Jack Holder is riding for Torun in Poland instead of lining-up for the Panthers, with only a National League guest available in his place.
I would like to apologise to our supporters, since I always believe in putting on the best possible show, and we can't do that today. However, I would like to point out that it's not our choice – it's the choice of the Peterborough promotion. I'm very disappointed by their decision, to say the least.
To compound matters, Panthers also have Chris Harris unavailable today, on official World Longtrack duty. But there is some good news, with our old friend Thomas Jorgensen booked as the guest for Bomber. It's no secret that I'm a big fan of Thomas and would love to see him back in our colours.
Looking forward to next week, we have a double-header with a difference at the Eddie Wright Raceway on Bank Holiday Monday (3pm), with the Scorpions in action not once, but twice, with Newcastle and Workington providing the opposition.
It's been very difficult to price. In the end, we've settled on £20 for all adults (adults / OAPs / students), £5 for kids aged 10-17, and accompanied kids under 10 free.
We've tried to set the admission prices so that they are really good value and there are big savings for all adults, compared to the price of two single-headers. For example, if you normally pay the concessionary rate of £13, you'll pay £20, so across two meetings, that's a saving of £6. And we've kept the prices for kids at £5, despite the fact it's double the action.
It's a very expensive meeting for us to put on and we need to cover the cost. I've tried to be fair to everyone, and I hope you can appreciate that. It's going to be a fascinating afternoon's action, since Newcastle and Workington are the two clubs directly above us in the SGB Championship table and, if results go our way, a double victory could take us above both of them.
We will also hold our annual collection for the Speedway Riders' Benevolent Fund that day, between the two meetings. It's a massively worthy cause, so please give generously.
ROB
FROM SCUNTHORPE SCORPIONS V NEWCASTLE DIAMONDS & WORKINGTON COMETS
Monday August 28th, 2017
SOMETHING of a first for us today, as we stage our first double header at SGB Championship level.
Although we've held Bank Holiday double headers regularly in the past, they have always involved the 'first team' followed by a Conference/National League level meeting. Today, we break new ground by sending the Scorpions out twice for a couple of league matches.
The situation has been brought about largely by the rain-off against Workington last month, which brings the Comets back this afternoon to follow the scheduled fixture against Newcastle.
We have decided to use the programme printed for the original Workington fixture, coupled with this insert, as there are only a couple of changes to each team and clearly it doesn't make financial sense for us as a club to bin the rain-off programmes and pay out for new ones to be printed.
With Newcastle and Workington being the two teams immediately above us in the table, we need to take the maximum six points on offer to give ourselves a chance of catching one or both of them. It will be a tall order because they both have matches in hand on us but if we can beat them today, and finish the season in style, then you never know, we might be able to do it.
We had a good win over Peterborough here last Sunday, although we made heavy weather of it in the early stages. It was frustrating for me for a little bit but we got it together when we needed to and we were commanding in the end.
The Panthers were not at full strength, with Chris Harris and Jack Holder missing, but you can only beat what's in front of you, as they say. The margin of victory (53-37) was very close to being what is required for us to overturn the first leg deficit in our Knockout Cup quarter-final tie with the Panthers when they return towards the end of next month. Who knows what sort of team Peterborough will put out that night as much can happen between now and then, but at least last Sunday's result gives us the confidence-boost of knowing that we are capable of pulling off the sort of scoreline we need to get through on aggregate.
We have no meeting here next weekend and after today's fixture, we have only three more home matches scheduled (depending on the outcome of the Peterborough KO Cup tie). I'll see you here again on Sunday, September 10 at our usual 5.30 pm start-time for the visit of Edinburgh.
ROB
FROM SCUNTHORPE SCORPIONS V EDINBURGH MONARCHS
Sunday September 10th, 2017
INTO the final month of the season we go, and it's a warm welcome to Edinburgh this evening for our penultimate home SGB Championship fixture.
I say 'final month' but there is still a chance we can prolong the campaign – and even win some silverware – if we can overturn an 18-point deficit against Peterborough in the KO Cup in just under a couple of weeks' time.
That possibility aside, though, we only have today's match against the Monarchs, next Sunday's league finale against Workington and that Cup clash with the Panthers to go.
There is no denying that it has been a very disappointing season for us in the league, which was pretty much summed up in a nutshell by the outcome of our last home meeting on the August Bank Holiday weekend, the double header against Newcastle and Workington.
The team's inconsistency was there for all to see as we lost to the Diamonds, but then ran up our biggest win of the season against the Comets as we scored 60 points or more for the first time this year.
It really is hard to fathom and the way the team has been so up and down is what's made it such a frustrating season for everyone. The only slight consolation we can take is that we're almost certainly not going to finish bottom of the table – and that's not much of a consolation at all!
If you'd said to me back in March when the season started that we'd be scuffing around at the bottom of the table all year, a) I wouldn't have believed it because I had every confidence in the team we'd put together, and b) I would not have been very happy about it!
Moving forward, all we can do now is reflect on what has gone wrong and try and do something about it. If that means starting with a blank piece of paper and building a new team from scratch, so be it, that's what we'll do. I want a team of out-and-out racers for next season who will win their home matches at the Eddie Wright Raceway and provide us with plenty of entertainment at the same time. If you can win all your home matches, that breeds confidence and helps improve your away performances.
We've already lost more league matches here at the EWR this season than we've won and that state of affairs can't be allowed to continue.
Back to today's meeting, and play-off chasing Edinburgh will give us another tough match, I'm sure. They've already inflicted our heaviest home defeat of the season (37-53) back in April and will be aiming for a repeat of that as they battle with Redcar for the last spot in the play-offs. Let's hope it's the Scunthorpe team that beat Workington that turns up today, rather than the one that lost to Newcastle!
ROB
FROM SCUNTHORPE SCORPIONS V WORKINGTON COMETS
Sunday September 17th, 2017
IF nothing else, I hope the team can show some pride and fight today as we close our home league fixtures for the season against Workington.
We ran up a big score against the Comets when they visited us for the A fixture only three weeks ago on August Bank Holiday Monday and our 61-30 win that day was our best result of the season, score-wise.
Performance-wise, the away win at Workington at the beginning of last month was probably our best of the year and so we really do need to be looking at beating the Comets for the third time this season today.
Like ourselves, Workington have underperformed and I'm sure everyone connected with the Comets would have been hoping for a lot more when they began the season back in March.
At the beginning of this week, Workington were just one place above us in the table but with matches in hand on every other team in the league, they still have the opportunity to climb a place or two in the table and make their finishing position a little bit more respectable. Unfortunately, we can't say the same thing because we already know where we're going to finish – and that's second from bottom. To say that's way below my expectations is quite an understatement!
Last Sunday, we were exposed yet again by an Edinburgh team who simply got their heads down and got on with it when the rain came halfway through the meeting. Somehow, we managed to turn an eight-point lead into an eight-point defeat within the space of just six races and, in my book, that is simply unacceptable.
We've had 17 league matches here at the Eddie Wright Raceway this season and the loss to Edinburgh was the 10th time we've been beaten. Again, that is unacceptable.
As I said, today is the day when the riders need to step up and give us a bit of fight and passion against a Workington side that we know we can beat. If we can do that, hopefully it will give us a bit of belief and a bit of confidence that we can have a right good go against Peterborough in the Knockout Cup on Friday night and try to pull back an 18-point deficit to reach the semi-finals.
As things stand, that match will be our last home meeting of the year if, as everyone expects, Peterborough do enough to get through. As far as I know, the Panthers will be at full strength, which means the likes of Chris Harris and Jack Holder will be here, so it is asking a lot of our boys to pull back 18 points. But having said that, the team has been so up and down this year, so Jekyll and Hyde, that it would not surprise me in the slightest if we actually went out and did it! I'll see you all here again on Friday when we'll find out…
ROB
FROM SCUNTHORPE SCORPIONS V PETERBOROUGH PANTHERS
Friday September 22nd, 2017 (restaged on Friday September 29th, 2017)
FOR what will probably be the final time this season (but might not be!), welcome to the Eddie Wright Raceway for the second leg of our long-delayed KO Cup quarter-final tie against Peterborough.
Rain threw a spanner in the works when we tried to stage this fixture for the first time back in June, the referee having to abandon the match after five races as conditions deteriorated. We were leading 19-11 at the time and looking on course for a decent win, but that all counted for nothing and after we then lost the away leg at Peterborough by 54-36, we find ourselves with an uphill task tonight as we try to pull back 18 points and get through to the semi-final against either Glasgow or Newcastle.
I'm sure you're as realistic as me and recognise the fact that as we need to score at least 55 points, and have managed that feat only twice all year, the odds are not stacked in our favour!
Peterborough have named a full strength team and will start as red-hot favourites to go through, so all we can do is give it our best shot and see where that takes us.
If we come up short, then tonight's meeting will be the last speedway meeting of the season here and I'd like to take the opportunity to thank you, the loyal fans, for sticking with us during what has been our worst year ever.
As always, a big thanks to all the track staff and everybody who has helped us out, and I'd especially like to mention Shane and Mandy who have been invaluable in helping on race-days. They have been a rock for us and we couldn't have done it without them.
If we run in 2018 – and at this stage, I have to stress that it is still 'if' – I will make things better, so please stick with us. Things have got to be much better all round, and not just on the track in terms of winning matches. The show has got to be a lot better and I would particularly like to take a leaf out of Glasgow's book by doing a lot of things for the kids.
To that end, if we do run, I will be asking for help from people to assist us with race-day improvements and making our show much, much better.
However, that's all in the future at the moment. It's no secret that the sport is facing some difficult and very challenging times at the moment and there are some big decisions to be made this winter.
Even if tonight does turn out to be our last meeting, there is still plenty going on here at the EWR. For starters, tomorrow night, we have a big night of stock-cars with the World Final for the F2 Outlaws, plus bangers. The action starts at 5 pm. We've got the end-of-season presentation night for the Scorpions on October 21 and on Saturday, November 4, starting at 4 pm, we bring the curtain down on the stock-car season with a big fireworks display on Bonfire Night weekend.
ROB