Scorpions looking to avoid 'banana skin' at home to Rye
May 11th, 2015
2201 Views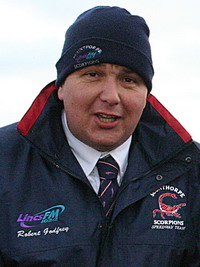 FLUIDAIR POWER Scunthorpe Scorpions, supported by Henderson Insurance, are aiming to build on last Saturday's excellent away draw at Rye House, when they entertain the Rockets in the return fixture at the Eddie Wright Raceway on Friday (7.30pm).
But Scunthorpe promoter Rob Godfrey has warned against complacency.
"Friday is going to be tough", he warned. "Nike Lunna is one of the reserves for the Finnish Grand Prix on Saturday. It will be an absolutely fantastic experience for the lad, rubbing shoulders with the best riders in the world, and I'm chuffed for him. I hope he gets at least one ride in the meeting.
"However, it does present us with a challenge, in that Nike is now on a 3.00 average, and therefore it's difficult to replace him.
"We are looking at getting the best possible guest for him. But in the same way, Rye House were a little exposed without their Danes on Saturday, we'll miss Nike. The meeting could be a banana skin, but we need to make sure it isn't.
"We'll again be using rider replacement for the injured David Howe, so it will up to the remaining four riders in our top five – Josh (Auty), Theo (Pijper), Alex (Davies) and Wilko (Carl Wilkinson) to be at the top of their game on Friday night."
* Further team news later in week.
Related Posts By Category