Manager Dave Peet bows out on a high
Oct 22nd, 2023
1737 Views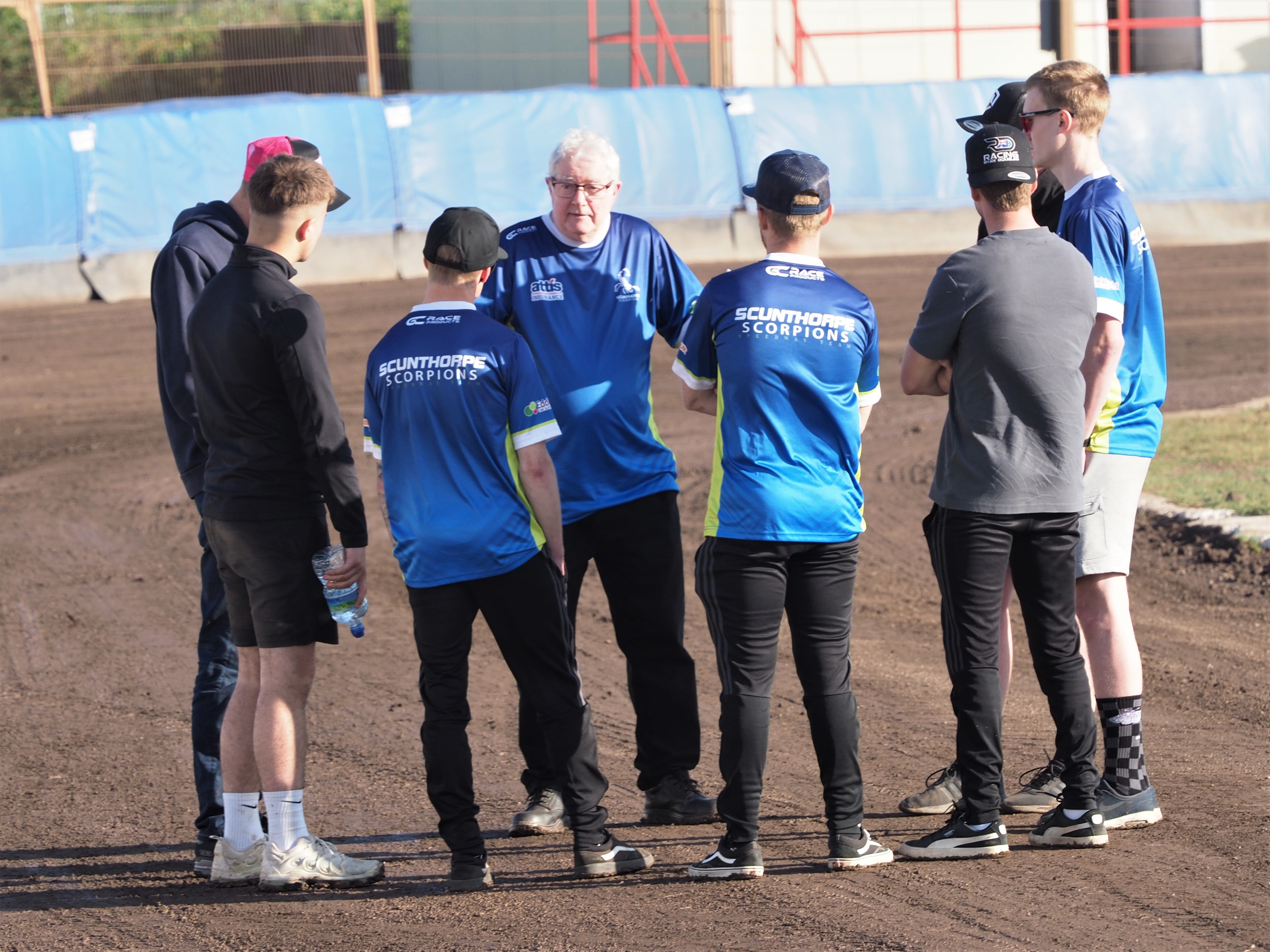 DAVE PEET – the manager of the Attis Insurance Scunthorpe Scorpions – has stood down from his role following Scorpions' triumph in the Championship Knockout Cup at Poole on Saturday evening.
Scunthorpe clinched the Cup at Championship level for the first time in their history, after a 45-45 draw in the second and decisive leg on the South Coast secured a 92-88 aggregate victory. Scorpions had previously won the first leg at Scunthorpe's Eddie Wright Raceway last Sunday by 47-43.
Peet has been in the role for just over ten years, having taken over as team manager in the opening weeks of the 2013 season, just after Ryan Douglas had come into the side as a raw teenager.
Douglas had already announced his second stint with Scorpions is coming to an end – since he will not be riding at Championship level in 2024, having signed a top-flight contract in Polish Speedway.
Peet – a former speedway referee with previous management experience at Hull at Berwick – said following the meeting at Poole: "It's the right time for both me and the club for me to step aside. It's been both an honour and a privilege to manage Scunthorpe Scorpions for over 10 years. I've made a great deal of friends over that time, many of whom are supporters.
"I started at Scunthorpe around the same time that Dougie (Ryan Douglas) came into the line-up as a 19-year-old. We're now both leaving the club, and it's nice to leave with some silverware in our final meeting.
"It's always a team effort. Dougie has been Mister Dependable this season and a brilliant No 1. He wasn't dominant as he had been in previous visits here at Poole this year, but he was playing the team game.
"You can only win trophies like this if you come and ride as a team. The good thing to me is that it feels like we deserved this, because we've won it at Poole. They are the club that everyone aspires to be, so to beat them over two legs and clinch the trophy on Poole's own track speaks volumes to me.
"They'd had a lot of rain and the track was a leveller for the first six races or so. But we came here to do a job and we did that all the way through the meeting, right up until Drew (Kemp) and Jake (Allen) took the 4-2 we needed in Heat 14.
"I'm pleased for our captain Simon (Lambert) – he's been wanting some silverware with the club. He's really upped his game this year and he probably deserves it more than anyone did, especially after the way he's ridden here.
"Drew also had another good meeting down at reserve, as he did in the first leg. But it's always a team effort and they all chipped in and that's how you win silverware.
"In terms of winning the Cup, I hope it's the beginning of a journey for Scunthorpe Speedway, and not the end, and there's more silverware for the club around the corner. I wish the club the best of luck in the future", Peet concluded.
Story by Rob Peasley
PHOTO: Dave and the riders on a track walk (PIC: IAN RISPIN)
Related Posts By Category