Lambert the hero, as Scorpions win the cup!
Oct 21st, 2023
2801 Views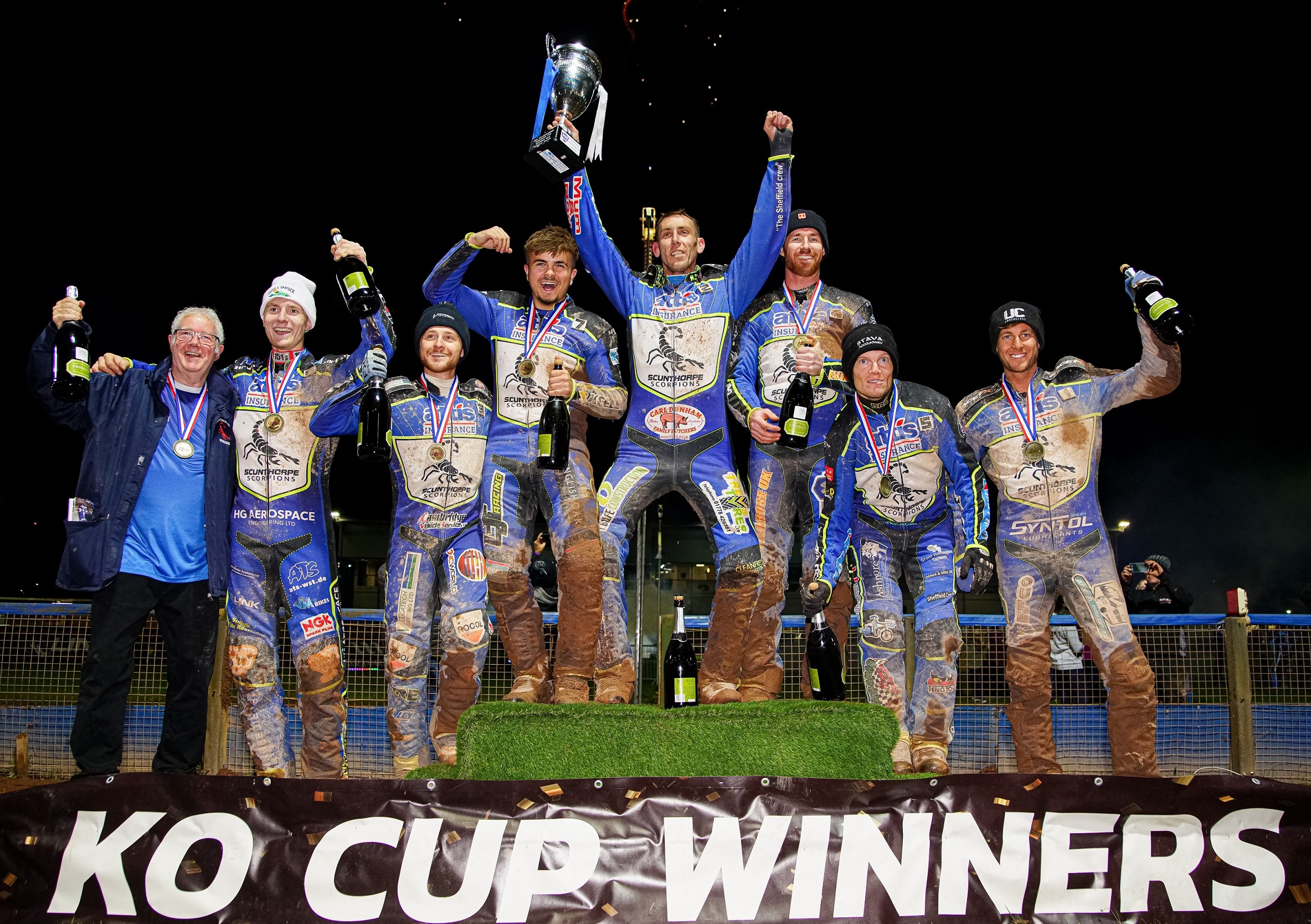 LAMBERT THE HERO, AS SCORPIONS WIN THE CUP
POOLE PIRATES 45 SCUNTHORPE SCORPIONS 45 (Championship Knockout Cup final, second leg)
Scunthorpe win 92-88 on aggregate
ATTIS INSURANCE Scunthorpe Scorpions ended a 11-year drought for silverware, when they clinched the Championship Knockout Cup by holding Poole Pirates by 45-45 in the second leg on the South Coast last night (Saturday) to clinch a memorable 92-88 aggregate victory.
While it was very much a team effort, Scunthorpe skipper Simon Lambert was the star of the show, winning his opening four outings as he put in the performance of a lifetime on a track he doesn't rate as one of his favourites.
Scorpions had a slender four-point advantage from the first leg at Scunthorpe, but fought hard for every point, and never allowed Pirates – who were seeking a hat-trick of cup victories – back on level terms on aggregate.
There hadn't been a 5-1 for either side in the first leg at the Eddie Wright Raceway, but the decision to move Lambert to the No 2 spot proved a tactical masterstroke, as he joined top dog Ryan Douglas for a 5-1 in Heat 1 at Poole. The Australian was covered in wet shale and mud after a tangle with Anders Rowe on the opening bend in the first of three attempts to stage the race.
Pirates twice moved two points ahead on the night to close to two points behind on aggregate, but twice Scorpions re-exerted control with a 5-1 involving Lambert, including Heat 8, where the Scunthorpe skipper moved from last to first to join trump card Drew Kemp for a maximum heat win.
The second 5-1 of the evening for Lambert and Douglas in Heat 11 moved Scorpions six points clear on aggregate, and there were four points ahead entering Heat 14.
A ding-dong battle was starting to ensue when fourth-placed Poole ride Kyle Newman fell on the second bend of the second lap. The race was halted with Scorpions holding a 5-1. In the re-run, Kemp and Jake Allen again held a 5-1. Poole's Zach Cook passed Allen with a lap remaining, but Kemp held him off in a tight finish, as Scorpions won the Cup with a 4-2.
Lambert was only beaten in Heat 15, by which time the Cup was already secure, and top scored with 12 points. Kemp scored 10+2 and Douglas 9+2 on his final appearance for Scorpions – since he is not riding in the Championship in 2024.
Connor Mountain scored a solid 7+1, while Allen (4+1) and Michael Palm Toft (3) also chipped in with vital points. Nathan Ablitt put in 100% effort but failed to score.
Scunthorpe skipper Simon Lambert said: "This is an unbelievable feeling. I'm the proudest man in the world right now.
"To be captain and lift that Cup means the world to me. I've also had a good night myself. Poole isn't my favourite track, but it was a big occasion, and I've managed to step up to the plate.
"I was making some good starts tonight, while I also came last to first in one race [Heat 8]. I wasn't easy to do that tonight, but I had one of those nights when it was all going right.
"I wear my heart on my sleeve and I never know when I'm beaten and will always give everything in every race. An exception was Heat 15 tonight, when we'd already won the Cup and I was happy to pull wheelies at the back.
"I wanted to win the Cup more than anything. I brought me little boy Kai with me, despite it being a five-hour journey. He's got a gold medal to wear around his neck on the way home, while I've got the Cup and Rob (Godfrey, Scunthorpe promoter) isn't having it back until March!
"I've had a difficult year off the track, there's no hiding that. It's all done and dusted now and speedway has been my release. A big thank you to my family and friends for their support.
"I've had such a good year on track, and I don't think people appreciate the time that goes in the workshop and travelling in the van to achieve that. Even when I'm sat in my house, the management are contacting me as captain and I've never had that before. It's like a big family.
"I've got an operation a week on Tuesday (October 31) on my knee for an injury from around seven years ago. I'll be back stronger and fitter next year. It's been brilliant to win the Cup and I want to win the league next season.
"Thanks to everyone who has stuck by me all year. Thank you to all the Scunthorpe fans, especially those who made the long journey to be here tonight. The noise, the appreciation, it goes such a long way. Thanks to my family, my friends, all my sponsors, and all the fans for their support.
"I've won the Cup before, but never as captain and it was such a special moment to lift the trophy."
POOLE 45: Richard Lawson 10, Ben Cook 8+1, Zach Cook 8, Kyle Newman 8, Steve Worrall 7, Joe Thompson 3+2, Anders Rowe 1.
SCUNTHORPE 45: Simon Lambert 12, Drew Kemp 10+2, Ryan Douglas 9+2, Connor Mountain 7+1, Jake Allen 4+1, Michael Palm Toft 3, Nathan Ablitt 0.
Scunthorpe win 92-88 on aggregate.
* More reaction to follow from Ryan Douglas, Drew Kemp and team manager Dave Peet.
Report by Rob Peasley
PHOTO: Cup winners – the 2023 Attis Insurance Scunthorpe Scorpions (PIC: STEVE HONE)
Related Posts By Category