Big Match Preview: Scunthorpe v Edinburgh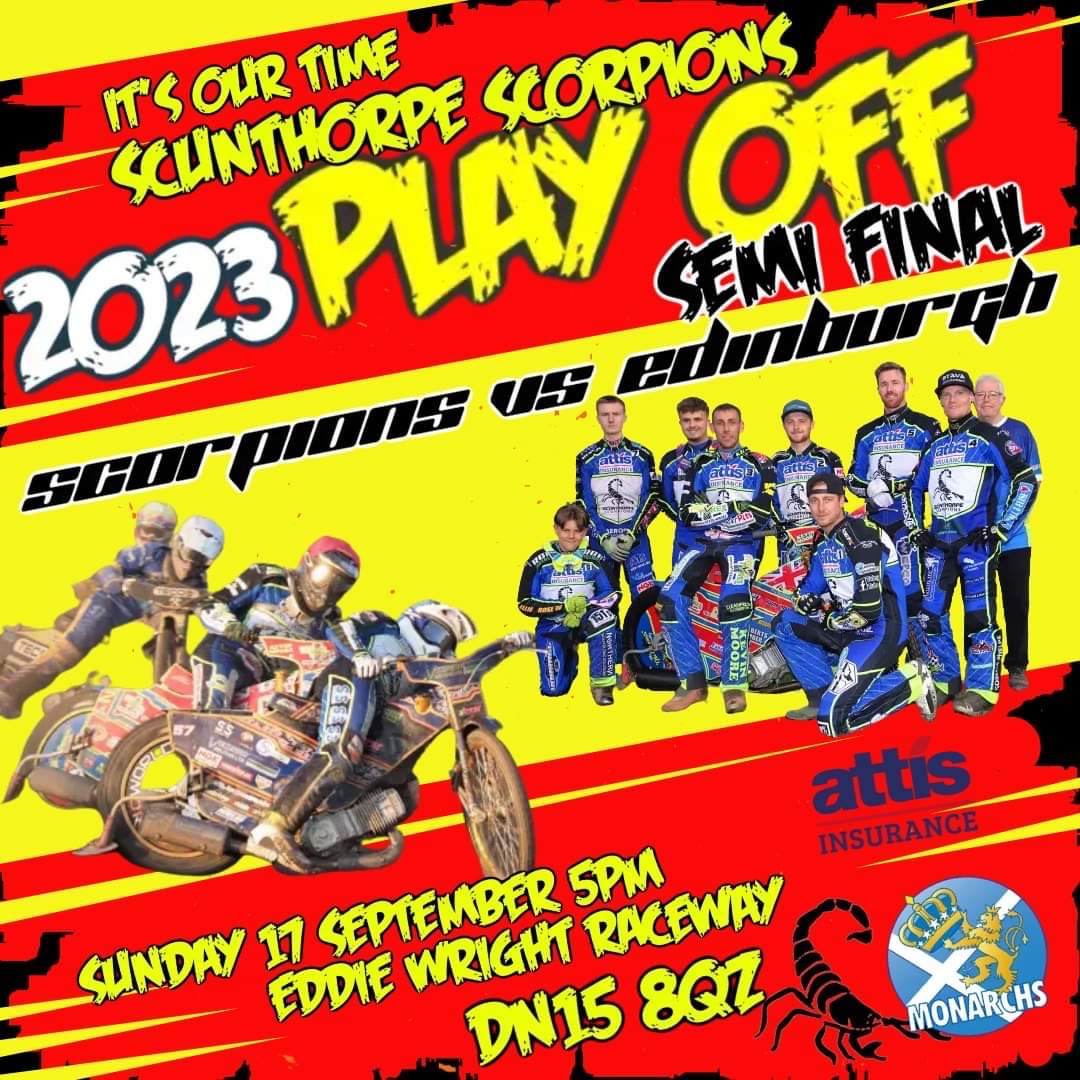 SUPER SUNDAY AHEAD AT THE EDDIE WRIGHT RACEWAY
ATTIS INSURANCE Scunthorpe Scorpions are looking to continue their excellent start to their Cab Direct Championship play-off campaign when they host the Edinburgh Monarchs in a huge match at Scunthorpe's Eddie Wright Raceway tomorrow (Sunday) at 5pm.
Arguably, this is the strongest Scunthorpe side since 2014, when only three metatarsal injuries prevented a serious assault on the play-offs, and Scorpions are seeking to emulate their 2012 side, who triumphed over Somerset by 92-91 in a dramatic play-off final.
Scorpions shocked reigning champions Poole by holding Pirates to a 45-45 draw on the South Coast on Wednesday. Although Pirates won the concluding Superheat by 6-3, it was a result that leaves Scorpions in the box seat in their play-off mini-group.
Scorpions' trip to Edinburgh on Friday night was subsequently rained off, due to a day of dreadful weather in Scotland. The re-staging date has yet to be announced.
Edinburgh Monarchs are the other team selected by table-topping Poole to complete the three-side mini-group. They are arguably the weakest link in the group. In the regular league matches, Scunthorpe won 54-36 at Edinburgh, while they beat Monarchs by 51-39 at the Eddie Wright Raceway.
The same scoring system applies in as regular matches, with two points for a win, one point for an aggregate victory, and Superheats to decide ties.
Scorpions are looking for both a victory tomorrow and also at Edinburgh, whenever that meeting is held. Double victory over the Monarchs, allied to a home victory over Poole at the EWR next Friday (September 22), would clinch a place in the final.
Scorpions' promoter Rob Godfrey said: "As good as the Poole result on Wednesday was from our point of view, we really don't want to get ahead of ourselves. There is so much work still to be done before we can even begin to think about the possibility of taking part in the play-off final.
"We've got to take it one step at a time and the next step is making sure that we beat Edinburgh around the Eddie Wright Raceway. They kept us honest earlier in the season, before we took a 51-39 victory over them.
"We know we need to take maximum points from the two matches against the Monarchs. Any dropped points in either match would undo the great work done at Poole.
"No match is ever easy at this stage of the season. Edinburgh haven't the greatest of seasons, but you can bet they'll be looking to make up for that in the play-offs, while Josh Pickering is one of the best visitors around the Eddie Wright Raceway, and his clashes against Ryan Douglas and the rest of our lads will be epic.
"It's going to be a Sunday early evening meeting containing some thrilling action, and we need our supporters to be out in force to get behind the boys and cheer them on to the result we need."
Accompanied children aged 16 and under will be admitted free all season to speedway meetings at the Eddie Wright Raceway.
For those who cannot make it to the Eddie Wright Raceway, Scorpions are live streaming home meetings for just £11.99 at: https://tv.scunthorpe-speedway.com/
ADMISSION PRICES FOR TOMORROW (SUNDAY):
Adult: £20.00
Student/OAP: £18.00
Child (0 – 16): Free (must be accompanied by paying adult)
Programme: £1.00
Car Parking now free
Pay on the day at the turnstiles by cash or card.
Expected teams for tomorrow (Sunday):
Attis Insurance Scunthorpe Scorpions: 1. Ryan Douglas, 2. Connor Mountain, 3. Simon Lambert (captain), 4. Jake Allen, 5. Michael Palm Toft, 6. Nathan Ablitt, 7. Drew Kemp.
Edinburgh Monarchs: 1. Justin Sedgmen (guest), 2. Lasse Fredriksen, 3. Kye Thomson, 4. Paco Castagna, 5. Josh Pickering (captain), 6. Dayle Wood, 7. Bastian Borke.
Related Posts By Category