Positive start for Scorpions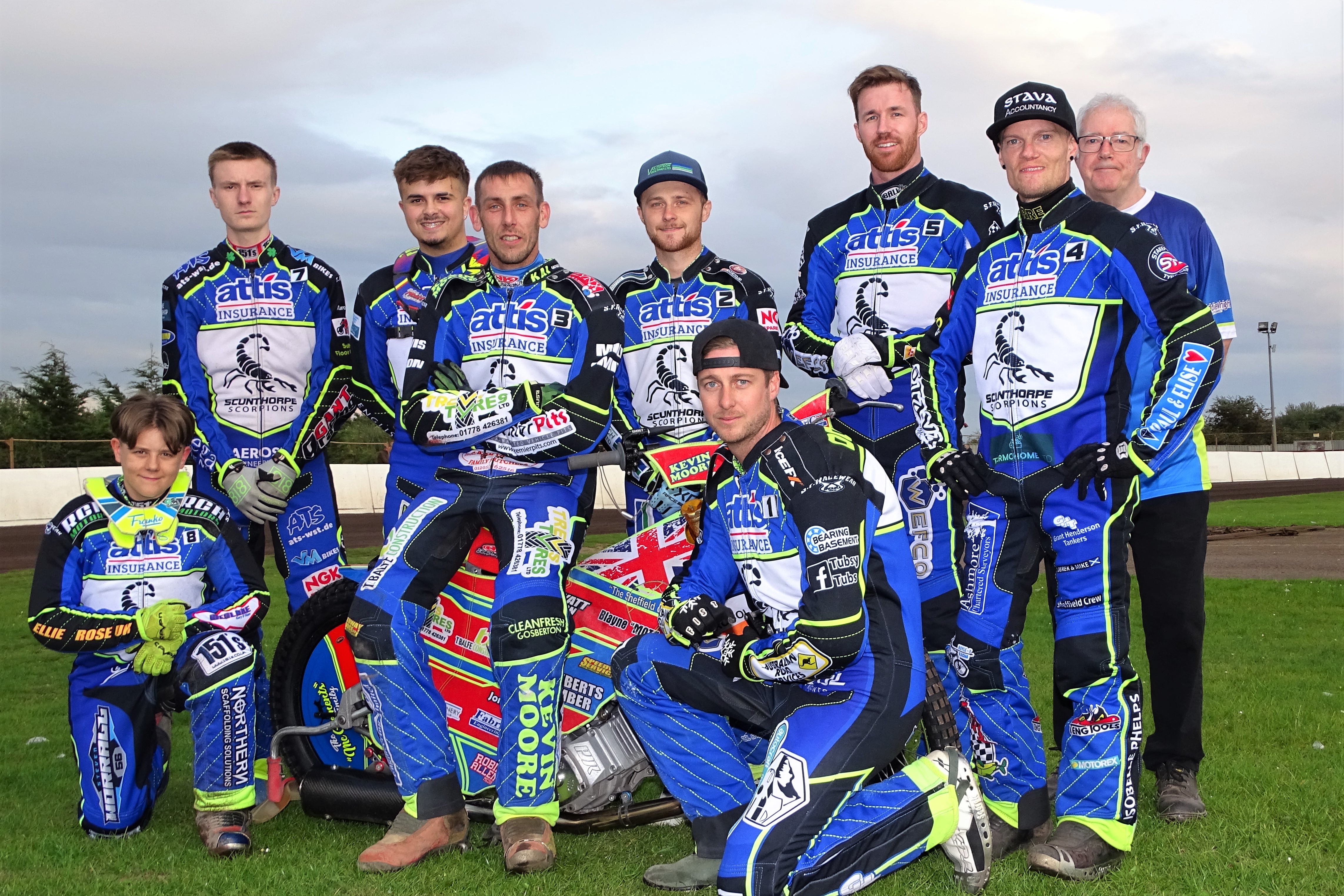 POSITIVE START FOR SCORPIONS
POOLE PIRATES 45 SCUNTHORPE SCORPIONS 45 (Cab Direct Championship Play-Off)
ATTIS INSURANCE Scunthorpe Scorpions got their Cab Direct Championship play-off campaign to a hugely encouraging start with a 45-45 draw at reigning champions Poole Pirates last night (Wednesday).
As in standard league matches, there was a Superheat to determine the winners of the night, and Pirates won the Superheat by 6-3.
Ryan Douglas, the scorer of a magnificent 17 points during the meeting, led the Superheat, but due to the 4-3-2-0 scoring for this race, he allowed Richard Lawson into the lead and tried to slow down third-placed Steve Worrall on the final lap to aid Scorpions' team-mate Drew Kemp, who scored a game-changing 13+2 in the main match. It proved unsuccessful, but nevertheless it will be Scorpions who came out of the meeting as far the happiest of the two camps.
In terms of the destination of the crucial aggregate bonus point, it is 45-45 heading into the clash between Scunthorpe and Poole at the Eddie Wright Raceway a week on Friday (September 22). Scorpions need ANY margin of victory over the Pirates (i.e. anything from 46 points upwards) to take all three points and the overall points collected from the two meetings would be: Scunthorpe 4 Poole 2.
In the meantime, Scorpions travel to Edinburgh on Friday (September 15) and entertain the Monarchs at the Eddie Wright Raceway on Sunday (September 17), a meeting with a 5pm start-time. In the regular league matches, Scorpions won 54-36 at Armadale and beat Monarchs by 51-39 at the EWR.
Poole finished top of the Cab Direct Championship table and therefore had choice of their two play-off opponents in their group. Scunthorpe were always a curious and strange selection, since they did better than any other visiting team in their regular match at Wimborne Road, only losing 41-49. Pirates scored at least 51 points against every other team, and were left regretting their illogical choice, as Scorpions shocked them last night.
Scorpions took the lead with a 4-2 from reserves Kemp and Nathan Ablitt in Heat 2 and were again ahead after Douglas and skipper Simon Lambert took a 5-1 in Heat 5.
In between, there was a hold-up in Heat 3. In the first staging, Zack Cook fell by himself on the first bend and was extremely lucky to get a place in the re-run. In the re-start, there was an alarming pile-up with both Jake Allen and Ben Cook hitting the deck. Both were okay to continue in the meeting, in a race that eventually finished as a fortunate 5-1 to the Cook brothers, given that Zach Cook was lucky to still be in the race.
Poole took control of the meeting and moved six points ahead. Douglas came into Heat 10 as a tactical substitute, but he suffered a rare Wimborne Road defeat to Lawson as Douglas and Allen had to content with a 3-3.
Douglas and Lambert pegged back a 4-2 in Heat 11. Stand-in Scunthorpe team manager Rob Godfrey gave Ablitt his compulsory third ride in Heat 13, but Douglas still beat Poole big guns Lawson and Worrall in the race. It allowed the flying Kemp to replace Ablitt in Heat 14, and Allen and Kemp took a textbook 5-1 that locked the scores at 42-42.
Douglas won Heat 15 ahead of Worrall and Lawson, while Allen finished fourth. Godfrey swapped Allen for Kemp in the Superheat, in an attempt to further pile the misery on Poole. Pirates came out of the meeting with their home record just about in intact, but very much licking their wounds.
Scunthorpe promoter and stand-in team manager Rob Godfrey said: "It was an amazing result for us – we always knew we had it within us and that the boys were capable of putting in a performance like this.
"We'd already enjoyed a decent night at Poole earlier in the season, so we had no fears coming here. Dougie (Ryan Douglas) loves the place – he scored an 18-point-maximum last time and added another 17 points this time.
"We swapped some of our rides tonight from our usual line-up. That all came about after a conversation with our skipper Simon Lambert. That included swapping the reserves and placing Drew at No 6. The inside gates are a big advantage at Wimborne Road and we felt if Drew flew out of the gate and won Heat 2, he could have a big night around here. It paid off big time and Drew had a brilliant night.
"Jake also had a good night, while for the rest of the boys chipped in – all their points added up to us taking a draw out of the meeting. You could even argue a couple of the refereeing decisions went against us, but I'm happy to hold them to 45-45.
"In the Superheat, Dougie tried to slow it down and help Drew, but it wasn't to be. But we've got to look at the bigger picture and realise that this result puts us in complete control of our group, while it was also a great meeting to watch for anyone who saw the meeting on the British Speedway Network (BSN).
"We've got the two matches against Edinburgh next, starting with travelling to their place on Friday. We beat them home and away in the regular league matches, but we will treat them with respect. We won't go there thinking it will be an easy match, because I'm sure it won't be, but we'll be determined to take the result that we need.
"It is all going to plan. The fixtures have panned out perfectly for us. A positive result at Edinburgh on Friday and we will go in the two meetings at the Eddie Wright Raceway, starting with the visit of Edinburgh on Sunday at 5pm with our destiny very much in our own hands."
POOLE 45: Steve Worrall 11+1, Richard Lawson 10+2, Ben Cook 8, Anders Rowe 6+1, Kyle Newman 5+1, Zach Cook 5+1, Joe Thompson 0
SCUNTHORPE 45: Ryan Douglas 17, Drew Kemp 13+2, Jake Allen 7+1, Simon Lambert 3+1, Michael Palm Toft 2+1, Connor Mountain 2, Nathan Ablitt 1
Poole won Superheat by 6-3
* ATTIS INSURANCE Scunthorpe Scorpions move onto Edinburgh on Friday, before they entertain the Monarchs at the Eddie Wright Raceway on Sunday (September 17, 5pm).
Related Posts By Category