Big Match preview: Scunthorpe v Redcar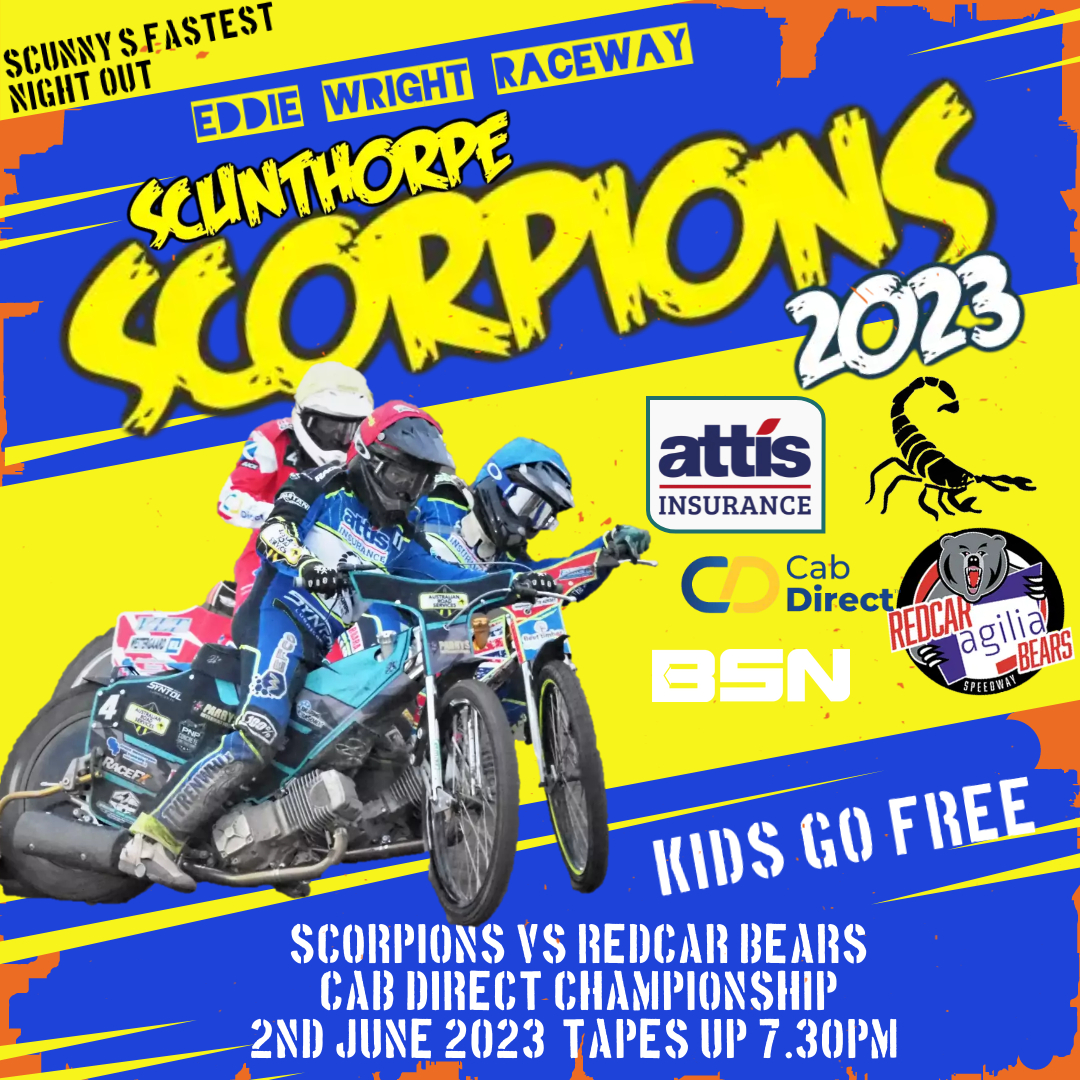 SCORPIONS READY TO SPARK TITLE CHALLENGE
ATTIS INSURANCE Scunthorpe Scorpions can move to the top of the early Cab Direct Championship standings with a home victory over Redcar Bears at the Eddie Wright Raceway tomorrow (Friday, 7.30pm).
It represents the first home meeting for Scorpions in three weeks, after away meetings at Glasgow and Edinburgh for the last two Fridays. It is also the first of eight standard Cab Direct Championship home meetings at the venue, which are all scheduled to take place between June and August.
Scorpions have already taken part in away league meetings at Plymouth, Berwick, Poole and Edinburgh, and head into the meeting in good spirits following a record-breaking 54-36 away victory at Edinburgh's Armadale Stadium last Friday.
20-year-old English star Drew Kemp is due to make his club debut in the meeting against Redcar – replacing the off-form Max Clegg – and Rob Godfrey insists his signature can turn Scorpions into contenders to win the Championship.
Godfrey said: "With the arrival of Drew Kemp, I truly believe we have a team now that can win the league. It's going to be a very exciting few months ahead!
"We've still got to take it one meeting at a time. We start with the visit of Redcar, in our first home league match in the Cab Direct Championship.
"Meetings between Scunthorpe and Redcar at the Eddie Wright Raceway always seem to be packed with excitement. It was true for our Good Friday clash with Bears in the BSN Series, and it's almost bound to be the case again.
"We beat Bears by 50-40 on Good Friday, and I'd like to see another comfortable home win for Scorpions, because aggregate bonus points are all-important in the league this season. It's going to be another exciting evening of racing at the EWR, and one that the supporters do not want to miss."
For those who cannot make it to the Eddie Wright Raceway, the British Speedway Network (BSN) are live streaming the meeting for just £11.99 at: https://watch.britishspeedway.co.uk/
ADMISSION PRICES FOR TOMORROW (FRIDAY):
Adult: £20.00
Student/OAP: £18.00
Child (0 – 16): Free (must be accompanied by paying adult)
Programme: £1.00
Car Parking now free
Pay on the day at the turnstiles by cash or card.
Expected teams for tomorrow (Friday):
Attis Insurance Scunthorpe Scorpions: 1. Ryan Douglas, 2. Simon Lambert (captain), 3. Drew Kemp, 4. Jake Allen, 5. Michael Palm Toft, 6. Nathan Ablitt, 7. Connor Mountain.
Redcar Bears: 1. Danny King, 2. Danyon Hume, 3. Steve Worrall (guest), 4. Jason Edwards, 5. Charles Wright, 6. Connor Bailey, 7. Jake Mulford.
Related Posts By Category