Scorpions swoop for Kemp
May 28th, 2023
2241 Views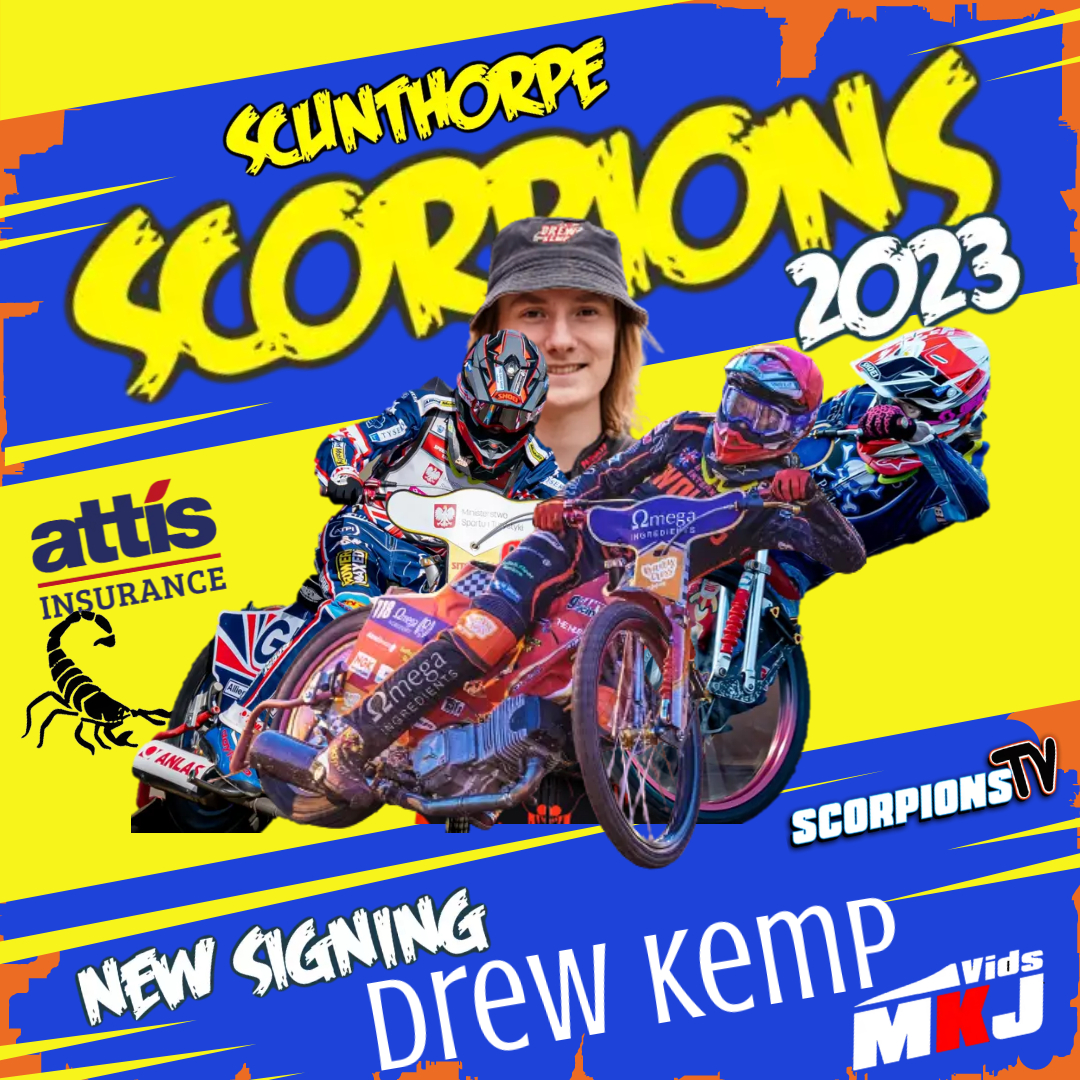 ATTIS INSURANCE Scunthorpe Scorpions have signed highly rated British youngster Drew Kemp as the replacement for the struggling Max Clegg, with promoter Rob Godfrey revealing: "We've got the man we wanted all along".
German-born Kemp, still only 20, burst onto the scene in a flurry of excitement as a 15-year-old at Mildenhall in 2018, having won the British Youth Championship the previous season.
He won a unique hat-trick of British Under-19 championships between 2019 and 2021, with the last two victories in that sequence both coming at the Eddie Wright Raceway.
Kemp won the league and cup double with Poole Pirates last season, but then found himself a victim of the points limit and without a team place in the UK at the start of 2023. He has still been riding on the continent this year, showing his considerable talent.
Kemp comes in on an average of 5.33, and – subject to BSPL approval – replaces Clegg, who struggled in a five-match spell with Scorpions that yielded just 5+1.
Godfrey said: "I'm delighted that we've managed to secure Drew Kemp as a Scunthorpe Scorpion.
"He's a highly talented rider. He's one of those riders who burst onto the scene at such a young age that you tend to forget he's still only twenty years old.
"When we were forced to make a two-for-two change a month ago, due to the injury to Zaine Kennedy, Drew was the rider we wanted to bring in, because we knew what he could add to our side.
"He didn't have the availability at that point. He's now got a five-week break from his Polish commitments. We've signed Drew on an initial 28-day contract, but both parties want it to last longer than that.
"Drew loves racing around Scunthorpe – he won the British Under-19 title around here twice. But Drew isn't a rider who is just good around Scunthorpe – he's good around everywhere. We know we've signed a quality rider.
"I see him as the final piece in a championship-winning jigsaw. We've had a good side, but it wasn't quite firing on all cylinders. I wish Max Clegg all the best for the future – I've known him – as has everyone at Scunthorpe – since he was a kid.
"But we've now got the man we wanted all along in Drew Kemp and I believe we're in for a highly exciting rest of the season."
Kemp will make his debut for Scorpions next Friday (June 2, 7.30pm), when Redcar Bears are the visitors to the Eddie Wright Raceway in the Cab Direct Championship, with the club looking to build on a record-breaking 54-36 victory at Edinburgh.
Related Posts By Category