Douglas brilliant – Scorpions close at Poole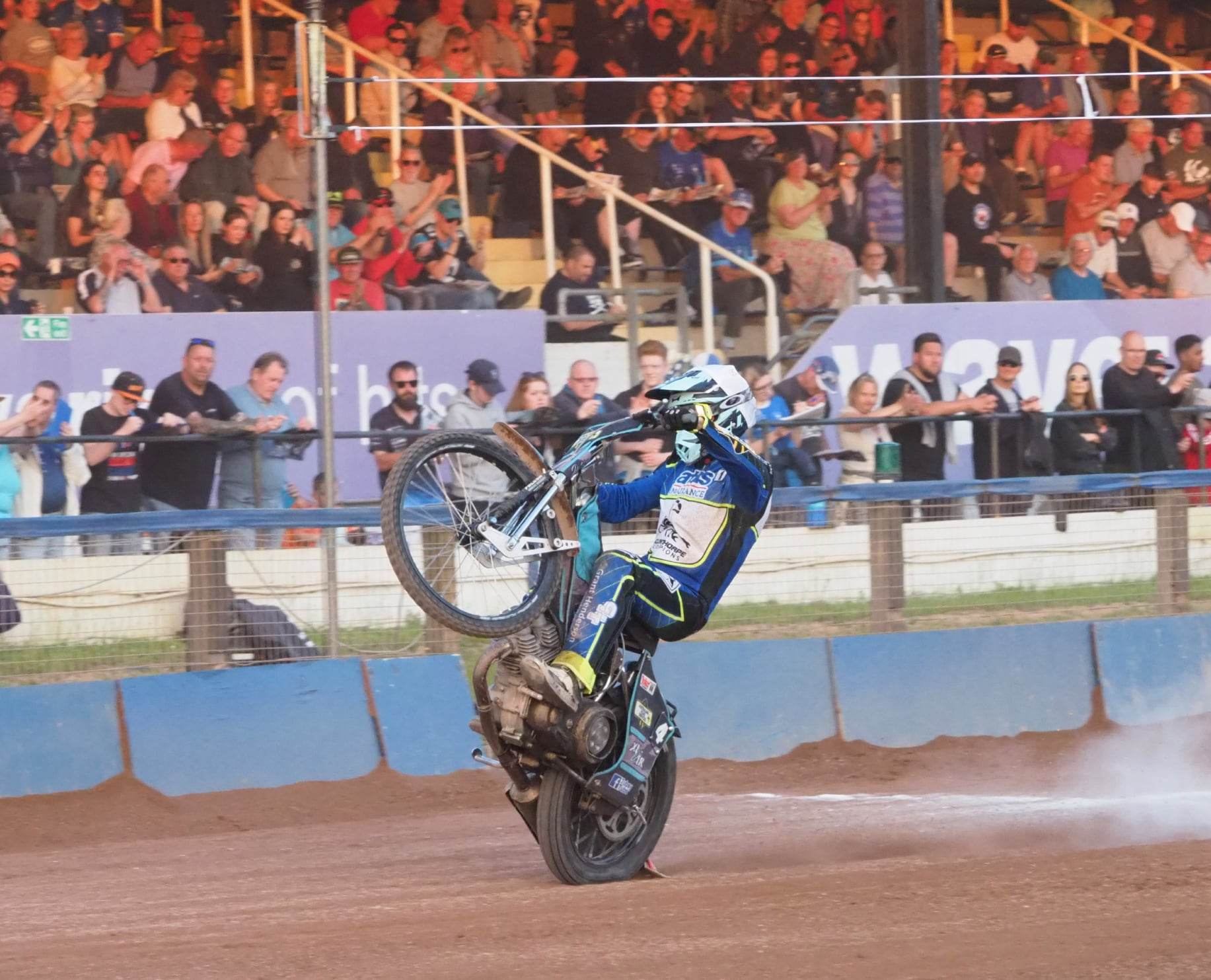 DOUGLAS IN BRILLIANT FORM, AS SCORPIONS GO CLOSE AT POOLE
POOLE PIRATES 49 SCUNTHORPE SCORPIONS 41 (Cab Direct Championship)
ATTIS INSURANCE Scunthorpe Scorpions put up a fighting performance and placed themselves in an excellent position for the aggregate bonus point, after a narrow 41-49 defeat at league champions Poole Pirates last night (Wednesday).
Using rider replacement for Michael Palm Toft – who was back riding in his native Denmark in the Danish League – Scorpions took the lead through a 4-2 from Ryan Douglas and skipper Simon Lambert in Heat 1 and held a narrow lead for most of the first half of the meeting, still leading 28-26 after Heat 9.
Poole then edged ahead, although Douglas remained in brilliant form, and he ended with the night on a superb 18-point maximum. Jake Allen also contributed two race wins, while Lambert won Heat 3 – as a Scorpion took the chequered flag in nine of the 15 races.
Scorpions took the meeting all the way to Heat 14, while Pirates clinched the meeting with a 5-1, before the imperious Douglas completed his full house in Heat 15.
Speaking post-meeting, Scunthorpe promoter and stand-in team manager Rob Godfrey said: "It was a very good performance from Scorpions, since Poole are such a strong team around their own circuit. We let a few points slip during the night as well – it could have been even closer.
"It was a masterful display by Ryan Douglas. It's quite an achievement for a rider to get a 15-point-maximum, yet alone get an 18-point-maximum around a track like Poole which is such a home fortress.
"We battled to a 4-2 in Heat 13, which prevented me from using Ryan as a tactical substitute in Heat 14, otherwise I believe Ryan would have collected a 21-point-maximum – he was head and shoulders above every other rider tonight.
"I'd set myself a target of keeping Poole at 10 points and we got within that. Apart from the blip at Glasgow last Friday, we've scored at least 40 points in every away meeting this season. We've had a series of narrow away losses in the Cab Direct Championship, which means once we get clubs back at the Eddie Wright Raceway, we've got every chance of taking all three points off them. A few of those and we will soon shoot up the table and I still believe we can have a very successful season.
"But one thing I fully realise is that we're not firing as a complete unit at the moment and that cannot and will not be allowed to continue."
POOLE 49: Steve Worrall 9+2, Ben Cook 9, Kyle Newman 8+1, Zach Cook 7+2, Justin Sedgmen 7+1, Anders Rowe 6+1, Adam Roynon 3+1.
SCUNTHORPE 41: Ryan Douglas 18, Jake Allen 8+1, Simon Lambert 7, Connor Mountain 6, Max Clegg 2, Nathan Ablitt 0, Michael Palm Toft r/r.
* ATTIS INSURANCE Scunthorpe Scorpions move onto Edinburgh on Friday, before they next return to action at the Eddie Wright Raceway next Friday (June 2, 7.30pm) when the club host the Redcar Bears in the Cab Direct Championship.
Report by Rob Peasley
PHOTO: The brilliant Ryan Douglas (pic by IAN RISPIN, who was at Wimborne Road last night)
Related Posts By Category