Ryan superb, but Scorpions lose at Glasgow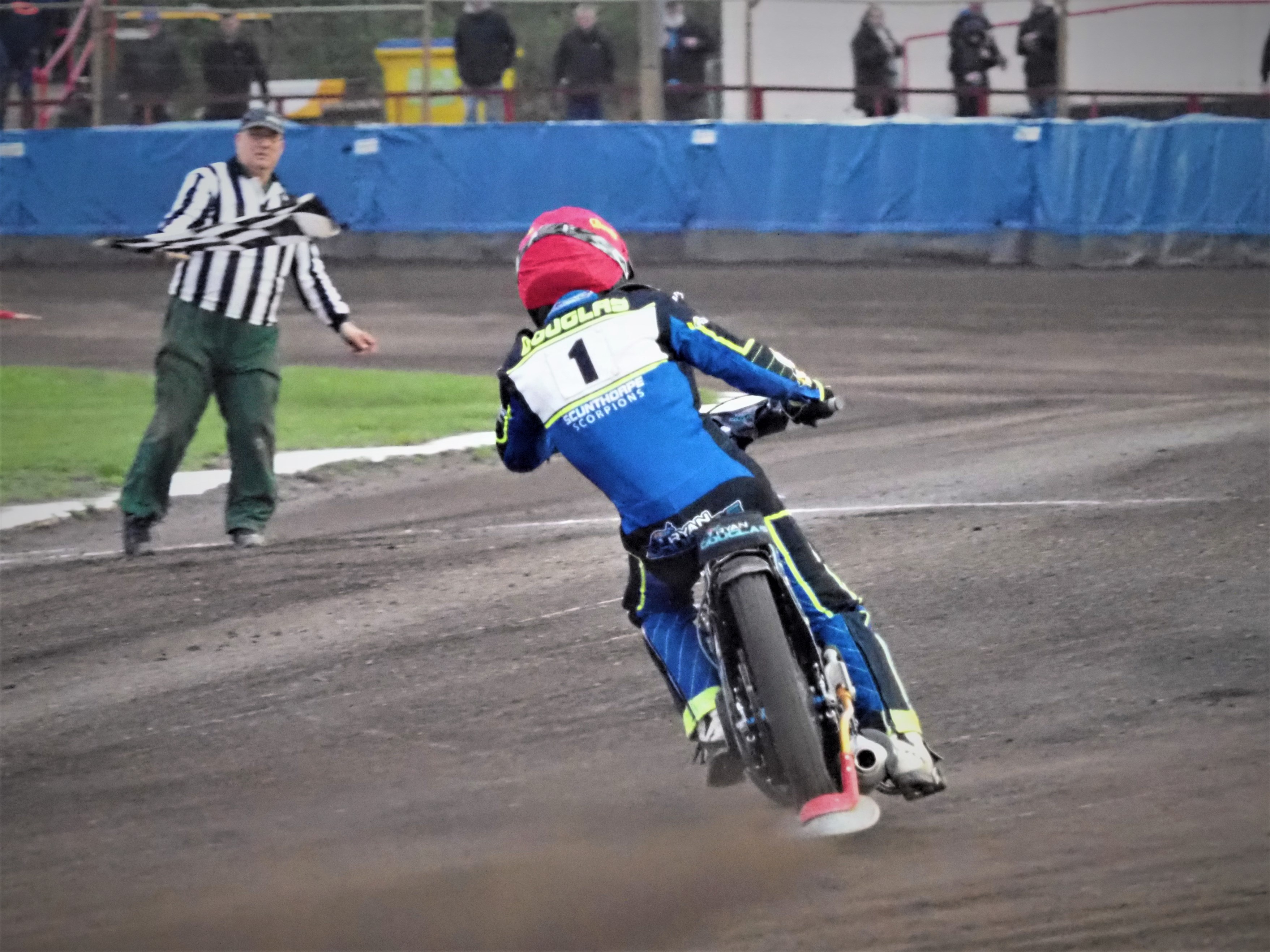 RYAN IN SUPERB FORM, BUT SCORPIONS BEATEN BY GLASGOW
GLASGOW TIGERS 55 SCUNTHORPE SCORPIONS 35 (BSN Series, semi-final, second leg)
Glasgow win 101-79 on aggregate
ATTIS INSURANCE Scunthorpe Scorpions lost 35-55 at Glasgow last night (Friday), as they tumbled out of the BSN Series at the semi-final stage, with the Glasgow Tigers winning by 101-79 on aggregate.
Arguably the real damage was done a week ago, when Scorpions lost their home leg by 44-46 – their first home defeat in over a year.
Without any advantage to protect, Scorpions kept it relatively close in the opening stages at the Peugeot Ashfield Stadium, with Tigers 17-13 ahead after Heat 5. But the home side then powered away with five successive heat advantages, including a trio of 5-1s from Heat 8 to Heat 10, that killed off the Scunthorpe challenge.
Scorpions rallied in the final five races, sharing them 15-15, but by then, Tigers had clinched their place in the final, where they will face either Poole or Redcar.
Scorpions' No 1 Ryan Douglas dropped only one point on his way to a 14-point tally, when he was overtaken by Chris Harris in Heat 13. Apart from that, the Australian was in imperious form, including sweeping past Benjamin Basso in Heat 5.
There was some decent racing during the night, such as a humdinger between Harris and Michael Palm Toft in Heat 6. Connor Mountain just held off Lee Complin after a battle royal in Heat 14, when Jake Allen and Mountain claimed Scorpions' only 5-1 of the night, after Glasgow's Claus Vissing was excluded for dangerous riding after causing Allen to fall in the initial staging.
Scorpions' team manager Dave Peet said: "We came here and gave it a go, but Glasgow are a very strong team around their own track.
"We weren't too far behind early on, but from Heat 6, Glasgow started to power away and by the end of Heat 10, they had it in the bag.
"After that, we chose not to make any programme changes, because we're back at Glasgow in a month in a league match and we gave all the lads a further chance to gain some track time. We held Glasgow over the last five races and that bodes well for when we come back here."
GLASGOW 55: Chris Harris 12+1, Benjamin Basso 11+2, Tom Brennan 9, Marcin Nowak 8+1, Claus Vissing 6+2, Ace Pijper 6+2, Lee Complin 3+1.
SCUNTHORPE 35: Ryan Douglas 14, Connor Mountain 7+2, Jake Allen 6, Michael Palm Toft 5, Simon Lambert 2, Max Clegg 1, Nathan Ablitt 0.
* ATTIS INSURANCE Scunthorpe Scorpions are away at Poole (Wednesday) and Edinburgh (Friday) next week, before they next return to action at the Eddie Wright Raceway on Friday, June 2 (7.30pm) when the club host the Redcar Bears in the Cab Direct Championship.
Related Posts By Category