Zaine back for Scorpions in 2023
Nov 17th, 2022
1441 Views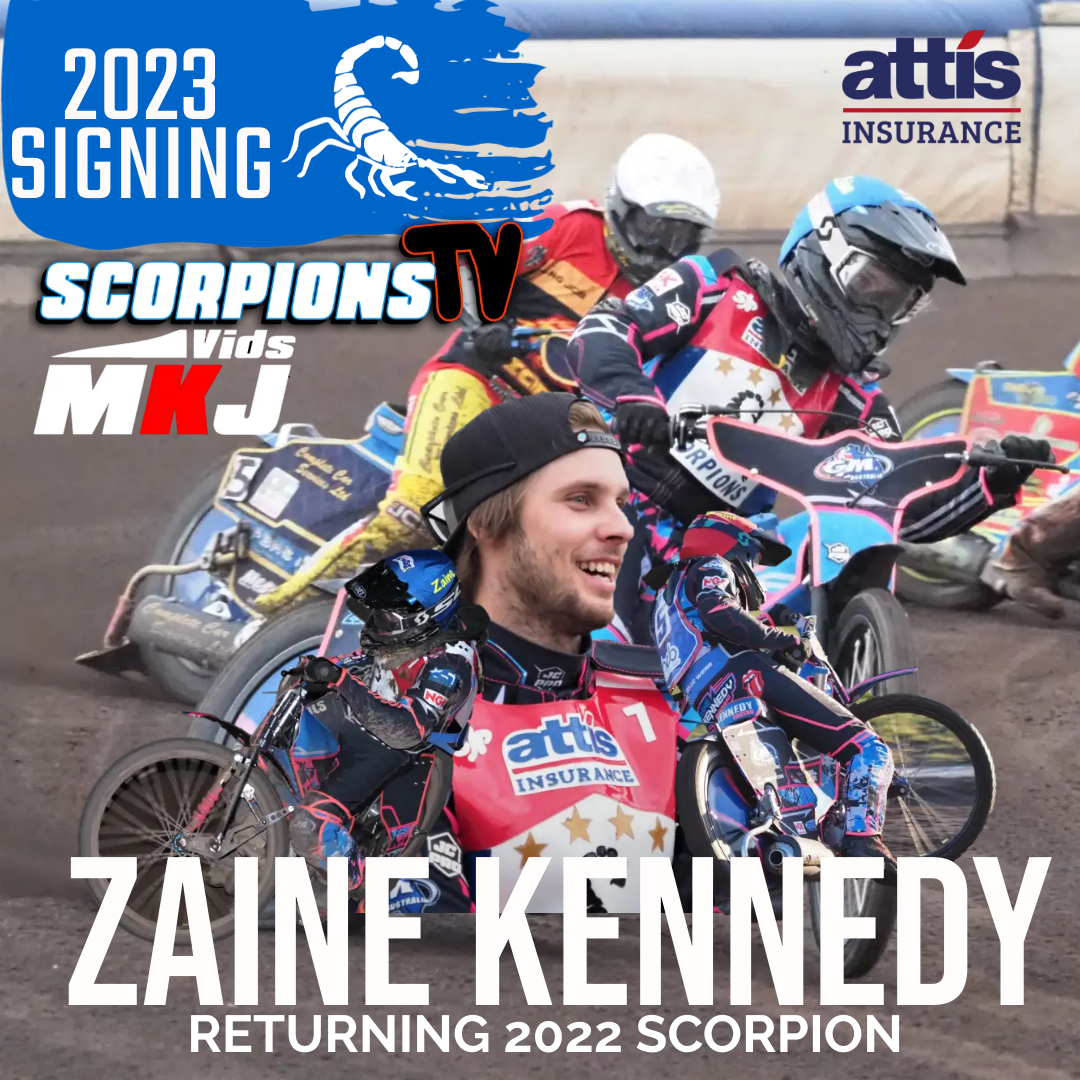 AUSTRALIAN Zaine Kennedy will return to ride for Scunthorpe Scorpions for a second successive season in 2023, with management hoping he will carry on from where he left off prior to a horror crash at the at the Eddie Wright Raceway that halted his 2022 season.
He joins Joe Thompson as confirmed starters for Scunthorpe in 2023, and the two riders will form the reserve pairing for Scorpions at the start of next season.
Kennedy first rode on British shores for Sheffield in 2019. Leicester signed him partway into the 2021 season, and his impressive form around the EWR caught the eye and made him a target for Scorpions who snapped him up for 2022.
The 24-year-old was clicking into top form as Scorpions commenced their Jubilee League campaign in late July. Kennedy scored 12+1 for Attis Insurance Scorpions at home to old club Leicester, and had rattled up 9+1 from his opening four outings against Redcar, when he suffered a horrific fall in Heat 11, that saw him catapulted over the top of the safety fence down the back straight and into the spectator catch fencing.
After an air ambulance trip to hospital, it was found he had a fractured pelvis and it was enough to end his season with Scorpions.
Scunthorpe promoter Rob Godfrey said: "It was a nasty crash and Zaine was fortunate to escape it without any major injuries. He's now riding again back in Australia.
"He's a key part of our planning for next season. He's an absolute bargain on his average (4.27), because he's worth so much more than that. It's all down to which meetings counted towards his average and which didn't – his impressive early season meetings didn't count, neither did his high-scoring exploits in his final two meetings, because they were in the Jubilee League.
"It was a total no-brainer to bring back Zaine. He's a talented rider on an upward curve, and he's easy to deal with.
"Zaine will start the season forming a very potent reserve pairing with Joe Thompson. I certainly don't think Zaine will stay at reserve for long and that will be a strength of our 2023 team, because we will always be strong at reserve, whoever is down there."
Scorpions will announce a further rider next Thursday.
Related Posts By Category