Jordan Jenkins wins NLRC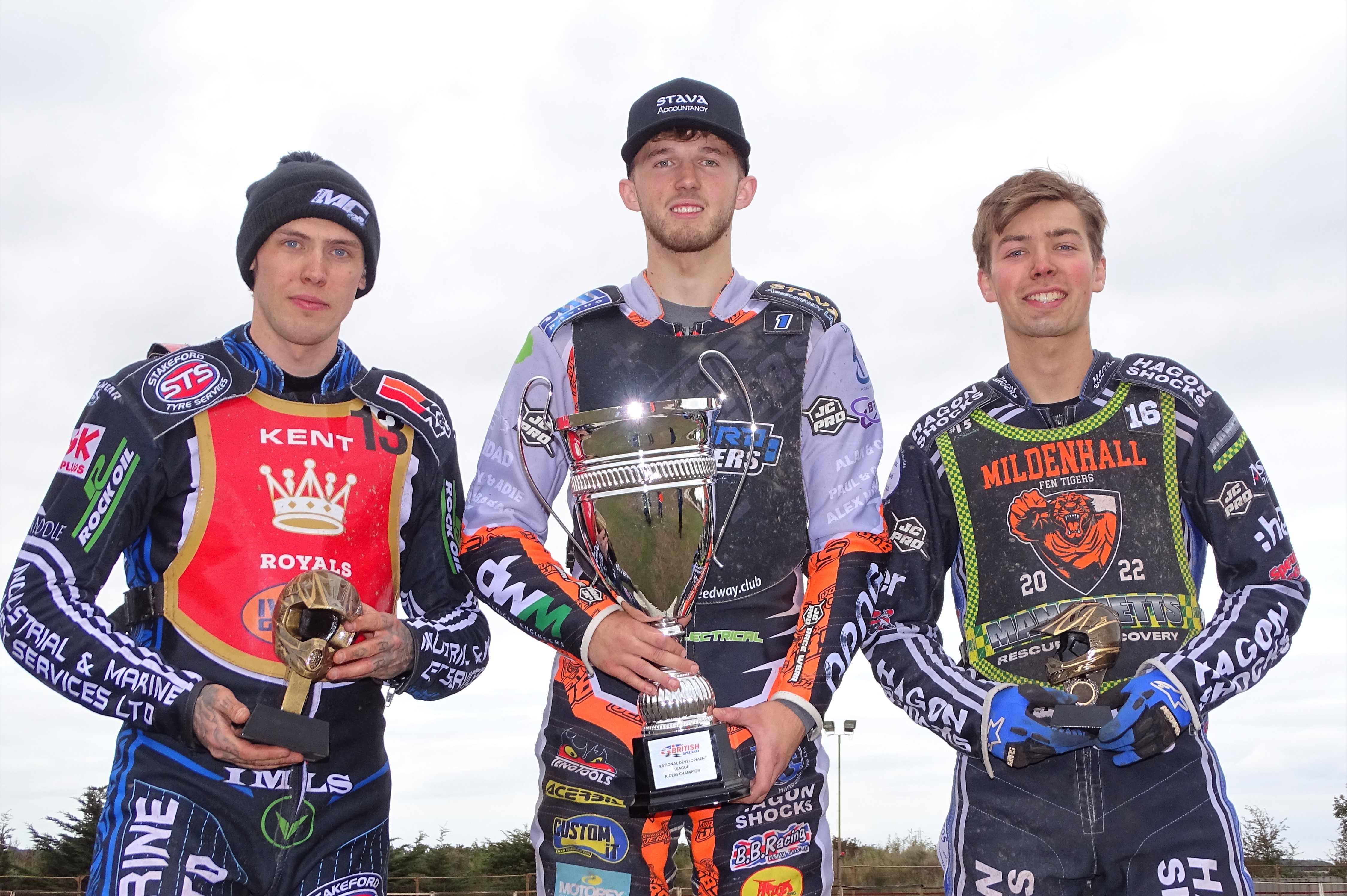 OXFORD'S Jordan Jenkins was the winner of the National League Riders' Championship at Scunthorpe's Eddie Wright Raceway yesterday afternoon (Sunday).
The 21-year-old took the prestigious meeting on 14 points, one ahead of Kent's Max Clegg and Mildenhall's Jason Edwards, who both scored 13.
The afternoon meeting produced some decent racing, and there was also a brief punch-up following Heat 10, after Jack Smith took exception to the riding of Lee Complin, after a near dead-heat between the two riders which Complin won.
Adam Roynon, who rides for Scunthorpe in the Championship, was forced to pull out of the meeting, due to a mid-week injury. He was replaced by unattached local 15-year-old Luke Harrison, who got stuck in and eventually finished on two points.
There were a number of crucial races. Heat 9 brought together three unbeaten riders – Jenkins, Joe Thompson and Ben Morley. Jenkins found himself in second place behind Edwards, who had already dropped a couple of points, and there was one alarming moment when Jenkins picked up drive and come close to running into Edwards. But he regained control of his bike and took the second place ahead of Thompson and Morley.
After three rides apiece, Jenkins, Max Clegg and Complin all had eight points. Complin lost ground when he only finished third in Heat 13, despite leading the race at one point. In the crunch clash in Heat 14, Jenkins made a terrific start from the outside gate and won ahead of 2016 champion Clegg.
Jenkins needed to win Heat 20 to clinch the meeting. At the first time of asking, Smith was first to show from the tapes, but Jack Kingston came down in a tight first turn. All four riders came back for the re-run, where Jenkins made a dream start off gate 3. The race was stopped after Jack Kingston fell, but it was already on the final lap and was awarded, leaving Jenkins as the NLRC champion.
Jenkins said: "I'm over the moon. It's a tough meeting to win, because there were some quality riders in it. Jason (Edwards) beat me in one race and I had other riders pushing me in the others.
"I was watching the whole meeting, so I knew what was going on and I knew what I needed to do in my final race. I fluffed the start at the first attempt, so I was a bit fortunate that it got pulled back. I made a few changes to the bike prior to the re-run, and it all came good."
NATIONAL LEAGUE RIDERS' CHAMPIONSHIP, Scunthorpe
Result: Jordan Jenkins 14, Max Clegg 13+3, Jason Edwards 13+2, Lee Complin 11, Ben Morley 10, Dan Thompson 10, Joe Thompson 9, Jack Kingston 9, Tom Woolley 7, Jack Smith 7, Ben Trigger 5, Jody Scott 4, Harry McGurk 3, Luke Harrison 2, Mason Watson 2, Luke Crang 1, Jack Shimelt (res) 0.
Related Posts By Category