Scorpions finish with a cracker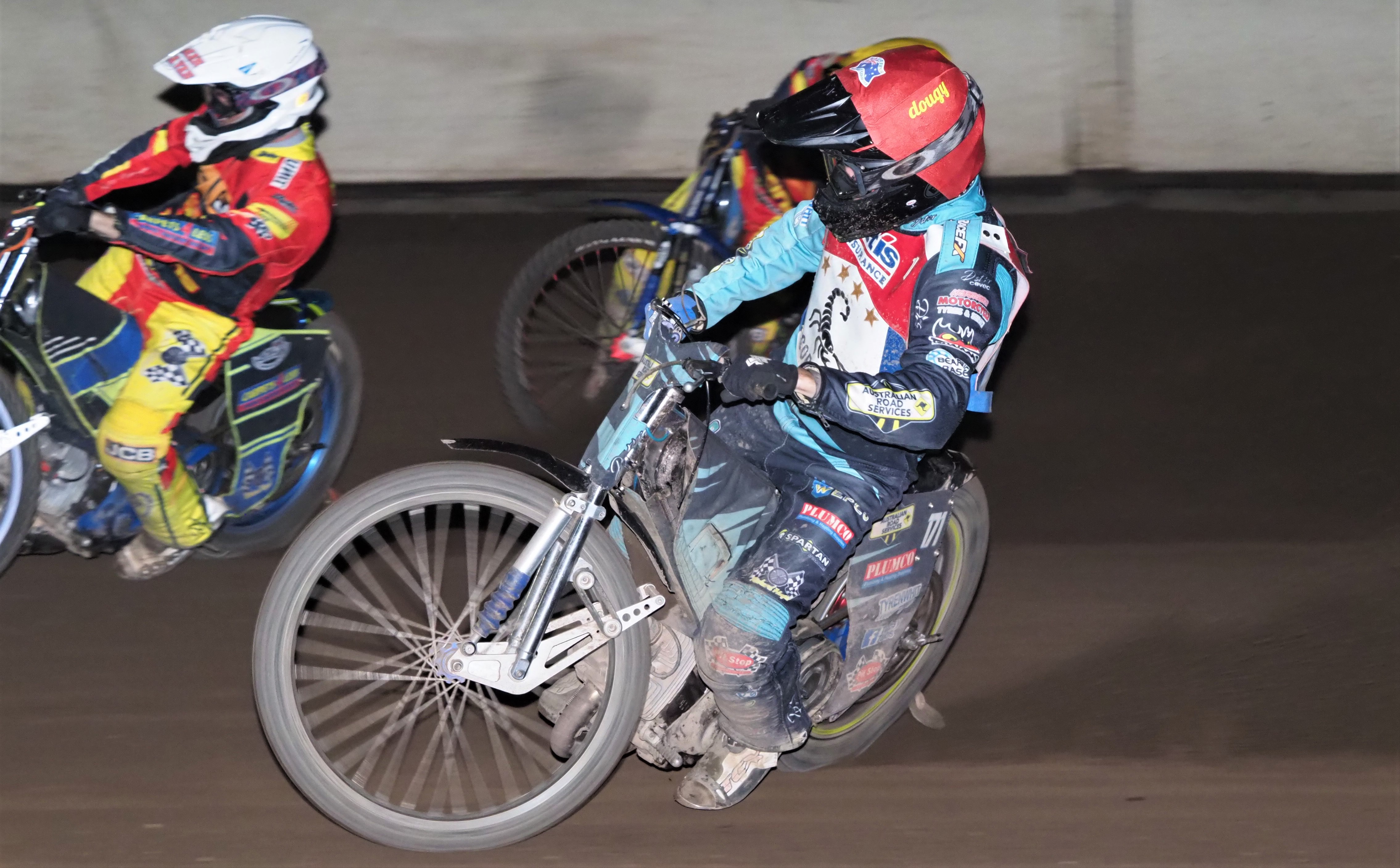 SCUNTHORPE SCORPIONS 45 LEICESTER LIONS 45 (Championship Knockout Cup, quarter-final, second leg)
ATTIS INSURANCE Scunthorpe Scorpions fought out a thrilling 45-45 draw with Leicester Lions at the Eddie Wright Raceway last night (Friday) in the final meeting involving Scorpions in 2022.
With Leicester leading by 58-32 from the first leg of this Knockout Cup clash, it quickly became clear that Scorpions would not overhaul the 26-point difference between the two sides, and the meeting became all about pride and who took victory on the night. In the end, neither side deserved to lose, and a draw was a fair result.
Scorpions' No 1 Ryan Douglas returned from injury and just missed out on his third successive home maximum. He was beaten by Nick Morris in Heat 1, but then reeled off five race wins to finish on 17 points, despite needing to take painkillers to complete the meeting. Scunthorpe were still without the injured Tero Aarnio and rider replacement scored just 4 points for him.
Scorpions took the lead with a 5-1 from Anders Rowe and Adam Roynon in Heat 2, but Leicester quickly levelled the scores through a 5-1 of their own in Heat 4.
Douglas had to fight for victory over Kyle Howarth in Heat 6, as skipper Simon Lambert joined him for a 4-2 that re-established Scunthorpe's lead.
A 5-1 to Leicester in Heat 8 put them two up on the night and 28 points on aggregate, and they were already more-or-less assured of their semi-final place in the cup, where they will face Poole Pirates.
That may have been decided, but the racing just got better and better in the second half of the meeting. Howarth came out on top in a tremendous battle with Jake Allen in Heat 9 to keep Lions two points in front.
Scorpions levelled in a thrilling Heat 11, in which Connor Mountain overhauled Allen for the race lead, only for Adam Roynon to surge past Mountain on the finishing line to snatch victory in a photo-finish with a brilliant move. Morris found himself last in the race, after Allen repassed him for third place, as Scorpions grabbed a 4-2.
Lions moved back ahead in Heat 12, after Richie Worrall passed James Wright in the opening stages.
Then came a Heat 13 which contained some incredible action. Douglas took the lead with a trademark cut to the inside on the second bend, but both Morris and Howarth then pushed under him. Douglas was not beaten and passed both Lions with a stunning inside move after a lap. While the crowd were catching their collective breaths, there were another couple of overtakes from Morris and Douglas on the second lap, with the Scunthorpe man coming out on top and pulling away for victory.
Allen won an opening lap battle with Clegg in Heat 14, as the race was shared, and Scorpions went into the final race still trailing by two points.
With Allen ruled out by an engine problem that had developed while he was winning Heat 14, Wright was given the nod for Heat 15. Douglas won from the front this time around, but Lions were in second and third early on. The chasing Wright picked up drive on the fourth bend and surged inside Mountain as a result. There was contact, but Mountain stayed on his bike and the race continued, with Wright now in third, as Scorpions grabbed a draw with a 4-2. It was perhaps a bit of good fortune for Scorpions, since had Mountain fallen, Wright may well have been excluded, but the draw seemed a fair result.
Speaking post-meeting, Scorpions' No 1 Ryan Douglas said: "We've taken the draw tonight, which meant we didn't end the season with a defeat. It was a tricky night, because we were missing Tero (Aarnio) and he's been good around here.
"I hadn't dropped the point in Heat 1 tonight, it would have been my third maximum in a row around here. I was struggling a bit with my shoulder after my first race. I took some painkillers and that took the edge off and allowed me to race comfortably. I got faster as the evening went on and I'm happy with taking 17 points.
"It's a shame that the season is coming to an end. I've still got a few meetings with Wolverhampton and they will in the play-offs. Scunthorpe are a great club to ride for and so are Wolverhampton – I'm pretty lucky with that.
"I'm happy how my season has gone with Scunthorpe. I rode here for Scunthorpe for five seasons previously, so obviously I knew the track, and when I was coming back with Leicester, I wasn't dropping many points around here. I knew it was going to be a good home track for me this year, because I enjoy racing around here. I was aiming for around a 10.00 home average and I think it's above 10.50, so I've outdone myself. It's nice to be one of the top riders in the league, but there's always room for improvement.
"The fans are great here, it's always a club that I enjoy racing for, while I also enjoy racing for Rob (Godfrey, Scunthorpe promoter). He wears his heart on his sleeve, and it was a shame we didn't quite get into the play-offs, after the result at Redcar slipped through our fingers. If I could have rode at Redcar, maybe I could have helped making sure we didn't let that one slip. It would have been nice to get into the play-offs, but it is what it is.
"Overall, I think we've given the fans a good season with plenty to enjoy, while we've got something to build upon."
CHAMPIONSHIP KO CUP QUARTER-FINAL, 2nd leg
SCUNTHORPE 45: Ryan Douglas 17, Jake Allen 11, James Wright 5+2, Adam Roynon 5+1, Anders Rowe 5, Simon Lambert 2+1, Tero Aarnio r/r.
LEICESTER 45: Kyle Howarth 12, Connor Mountain 10, Richie Worrall 8+4, Max Clegg 8+2, Nick Morris 7+1, Joe Thompson 0, Dan Thompson r/r.
Leicester win 103-77 on aggregate.
* WHILE Attis Insurance Scunthorpe Scorpions have finished for the year, there is one final meeting at the Eddie Wright Raceway. The prestigious National League Riders' Championship takes place at the EWR on Sunday, September 25th at 3pm.
REPORT: Rob Peasley
PHOTO by IAN RISPIN
Related Posts By Category