Big Match preview: Scunthorpe v Leicester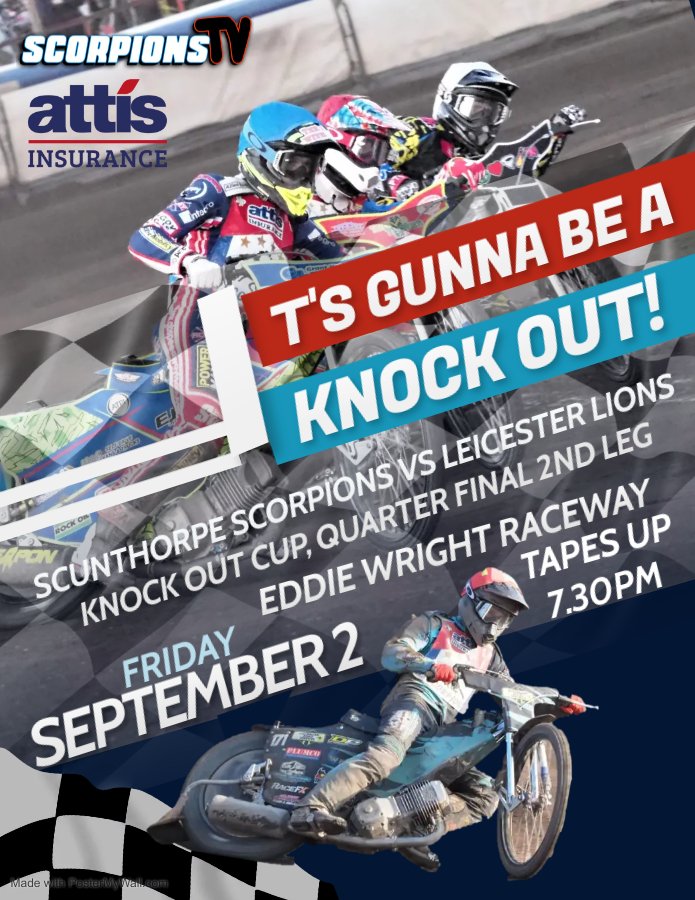 ATTIS INSURANCE Scunthorpe Scorpions go into the second leg of a Knockout Cup quarter-final tie against Leicester Lions at the Eddie Wright Raceway tonight (Friday, 7.30pm) needing 59 points to reach the semi-finals of the competition and extend their season.
Lions hold a 58-32 lead from the first leg at Beaumont Park on May 28, which took place one day after the original attempt to stage the leg at the EWR was called off after a serious accident to guest rider Joe Alcock.
Scunthorpe welcome back No 1 Ryan Douglas to action. The Australian missed Scorpions' concluding league meetings at Redcar and Berwick last weekend, after aggravating his injured shoulder in an accident in the final of the Championship League Riders' Championship at Poole. Meanwhile, Scorpions will use rider replacement for the injured Tero Aarnio, who moves back to second in the club averages, allowing everyone to take a R/R ride.
Scorpions were edged out of the league play-offs, after Redcar won their final meeting at Plymouth on Tuesday. Tonight will be the last time that the team will take to the track in 2022, unless they progress on aggregate to the semi-finals, where they would face Poole Pirates.
There is one more meeting scheduled at the Eddie Wright Raceway this season – the National League Riders' Championship on Sunday, September 25th at 3pm.
Scunthorpe promoter Rob Godfrey said: "Leicester may be favourites to go through to the semi-finals given that they have a big lead from the first leg. But the boys will be giving it everything to try and keep our season alive.
"Not too many people will fancy our chances, I suspect, but we'll give it a good go and see where it takes us. We have already scored 55 points against Leicester at the Eddie Wright Raceway this season, and we just need a few more points than that.
"Whatever happens, it's going to be a terrific night of speedway action and possibly the last time to see the Scorpions in action this season, so it's one the fans are not going to want to miss."
For those who cannot make it to the Eddie Wright Raceway, Scorpions are live streaming home meetings for just £11.99 at: https://tv.scunthorpe-speedway.com/
Expected teams for tonight (Friday):
Attis Insurance Scunthorpe Scorpions: 1. Ryan Douglas, 2. Simon Lambert (captain), 3. James Wright, 4. Jake Allen, 5. Rider replacement for Tero Aarnio, 6. Adam Roynon, 7. Anders Rowe.
Leicester Lions: 1. Nick Morris, 5. Rider replacement for Dan Thompson, 3. Richie Worrall, 4. Connor Mountain, 5. Kyle Howarth, 6. Joe Thompson, 7. Max Clegg.
ADMISSION PRICES FOR TONIGHT (FRIDAY):
Adult: £18.00
Student/OAP: £16.00
Child (10 – 17): £5.00
Child (0 – 9) Free (accompanied by paying adult – not including programme)
Match Programme: £1.00
Tickets can be obtained in advance online, or they can be purchased (cash only) on the day at the turnstiles.
There is a 3% handling fee for online sales – please note this handing fee goes to the ticketing provider, not the club.
Tickets are available under the Ticket Office menu on the club website at:
http://scunthorpe-speedway.com/ticketoffice
When you click on the link you will be taken to the following URL:
https://scunthorpescorpionstickets.seatedly.com/
Click on the "buy tickets" tab which will take you a list of meetings and when you have finished, please click on "my basket" tab to complete the transaction.
NOTE REGARDING TICKETS: Please bring your ticket with you – either a physical copy or on your phone. The QR code (the matrix barcode) will be scanned to allow you entry to the stadium – please present to the staff at the entry point at the Eddie Wright Raceway. Please note there is a 3% handling fee for each ticket ordered – this goes to the ticketing provider, not the club. If you have any problems when ordering your tickets, please contact the club (email gail.godfrey@btconnect.com) and we will assist you. Please note that cash admission on the day is also available.
Live stream for meeting for £11.99:
https://tv.scunthorpe-speedway.com/
Related Posts By Category