Scorpions target 59 points on Friday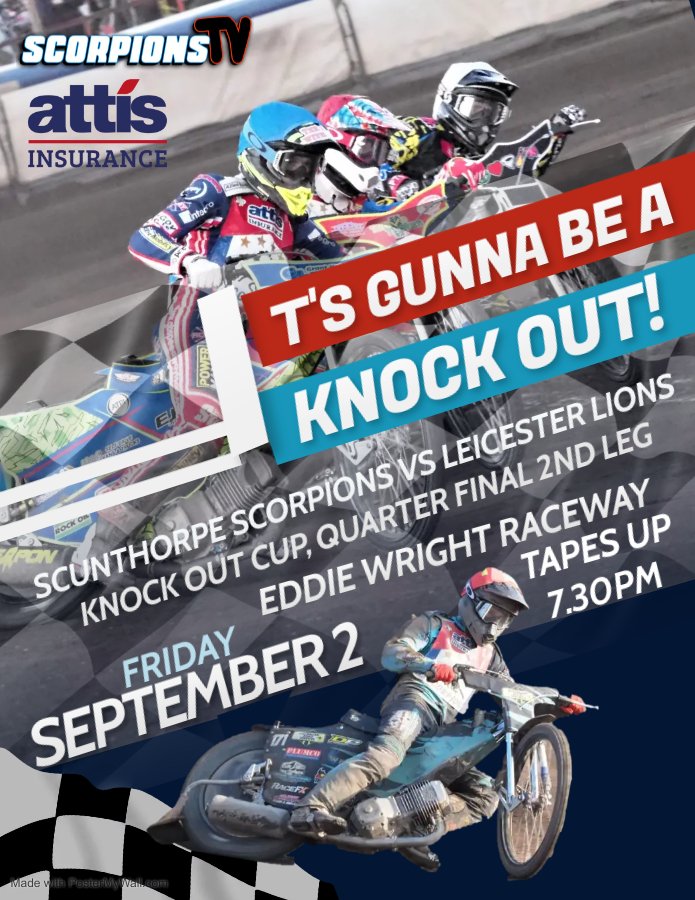 ATTIS INSURANCE Scunthorpe Scorpions will not take part in the Championship play-offs, after Redcar won their final meeting at Plymouth last night (Tuesday) by 51-39.
Scorpions finished in seventh place, one place outside the play-off places.
To extend their season, Scunthorpe now require 59 points against Leicester Lions on Friday (September 2) in the second leg of a re-staged Knockout Cup quarter-final tie at the Eddie Wright Raceway. Lions hold a 58-32 lead from the first leg.
It's not quite as an impossible task as it may sound, since Scorpions defeated Lions by 55-35 around the EWR on Good Friday and require just four more points than that previous tally.
Full preview to follow.
ADMISSION PRICES FOR FRIDAY:
Adult: £18.00
Student/OAP: £16.00
Child (10 – 17): £5.00
Child (0 – 9) Free (accompanied by paying adult – not including programme)
Match Programme: £1.00
Tickets can be obtained in advance online, or they can be purchased (cash only) on the day at the turnstiles.
There is a 3% handling fee for online sales – please note this handing fee goes to the ticketing provider, not the club.
Tickets are available under the Ticket Office menu on the club website at:
http://scunthorpe-speedway.com/ticketoffice
When you click on the link you will be taken to the following URL:
https://scunthorpescorpionstickets.seatedly.com/
Click on the "buy tickets" tab which will take you a list of meetings and when you have finished, please click on "my basket" tab to complete the transaction.
NOTE REGARDING TICKETS: Please bring your ticket with you – either a physical copy or on your phone. The QR code (the matrix barcode) will be scanned to allow you entry to the stadium – please present to the staff at the entry point at the Eddie Wright Raceway. Please note there is a 3% handling fee for each ticket ordered – this goes to the ticketing provider, not the club. If you have any problems when ordering your tickets, please contact the club (email gail.godfrey@btconnect.com) and we will assist you. Please note that cash admission on the day is also available.
For those who cannot make it to the Eddie Wright Raceway, Scorpions are live streaming home meetings for just £11.99 at: https://tv.scunthorpe-speedway.com/
Related Posts By Category