Scorpions face tough ask, despite battling at Leicester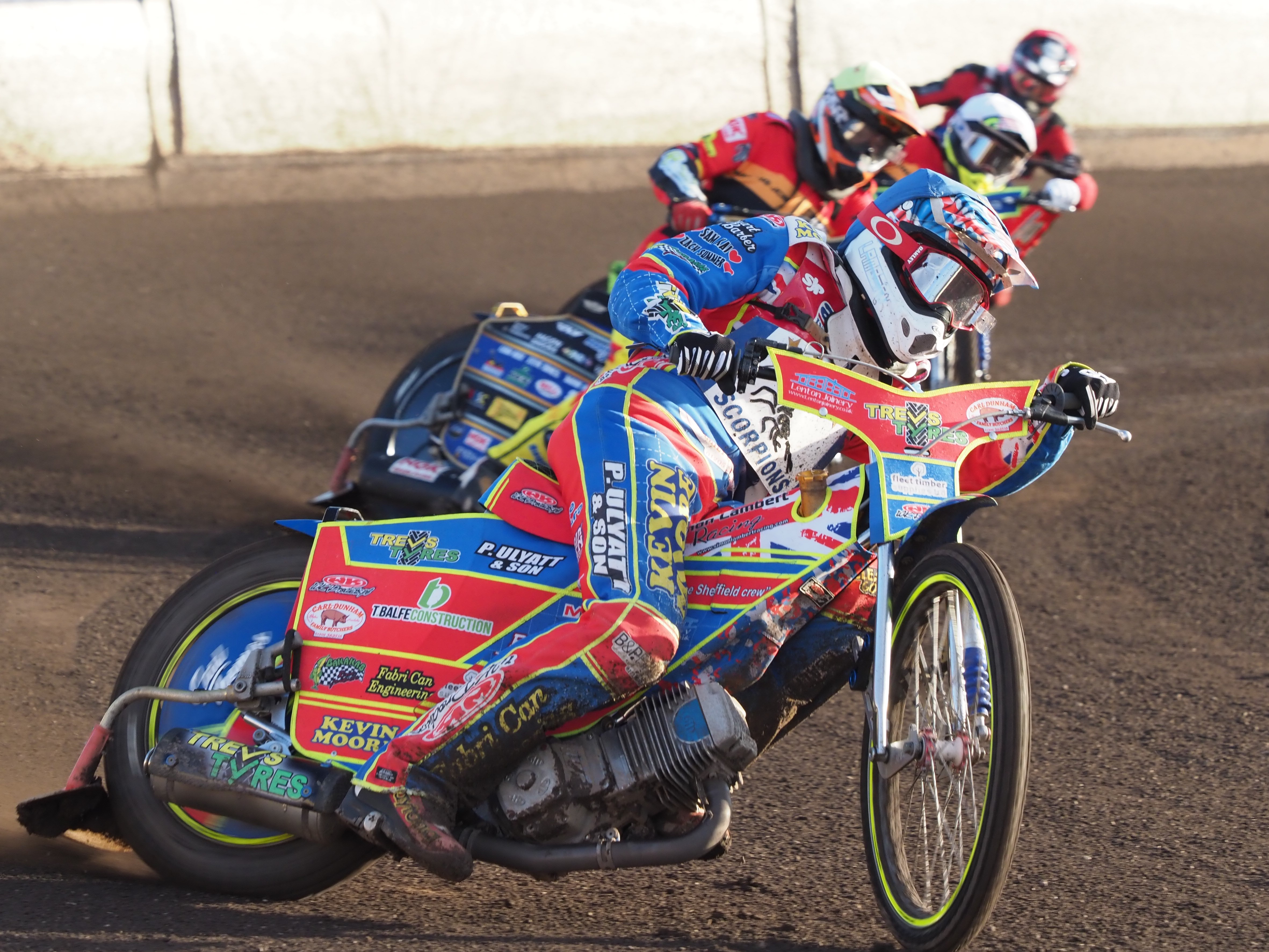 SCORPIONS FACE TOUGH ASK, AFTER BATTLING PERFORMANCE AT LEICESTER
LEICESTER LIONS 58 SCUNTHORPE SCORPIONS 32 (Championship Knockout Cup, quarter-final, first leg)
SOMETIMES a final scoreline doesn't reflect the effort put in by a team or the quality of the racing on offer. Attis Insurance Scunthorpe Scorpions lost 32-58 in their first leg of the Knockout Cup quarter-final tie at Leicester's Paul Chapman And Sons Arena last night (Saturday), which means the Lions are pole position to qualify for the semi-finals.
Originally due to be the second leg, this meeting became the first leg, after the abandonment of the meeting at the Eddie Wright Raceway on Friday, after a big accident to Scorpions' guest rider Joe Alcock in Heat 2. On the subject of Alcock, he posted on his Facebook account late on Friday night: "Just a quick update, I'm in quite a bit of pain but asking for plenty of morphine. Surgery on my femur is planned for tomorrow morning. Gutted I didn't get a ride in the air ambulance! Also hurt my right leg but nothing serious. And broken a vertebrae in my mid-back but it is stable at the moment. Thanks for all the messages, Joe."
A later post on the same account yesterday said: "Joseph's surgery on his femur earlier today went well although he is still in a lot of pain. The fracture to his vertebrae is stable, so the doctors are happy to let it heal on its own. Thank you again for all the messages and well wishes."
Lions have been in almost invincible form around their own track this season and four times, they passed the 60-point-mark. The previous clash at the track between the two sides on April 2 resulted in a 62-28 landslide win for Lions, with Ryan Douglas scoring half of Scorpions' total. The Australian was missing the clash yesterday, after aggravating his shoulder injury in Heat 1 of Friday's abandoned clash.
Scorpions faced an uphill battle without Douglas who spoilt the maximum hopes of all the top Lions in that previous clash, while other enforced changes were Justin Sedgmen guesting for Tero Aarnio, who is currently serving a 14-day-ban for missing Friday's meeting, and Jamie Halder, who was the new guest rider for the injured Ryan Kinsley after Alcock's crash on Friday.
That Scorpions scored four points better than their previous visit, despite the absence of Douglas, was largely down to skipper Simon Lambert scoring 12+2 from seven rides at No 7, plus Jake Allen collecting 11 points from six rides. Both these two riders were in the thick of the action all night and were involved in a number of close battles with the home riders on a highly entertaining evening of speedway.
Richie Worrall (14+1), Kyle Howarth (14+1) and Nick Morris (12) all picked up maximums for Lions.
With Scorpions tracking a highly changed team, promoter Rob Godfrey and team manager Dave Peet were hoping to keep the difference between the two teams to 20 points or less, to give Scorpions a fighting chance in the second leg, for which a new date has yet to be decided. In the end, they didn't quite manage that, although having already scored 55 points against Leicester at the EWR this season, 59 is not a totally impossible task against a Lions' side that has occasionally shown frailty on its travels.
Speaking post-meeting, Scorpions' skipper Simon Lambert said: "Rider replacement scored five points. You'd put Dougie (Ryan Douglas) down for double points around here – he scored 14 points here earlier this season and spoilt the maximums of their top riders. If we'd have had Ryan tonight, we could have been looking at only a ten-point deficit for the second leg, but it is what it is.
"I'd like to add my best wishes to Joe Alcock, after his horrific crash at Scunthorpe. It's always sickening to hear another rider in pain, and everyone at Scunthorpe Speedway wishes him a speedy recovery.
"A couple of our lads still struggled tonight, but I had a good night and Jake (Allen) had a good night.
"I used to ride here [in both 2012 and 2015], and I don't care what anyone says, but it's always tough coming back to your own place, because you put yourself under more pressure to do well.
"Speedway is such a confidence sport. I came here eight weeks ago and I couldn't buy a point. If I hadn't turned up, the scoreline wouldn't have been any different, I might as well not have been here – I admit that.
"Tonight I had a good meeting. It could have been even better, because I wanted a paid win in Heat 14, but I'd run out of steam a little bit by that time. I went for a divebomb in that race, when maybe I should have waited for a lap.
"But I've got broader shoulders now and a bit of confidence back. I move back into the team, but I'm not phased by that, because I was at No 2 for almost the entire season last year and scoring good points from there.
"Tonight's result is tough on us, because we are chasing silverware this season. After tonight, our grasp on the cup is almost gone, and we're going to have to work really hard to get that grasp back.
"But nothing's impossible in speedway and that has to be our approach to the second leg back at Scunthorpe. We put 55 past Leicester at the start of the season and next time we need to increase that to 59. As long as I am with this club, we will never say die, so we'll give it our all and see what happens."
LEICESTER 58: Richie Worrall 14+1, Kyle Howarth 14+1, Nick Morris 12, Dan Thompson 8+3, Connor Mountain 5, Joe Thompson 4, Anders Rowe 1.
SCUNTHORPE 32: Simon Lambert 12+2, Jake Allen 11, Justin Sedgmen 7, Zaine Kennedy 1+1, Jordan Palin 1, Jamie Halder 0, Ryan Douglas r/r.
* ATTIS INSURANCE Scunthorpe Scorpions are next in action when they host Redcar in the Championship at Scunthorpe's Eddie Wright Raceway on Bank Holiday Friday (June 3). Please note that this fixture has a 5pm start-time.
REPORT: Rob Peasley
PHOTO BY IAN RISPIN
Related Posts By Category