Big match preview: Scunthorpe v Leicester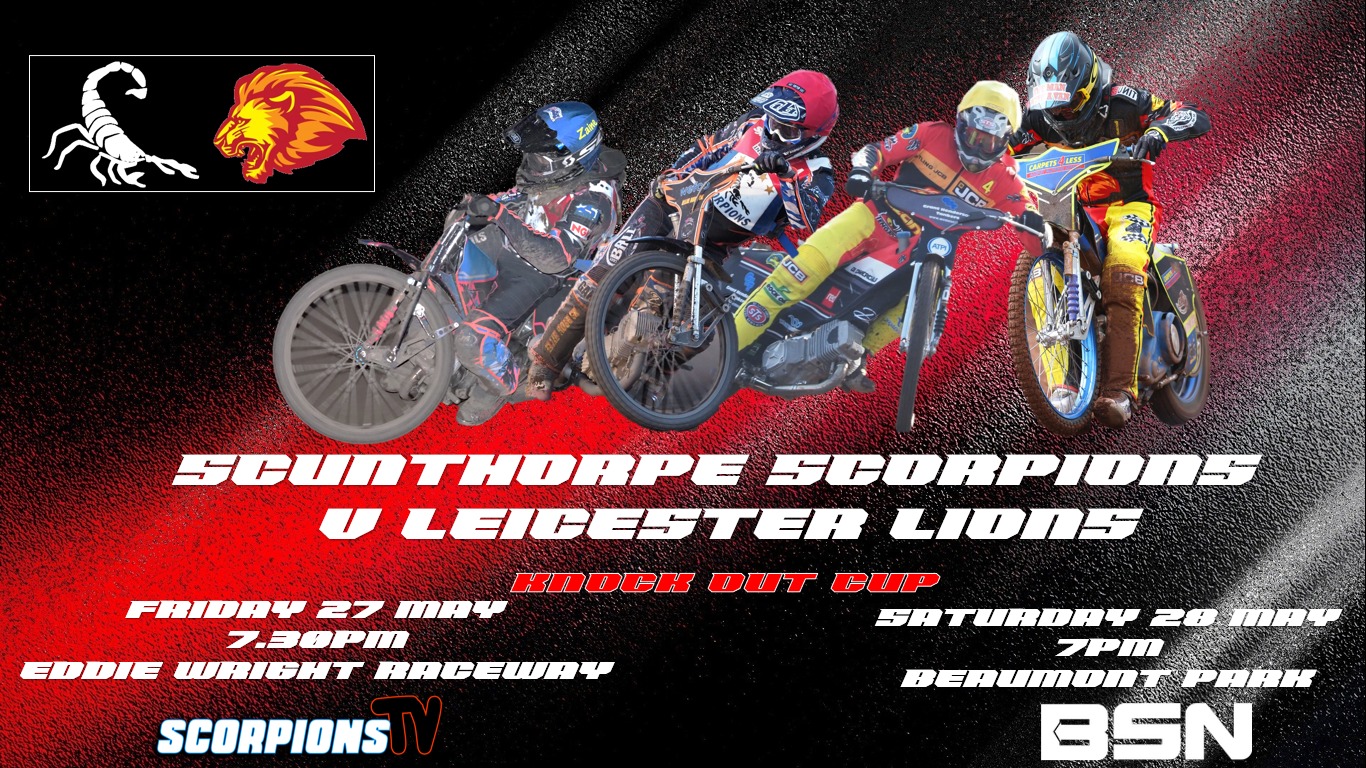 SCORPIONS LOOK TO BUILD UP FIRST LEG LEAD
ATTIS INSURANCE Scunthorpe Scorpions are seeking to build up a defendable lead when they host the Leicester Lions in the quarter finals of the Knockout Cup at the Eddie Wright Raceway tomorrow (Friday) at 7.30pm.
When their sides met at the EWR on April 15 in league action, Scorpions scored a terrific 55-35 victory over Lions, which ended a run of 10 defeats for Scunthorpe against Leicester. It also avenged a 28-62 defeat for Scorpions at Leicester's Beaumont Park a couple of weeks beforehand.
Scunthorpe promoter Rob Godfrey said: "I'm sure we're in for another treat against the Lions in the Knockout Cup. We've seen some terrific meetings this year at the Eddie Wright Raceway, including the previous one against Lions, and I'm sure this will be another, with both teams battling for the place in the semi-finals of the cup that's up for grabs.
"The two league matches last month both resulted in big home wins and if we had been taking an aggregate scoreline into account from those meetings, Leicester would have won fairly comfortably, having run up 62 points at their place while we 'only' got 55 at the EWR.
"We know we can do better at Leicester, and we will be looking for a significant improvement on the 28-point score we managed last time.
"But, first things first, though, we clearly need to establish some kind of lead from the first leg to give us something to defend at Leicester."
Scorpions are in action at the Eddie Wright Raceway for the first time in a fortnight, after last Friday's clash with Newcastle was rained off. Scunthorpe's early decision to call off the meeting against Diamonds proved to be the right one, since it rained at the track between 7pm and 8.30pm.
This weekend is the final one where Scunthorpe skipper Simon Lambert will be at reserve, before he moves back up into the one-to-five with the publication of the June Green Sheet averages and he will swap places with Jordan Palin.
Lambert scored a brilliant 15-point full maximum in the most recent meeting for Scorpions, a 54-36 home victory over Oxford Cheetahs a fortnight ago.
Joe Alcock will guest for Scorpions in place of Ryan Kinsley, who picked up a dislocated collarbone in a recent crash at Mildenhall.
For those who cannot make it to the Eddie Wright Raceway, Scorpions are live streaming home meetings for just £11.99 at: https://tv.scunthorpe-speedway.com/
ADMISSION PRICES TOMORROW (FRIDAY):
Adult: £18.00
Student/OAP: £16.00
Child (10 – 17): £5.00
Child (0 – 9) Free (accompanied by paying adult – not including programme)
Match Programme: £1.00
Tickets can be purchased (cash only) on the day at the turnstiles.
Expected teams for tomorrow (Friday):
Attis Insurance Scunthorpe Scorpions: 1. Ryan Douglas, 2. Jordan Palin, 3. Zaine Kennedy, 4. Jake Allen, 5. Tero Aarnio, 6. Joe Alcock (guest), 7. Simon Lambert (captain).
Leicester Lions: 1. Richie Worrall, 2. Dan Thompson, 3. Nick Morris, 4. Connor Mountain, 5. Kyle Howarth, 6. Anders Rowe, 7. Joe Thompson.
Related Posts By Category