Scorpions welcome back Ryan Kinsley
Nov 18th, 2021
1605 Views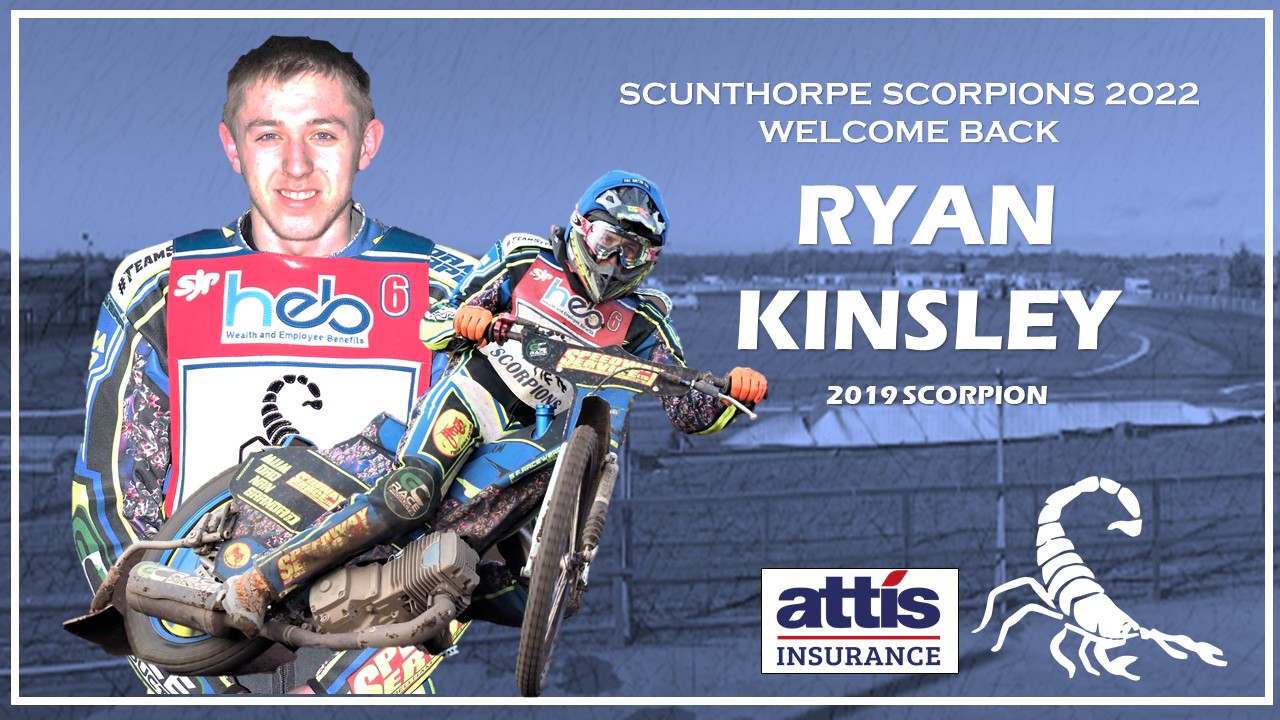 SCUNTHORPE have commenced announcing their line-up for the 2022 season – with the return of Ryan Kinsley.
The Attis Insurance Scunthorpe Scorpions finished sixth in the 2021 Championship, reaching the play-offs for the first time since 2014. Promoter Rob Godfrey has vowed to put together a side that will challenge for honours next season, and Kinsley is the first piece in the jigsaw to be revealed.
The 23-year-old previously rode for Scorpions during 2019, when he enjoyed a highly promising debut season at Championship level, including defeating seven-time British Champion Scott Nicholls from the back at the Eddie Wright Raceway.
Normally, Scorpions would have brought back Kinsley the following season, but Jordan Palin was earmarked for a reserve spot as soon as he was old enough.
But the club have now moved to bring back the talented Kinsley as their No 7 in 2022.
Scunthorpe promoter Rob Godfrey said: "Our faith is in Ryan; he fits with what we want to do with the team, which will become more apparent once we have released the names of more riders."
Kinsley suffered an annus horribilis this year.
Little went right for the East Anglian, whose van was stolen from a hotel in Middlesbrough in September, shortly after signing for Redcar. Although the van and his speedway bikes were found, other equipment was not recovered.
Godfrey added: "Ryan didn't enjoy a good season in 2021. A lot of that was out of his control such as when his van was stolen. Plus, for much of the season, he wasn't getting a lot of outings, which is so crucial for younger riders.
"But we know he's a talent. When he previously rode for us in 2019, he did very well for a rider in his first year at this level – he claimed some good scalps around the Eddie Wright Raceway. It was a no-brainer to bring him back and it was Ryan's first choice too.
"He's invested in new equipment and he's very excited to be coming back to ride for us.
"I believe that with what Ryan has learnt over the last couple of years, he is going to be a lot better rider at Scunny, which could well be the catalyst to send him up our pecking order."
Godfrey also confirmed Australian Josh MacDonald would not be returning to Scunthorpe in 2022. Nevertheless, he sang the praises of the Australian.
He said: "Josh was Scunny through-and-through and always put absolute everything into his racing. Maybe a bit too much at times, because he had quite a few falls.
"Josh was in one team scenario that I'd got. To be honest, for the first time ever, I've had lots of different scenarios that I could go with and I just hope this time I've picked the right way to go!"
Scunthorpe was announce who will partner Ryan Kinsley at reserve next Thursday. The club will announce was one rider per week, concluding with what Godfrey promises is "a great double treat before Christmas."
Related Posts By Category