Scorpions' pride despite defeat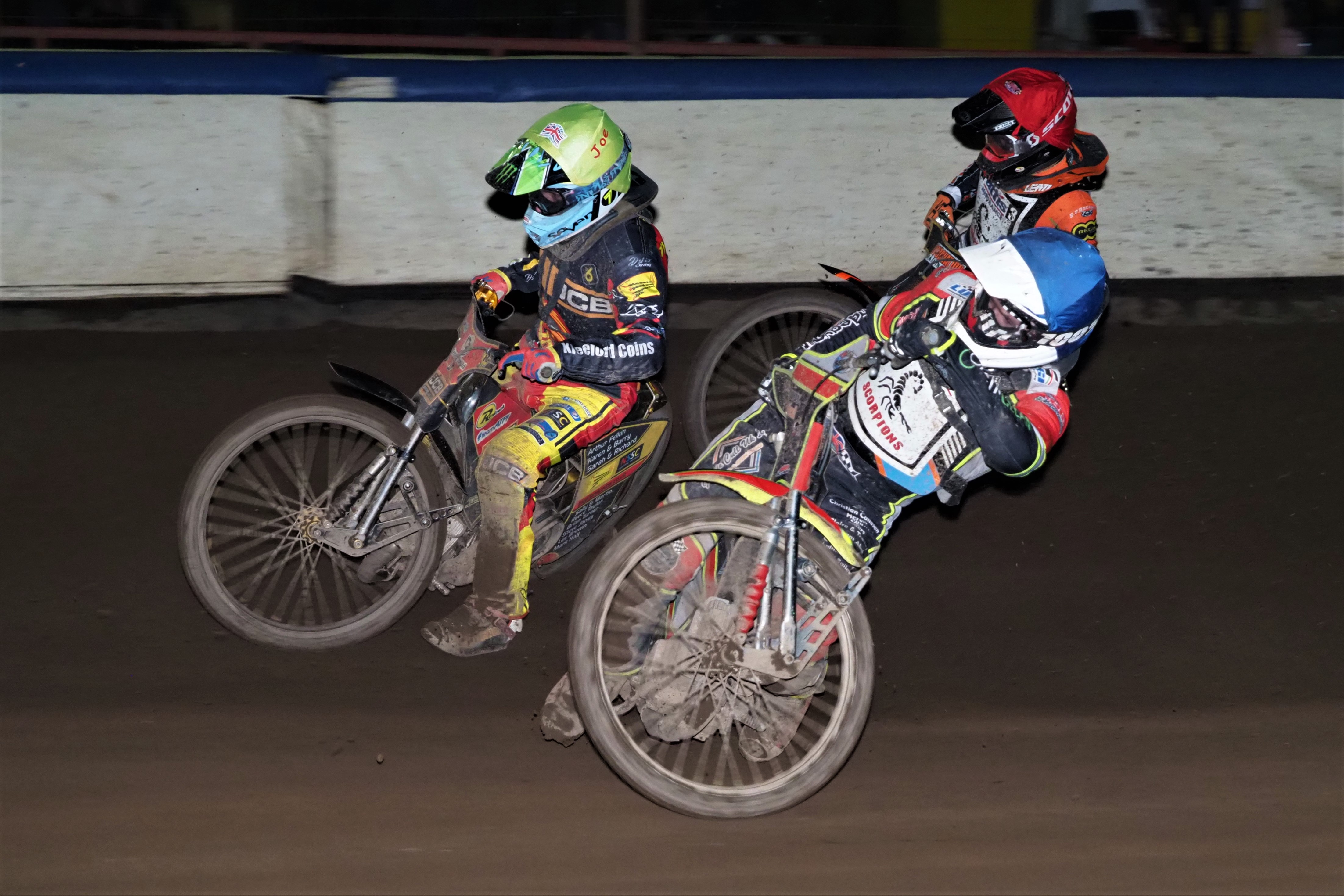 SCORPIONS' PRIDE DESPITE DEFEAT
SCUNTHORPE SCORPIONS 36 LEICESTER LIONS 54 (Play-off, quarter-final, first leg)
ATTIS INSURANCE Scunthorpe Scorpions' 2021 season is realistically over, after Leicester Lions took a 54-36 victory at the Eddie Wright Raceway last night (Friday) in the first leg of a quarter-final Championship Play-Off clash.
The second leg at Leicester has already been rained off tonight (Saturday). It will be re-staged next Saturday (October 9th) and it should be just a formality for Lions to progress against Scorpions' currently depleted line-up.
Scorpions have enjoyed a terrific year, reaching the play-offs for the first time since 2014, while No 1 Adam Ellis was crowned as the club's first-ever British Champion in August. But injuries and other circumstances have affected the club in the closing stages of the season.
The combined absence of Thomas Jorgensen, Tero Aarnio and Theo Pijper last night simply proved too much for Scorpions, although both Connor Mountain and Kasper Andersen proved lively guests. Scorpions were also hit by skipper Simon Lambert feeling under the weather.
That's not taking anything from Leicester, who were superb and may well have beaten a full-strength Scorpions.
Scorpions took the lead with a 5-1 from Mountain and Josh MacDonald in Heat 2, after MacDonald moved inside Joe Thompson after a lap.
But that Lions were very much firing on all six cylinders was demonstrated when their reserves won Heats 3 and 4. They took the lead through a 5-1 from the powerful Nick Morris and Kyle Howarth pairing in Heat 5, after both Lions overhauled Jordan Palin during the race.
Ellis and Lambert picked up a 4-2 from Heat 6, and Ellis and MacDonald then held a 5-1 in Heat 7, which would have moved Scorpions back in front by two points. But Zaine Kennedy raced under MacDonald on the third bend, and the Scorpion came down. With MacDonald excluded, Ellis missed the gate in the re-run and Lions pulled six points ahead with a maximum.
Lions then simply powered away, although they remained some good racing. An exciting Heat 13 saw Morris burst through the middle of Ellis and MacDonald in spectacular style, only to drift wide on the second bend of the final bend and seemingly hand Scorpions a 5-1. But MacDonald ran wide around the final bend and crashed just short of the finishing line.
Heat 14 produced some 'speedway out of the top drawer', to coin a phrase from TV pundit Kelvin Tatum. Mountain was the early leader, but he was then involved in the battle with Kennedy and Howarth on the opening two laps. Just as he was pegged back into third by Howarth, Andersen burst onto the scene. Andersen and Howarth seemingly passed each other on every bend for the last lap-and-a-half, with Andersen taking the photo-finish for second place.
Morris picked up a debatable exclusion from Heat 15 after Andersen fell, which levelled things up, since Ryan Douglas had somehow got back into Heat 10, after falling by himself on the opening bends.
In the re-run of Heat 15, Douglas soon flew past Ellis, as Lions finished with an 18-point advantage, to almost certainly take a place in the semi-finals.
Speaking post-meeting, skipper Simon Lambert said: "It wasn't our best performance tonight, while it was my worst performance of the year – especially at home. I haven't been feeling well for the last ten days now.
"No excuses. It is what it is – Leicester were the better team on the night.
"But, on the whole, we've had a great year and it's been the biggest honour of my life to be club captain of this side. It's been a pleasure to ride for Scunthorpe this year and I very hope I'm back here next year – I'm pretty sure I will be.
"We exceeded expectations this year. We were written off by everyone, and we were tipped to be battling for the wooden spoon, but that never happened or looked like happening. I'm proud that we reached the play-offs, which no-one expected us to do, but we knew we could do it.
"It's great riding for this team. The riders have enjoyed it and that's why we've done better than people expected. We still want to win meetings, but we're having a laugh and a joke. We are all treated the same from one-to-seven – no-one wants to be treated as a superstar, we're all equal.
"There's been good banter. With Jordan (Palin) being so young, he was very quiet at the start of the season, but he's come out of his shell. We have a laugh on our WhatsApp group and we look forward to seeing each other at meetings. That includes Dave (Peet) as team manager – he may look from appearances to be a bit dull, but I've got a lot of time for the bloke and he's so funny. I can't speak highly enough of Rob (Godfrey, Scunthorpe owner and promoter) who has put Scunthorpe Speedway back on the map, and what a track this is. It is the best racing track in the country – and I love the fans here too.
"The way that Rob is talking about next season, it's going to be a very exciting team and it's going to be great to be part of that side."
CHAMPIONSHIP PLAY-OFF QUARTER FINAL, 1st leg
SCUNTHORPE 36: Adam Ellis 13, Connor Mountain 9+1, Kasper Andersen 7+1, Jordan Palin 3, Simon Lambert 2+1, Josh MacDonald 2+1. Thomas Jorgensen r/r.
LEICESTER 54: Ryan Douglas 12+1, Zaine Kennedy 11+1, Kyle Howarth 10+1, Nick Morris 9, Hans Andersen 6+2, Joe Thompson 6, Dan Thompson r/r.
REPORT by Rob Peasley.
PIC by IAN RISPIN.
Related Posts By Category