Play-off picture update – Sunday, Sept 19th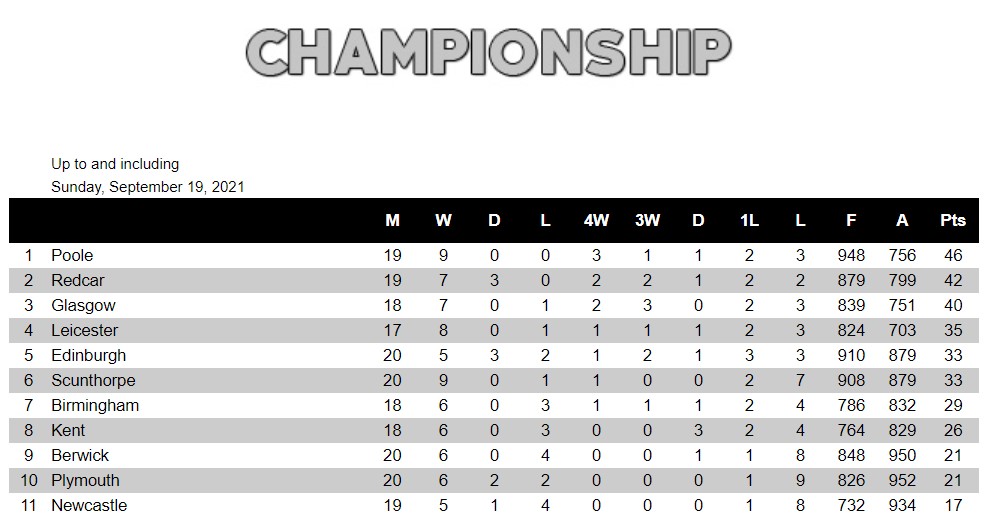 ATTIS INSURANCE Scunthorpe Scorpions are even closer to qualifying for the Championship play-offs, after what was no doubt an emotional final meeting of the season at troubled Newcastle tonight – we very much hope that Diamonds are back in 2022.

NEWCASTLE 44 BIRMINGHAM 45
Scorpions close in on play-offs, after Birmingham fail to take all 4 points on offer at Newcastle. Diamonds show real fighting spirit, despite using rider replacement for No 1 Ben Barker, after the Cornishman withdrew after the death of co-promoter Dave Tattum earlier in the day. Brummies led by five points with three heats remaining, but Connor Mountain defeated Erik Riss and Chris Harris in Heat 13, and then Max Clegg and Adam Roynon took a 5-1 from Heat 14. Diamonds even looked like they could win the meeting, but Mountain fell in Heat 15 when he and Clegg were on a 4-2.
Nevertheless, while they took victory, Brummies really needed all 4 points tonight. To overhaul Scorpions, they now need an improbable draw at Glasgow on Friday, in addition to beating Newcastle at home on Wednesday.
Related Posts By Category