Kemp makes history, after brave attempt by Palin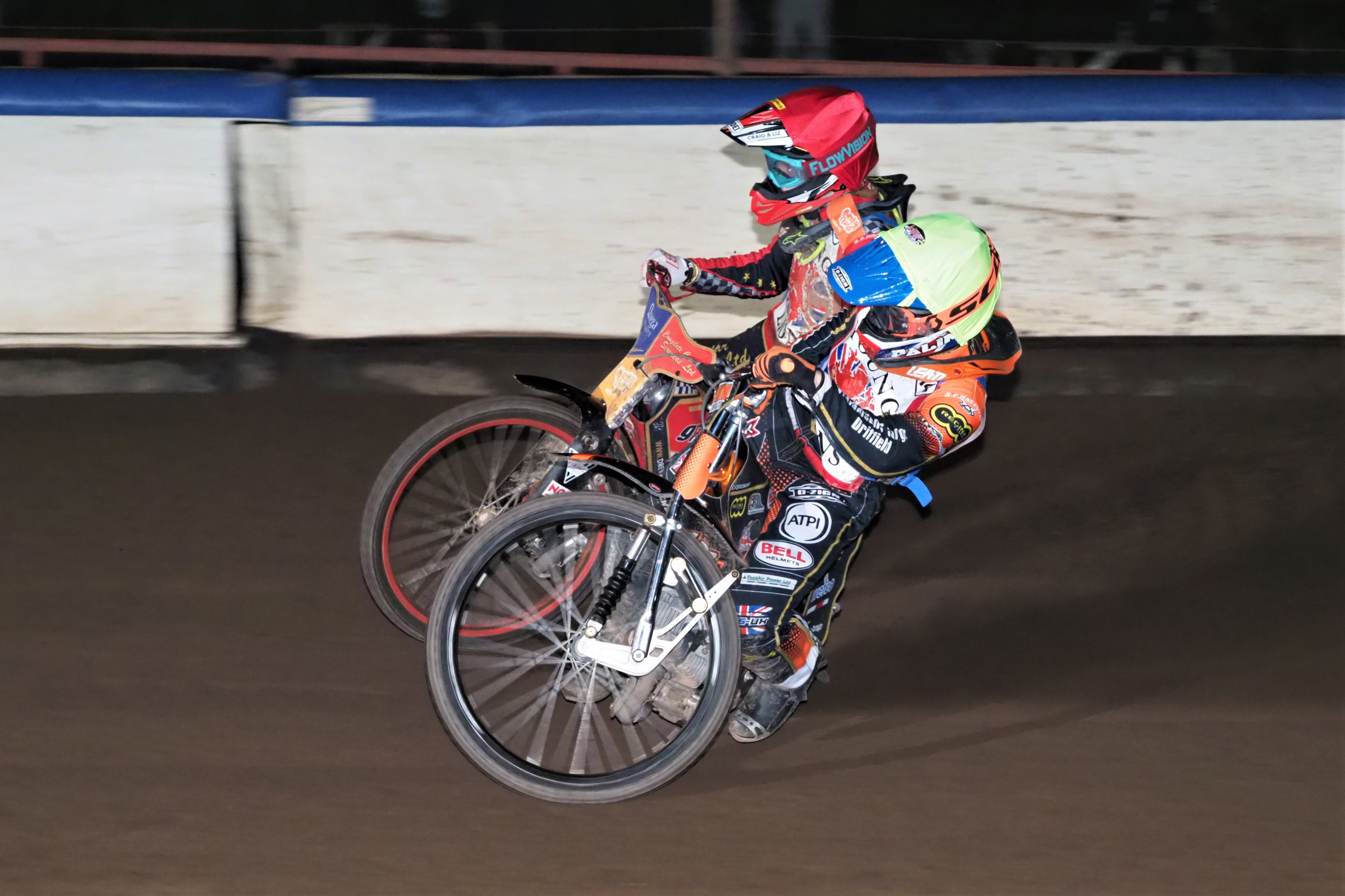 ATTIS INSURANCE Scunthorpe Scorpions' young star Jordan Palin put in a valiant attempt in the British Under-19 Final at the Eddie Wright Raceway last night (Friday), finishing just a point off the podium places on his return from a fractured collarbone. But, ultimately, there was no stopping Drew Kemp from becoming the first rider to win the event three years on the trot.
Kemp won the event with a third successive 15-point maximum. He won at Redcar in 2019 without dropping a point and likewise at Scunthorpe in 2020 and 2021.
But no-one came closer to defeating him over those three seasons than Palin in Heat 11 last night. A thrilling race pitted Palin, entering the race on 4 points, against Kemp (6) and Dan Gilkes and Kyle Bickley (both on 5).
Palin made a tremendous start, while Kemp started to chase. Kemp tried the inside, and temporarily took the lead with a run-up on the inside on the second lap, but Palin, on a fast outside line, was soon back into the lead.
Kemp then switched his attentions to the outside and was so wide he was very close to the third bend fence with a lap to go.
Palin seemed almost home and dry, when Kemp staged one last sweep around the outside coming off the bend, and the two flashed across the line together.
Many elsewhere in the stadium felt Palin had held on, but those level with the start-line agreed with referee Wayne Jarvis that Kemp had stolen the verdict in a photo-finish.
It wasn't the only work that Kemp had to do from behind. He was also beaten from the gate by Dan Thompson in Heat 2, but he produced a determined inside pass at the completion of the opening lap. That proved crucial as neither dropped a further point all night, as they filled the top two places in the meeting.
Kemp clinched the meeting in Heat 17. He soon fought his way to the front, only for the race to be stopped after a fall for Sam McGurk. But he led the re-run all the way and punched the air in delight as he came off the final bend.
Jason Edwards was third after he beat Leon Flint in a run-off for third place. Edwards had one moment of good fortune when he finished second to Thompson in Heat 16, gaining a point when Bickley suffered an engine failure on the final lap.
Palin made excellent starts in his opening three races. But, although he rode well, he just lacked a little sharpness against a top-class field following three weeks on the sidelines with injury, and he was picked off in those outings by Flint, Thompson and Kemp.
A fine fourth race by the home representative saw him swoop around Nathan Ablitt and Joe Thompson on the back straight to post his first victory of the evening in Heat 13.
He entered Heat 20 on nine points, level with Edwards, and either could go forward into the run-off for third place with a win. Edwards made the better start and, while the track had produced with some fantastic racing during the evening, it had just started to slicken off a little. Palin tried everything he could to get past, but he had to settle for second and 11 points overall.
Winner and history maker Drew Kemp said: "It was pretty stressful at times and obviously it would be nice to win every race from the start, but that wasn't the case tonight!
"It definitely feels great to win it, and to win it three times in a row which has never been done before, that does feel great."
Scorpions' 17-year-old star Jordan Palin said: "I had no niggles or pain from my collarbone as I was racing around the track, so that's good. I think I'll just feel a bit stiff in the morning.
"I can't complain too much about the result. But if you're a racer, if you're not winning, then you're last. But there's a lot I can take away from this meeting and learn from.
"It was a lot like last year, in that I came the closest to beating Drew around here.
"It's a very tough format, just having 20 races, and if you don't get a maximum, it's difficult to win it. Once you drop a point, you just keep going, to see what you can get.
"I didn't quite get on the rostrum, but that's how the cookie crumbles. I've still got another couple of years to win this, so I'll keep on attacking it and try to win it in both the next two seasons.
"It's good that I've still got a few more meetings this year. In terms of Scunthorpe, it's tight, but we've all worked hard for it, so if we get into the play-offs, we've deserved it."
Result:
1. Drew Kemp 15
2. Dan Thompson 14
3. Jason Edwards 12+3
4. Leon Flint 12+2
5. Dan Gilkes 11
6. Jordan Palin 11
7. Nathan Ablitt 9
8. Kyle Bickley 6
9. Elliot Kelly 6
10. Harry McGurk 6
11. Ben Trigger 4
12. Kyran Lyden 3
13. Archie Freeman 3
14. Joe Thompson 3
15. Kai Ward 2
16. Sam McGurk 2
* ATTIS INSURANCE Scunthorpe Scorpions are awaiting to see if they will qualify for the Championship play-offs. Birmingham need eight points from their remaining three fixtures to pip Scorpions to sixth place. Brummies must defeat Newcastle at home and pick up five points from two visits to Newcastle and Glasgow. The deadline for the play-offs is September 26 and should Scorpions progress, their first-round match at the Eddie Wright Raceway is most likely to take place on Friday, October 1.
REPORT: Rob Peasley (Drew Kemp quote by Dave Rowe).
PHOTO: Jordan Palin leads Drew Kemp during the exciting Heat 11 (pic by IAN RISPIN).
Related Posts By Category