Makeshift Scorpions go down fighting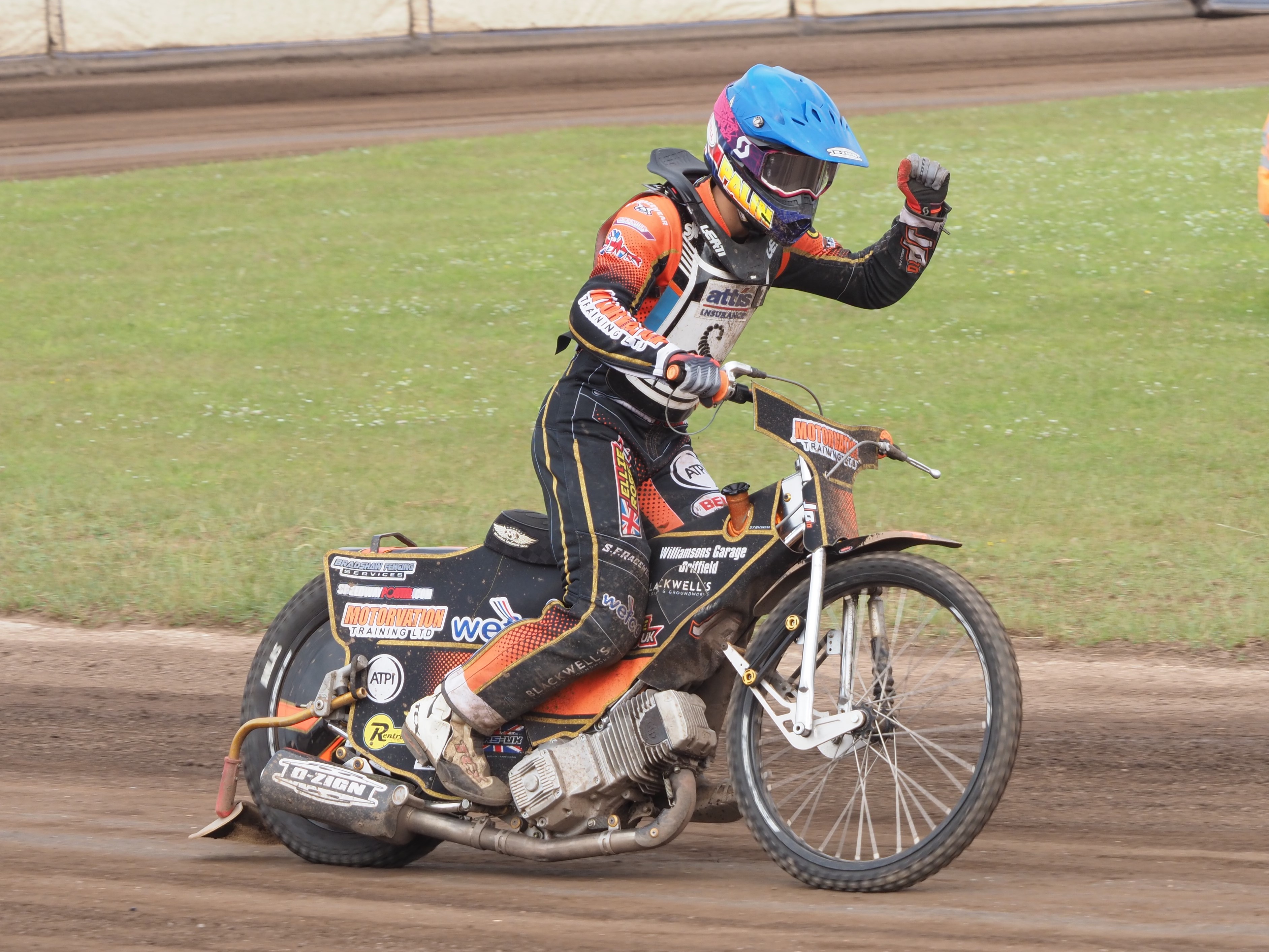 MAKESHIFT SCORPIONS GO DOWN FIGHTING AT POOLE
POOLE PIRATES 57 SCUNTHORPE SCORPIONS 33 (CHAMPIONSHIP)
A PATCHED-UP Attis Insurance Scunthorpe Scorpions did their best, but slipped to a 33-57 defeat at Poole's Wimborne Road last night (Wednesday).
Scunthorpe were without three of their regular riders. Thomas Jorgensen was riding in Denmark, while both Adam Ellis (battered and bruised) and Josh MacDonald (wrist injury) were missing after injuries at Plymouth on Tuesday.
Americans Broc Nicol and Dillon Ruml came in guests, while Scorpions used rider replacement for Jorgensen.
Scorpions got off to a slow start and conceded four 5-1s in the opening five races, as Pirates took a 23-7 lead, despite a fine lights-to-flag victory for Jordan Palin (pictured) in Heat 2.
But Scunthorpe then got into the swing of things, with Simon Lambert and Ruml scoring a 5-1 in Heat 8, which reduced the gap to 12 points.
Nicol proved to be a fine guest and won both Heats 9 and 13, with Palin was also very lively, but Pirates gradually pulled back away.
Speaking post-match, team manager Dave Peet said: "It is what it is. We had a rough night last night at Plymouth and this was always going to be a hard place to come. One or two of our lads were still feeling the effects of their crashes from the previous night.
"Out of our meetings over the last two nights, we went to Plymouth full of hope, but within half a lap our dreams had crashed. We still did what we could there but just fell short.
"Tonight at Poole was always going to be tough. I don't think the score-line gave credit to how much we contributed to the match. We took five heats to get dialed in, but then we played our part."
POOLE 57: Danny King 13+1, Steve Worrall 11+1, Rory Schlein 9+2, Ben Cook 8, Stefan Nielsen 7+2, Danyon Hume 5+2, Alfie Bowtell 4.
SCUNTHORPE 33: Broc Nicol 11, Jordan Palin 7, Simon Lambert 6, Theo Pijper 5, Dillon Ruml 3+2, Tero Aarnio 1+1, Thomas Jorgensen r/r.
* ATTIS INSURANCE Scunthorpe Scorpions are looking to bounce off with victory over Birmingham Brummies at the Eddie Wright Raceway on Friday (7.30pm)
Dave Peet says: "Josh MacDonald is planning to be back on Friday for the home meeting against Birmingham. Both Josh and Adam Ellis are going into one of those isolation tanks on Thursday, to heel up a bit quicker, in Josh's case to be fit for us, while Adam is trying to get himself ready for the Grand Prix Challenge in Slovakia on Saturday.
"Adam was always going to be missing on Friday, due to the Grand Prix Challenge, and we've booked Lewis Kerr as a guest for him."
Related Posts By Category