Ellis clinches victory for Scorpions in thriller
Aug 14th, 2021
1056 Views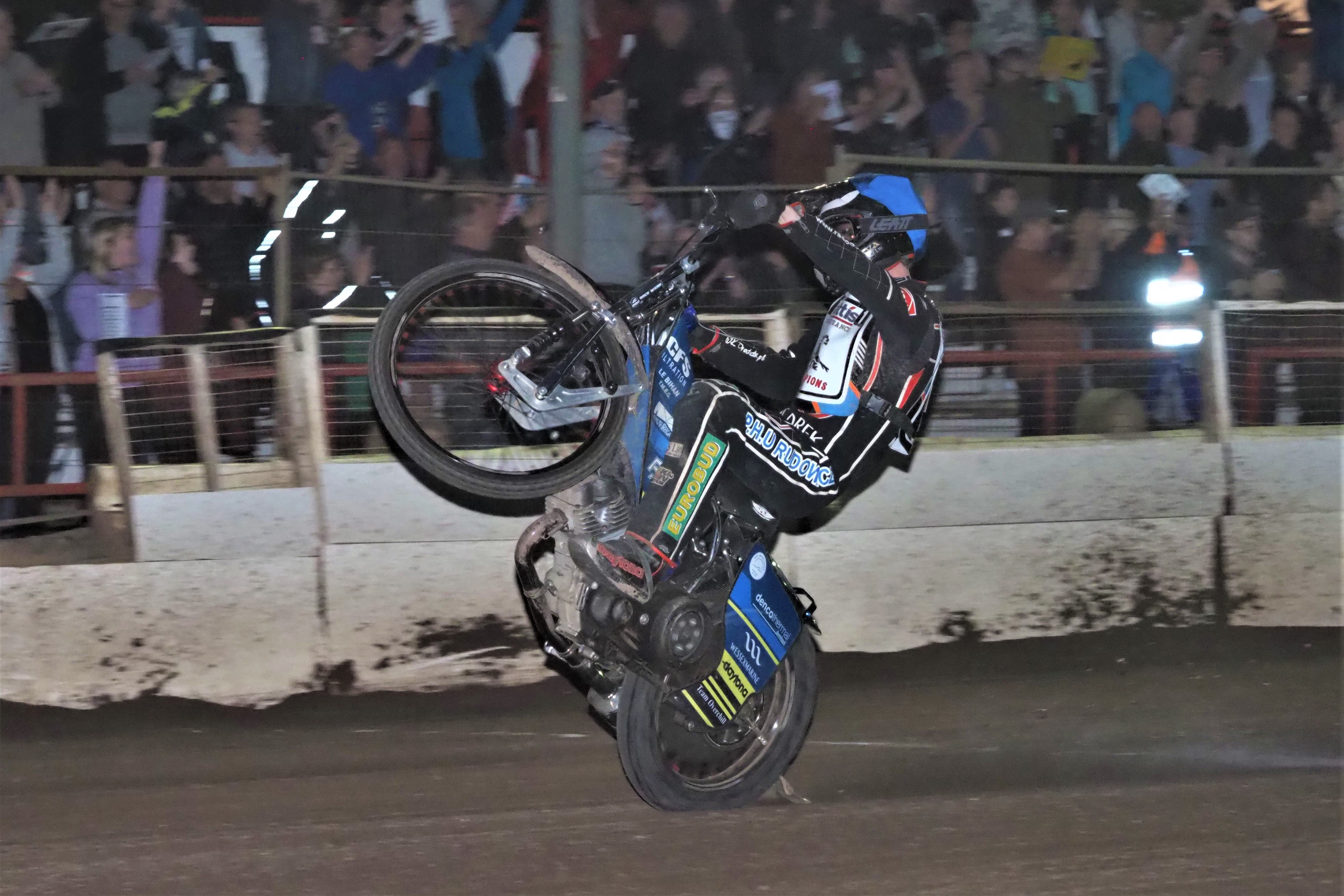 SCUNTHORPE SCORPIONS 46 REDCAR BEARS 44 (CHAMPIONSHIP)
ATTIS INSURANCE Scunthorpe Scorpions were pushed all the way by Redcar Bears, before taking a 46-44 victory after some terrific speedway action at the Eddie Wright Raceway last night (Friday) in a complete humdinger of a meeting between two play-off rivals that almost defied description.
While every Scorpion scored vital points at one stage or another, at the heart of the victory were sublime performances by No 1 Adam Ellis, rising star Jordan Palin and skipper Simon Lambert.
For Ellis, he showed he has mastered the Eddie Wright Raceway with a brilliant display. He dropped his only point in Heat 15, where his prime focus was securing the second place that clinched victory for Scorpions.
Scunthorpe went into the meeting using rider replacement for Tero Aarnio, often their star performer in home meetings this season, after a change in start-time for the Finnish Championship today (Saturday) meant his booked flight had to be brought forward.
Scorpions took the lead with a 5-1 from Josh MacDonald and Palin in Heat 2 and then had a narrow led throughout.
Thrilling back-to-back wins for Lambert in Heat 5 and 6, the latter combined with Ellis for a 5-1, briefly extended the lead to eight points, but Redcar hit straight back by introducing former British Champion Charles Wright as a tactical substitute in Heat 7 and took a 5-1 of their own.
From then on, neither side took a further maximum and Scorpions' led varied from two to four points.
Former Scorpion Jake Allen was a real handful and Ellis had to work very hard to lower his colours in Heat 10. Allen fought past the lively Lambert and then burst past Ellis into the lead, but Scorpions' No 1 managed to force his way back inside Allen on the second bend of the final lap.
Wright and James Sarjeant trapped in Heat 11 and looked set to level the scores, but Palin was right behind Sarjeant. Just when time seemed to be running out, the 17-year-old pounced off the final bend and passed Sarjeant for a priceless second place.
Theo Pijper was the early leader in Heat 12, but Allen then came through. But Palin pushed him all the way and Allen only just held off the determined youngster. The 3-3 saw Scorpions stay in front at 37-35.
Heat 13 was simply a brilliant speedway race. Ellis and Jorgensen emerged from the second bend in front, but all four riders were almost level by the end of lap 1. Michael Palm Toft fought past Thomas Jorgensen for second place with passing and repassing, while all four riders remained close.
Wright also got past Jorgensen, but the Dane wasn't going to give up without a fight and dived back inside Wright on the third bend of the final lap to regain third and Scorpions took a 4-2.
Wright was less than pleased with Jorgensen's move and there were heated words following the race. But it was simply hard racing, as had been a move by Allen on Palin earlier on the night in Heat 7.
Scorpions almost came unstuck in Heat 14, when Allen and Anders Rowe hit the front. But the superb Palin bustled inside Rowe and created room for Pijper to follow through, as Scorpions maintained their four-point lead.
The final race pitted Ellis and Lambert against Allen and Palm Toft, two former Scorpions. It all looked good for Scorpions out of the second bend, but by the end of the first lap, it was a 3-3, with both visitors bearing down on Ellis.
Palm Toft charged under Ellis on the third lap and Ellis then focused on taking the all-important second place.
Allen tried an inside pass on Ellis on the final bend, but there was no way through, and Allen almost came to grief as his front wheel touched the curb, as Ellis held on for the second place that secured victory.
Speaking post-meeting, Scorpions' No 1 and top-scorer Adam Ellis said: "It was a good night, but it was a tough one. Redcar came here with Jake (Allen), Wrighty (Charles Wright) and (Michael) Palm Toft, who are all very good around here.
"It was great for the team to get the result, while from a personal perspective, it was nice that I could get a good score at home and help the team to a victory.
"Scunthorpe wasn't a track I've ridden much before this season, and it did take a few meetings to work it out.
"My first home meeting for Scunthorpe, I felt I was miles off with both the racing lines and also the set-up. The second meeting was better, but I still didn't think I was quite riding on the right lines.
"I spent quite of time tonight looking at Simon Lambert, trying to copy the lines that he takes around here.
"You can never relax around Scunthorpe, because there are so many lines, but it leads to some great racing for the fans to watch every week.
"In the last race, when Palm Toft came past, I thought I would make sure that I got second place. Going into the last turn, I did leave the door open a little bit for Jake, but I cut back to the inside to stop him coming though and it was enough.
"It's awesome riding for Scunthorpe at home, because all the riders are so strong around here and banging in points. Tonight, a couple of the lads had off-nights, but everyone was still scoring points and we won it.
"The focus now switches to the away meetings at Plymouth and Poole. If we all ride to our potential, we can come away from those with some points."
SCUNTHORPE 46: Adam Ellis 13+1, Jordan Palin 10+1, Simon Lambert 10, Theo Pijper 5+2, Thomas Jorgensen 5+1, Josh Macdonald 3, Tero Aarnio r/r.
REDCAR 44: Jake Allen 14+1, Michael Palm Toft 12, Charles Wright 10, James Sarjeant 5+1, Anders Rowe 3+1, Jordan Jenkins 0, Jordan Stewart r/r.
* ATTIS INSURANCE Scunthorpe Scorpions face a busy schedule next week. They are away at Plymouth on Tuesday and Poole on Wednesday, before entertaining the Birmingham Brummies at the Eddie Wright Raceway next Friday (August 20th, 7.30pm).
REPORT: Rob Peasley.
PHOTO: Adam Ellis celebrates with a wheelie following Heat 15 (pic by IAN RISPIN).
Related Posts By Category