Sensational Scorpions storm to the top!
Jul 15th, 2021
1157 Views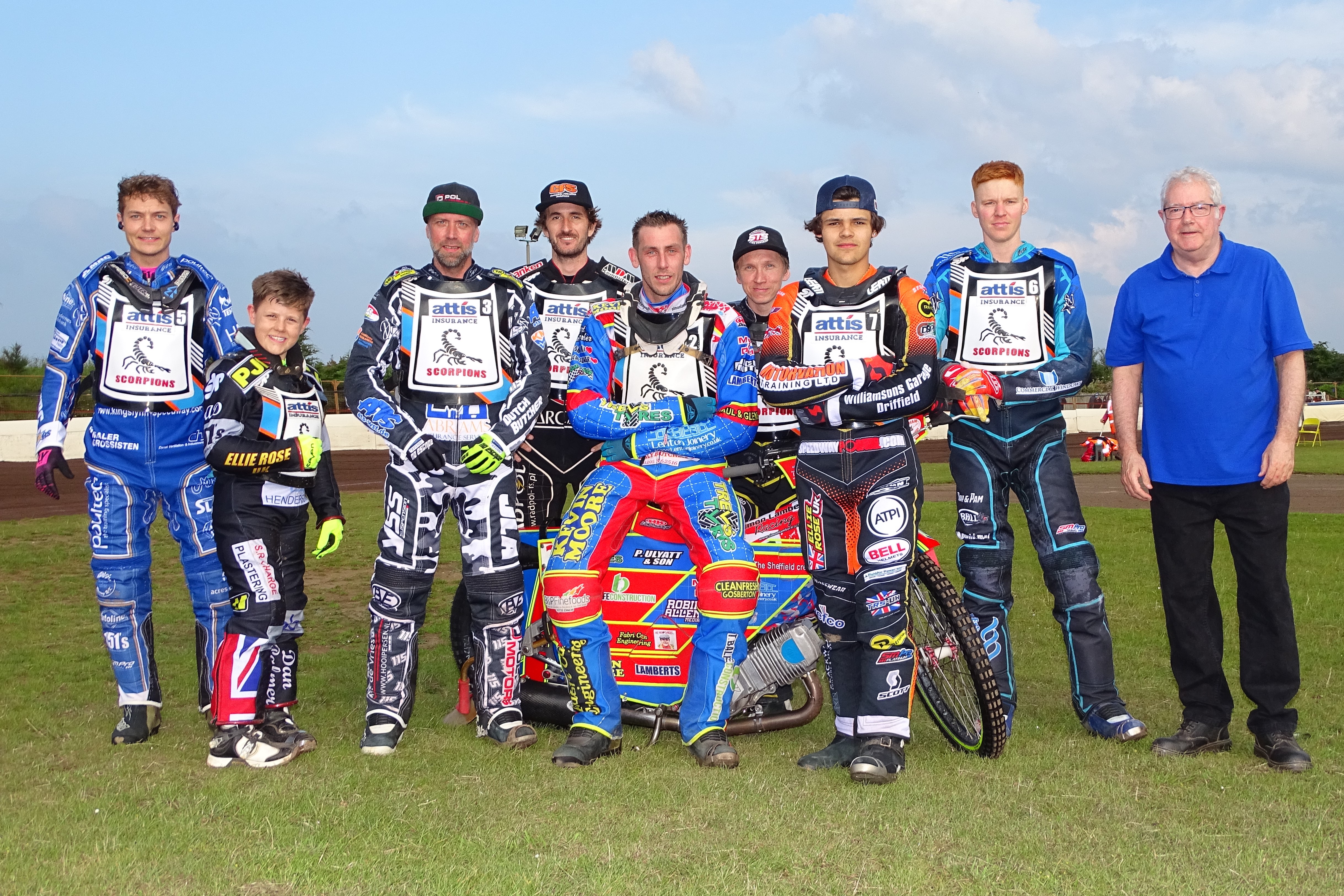 BIRMINGHAM BRUMMIES 39 SCUNTHORPE SCORPIONS 51 (CHAMPIONSHIP)
ATTIS INSURANCE Scunthorpe Scorpions moved to the top of the Championship table with a brilliant 51-39 away victory at Birmingham's Perry Barr stadium last night (Wednesday) – the first time Scorpions have topped the table since 2014.
Scorpions went into the meeting having shown excellent home form in 2021 but having suffered defeats in four away meetings.
But the visitors took a lead they would never surrender after Jordan Palin and Josh MacDonald took a 5-1 in an awarded Heat 2, after Brummies' Paco Castagna misjudged a passing move and brought MacDonald crashing down.
Two further 5-1s followed – from No 1 Adam Ellis and skipper Simon Lambert in Heat 5 and Thomas Jorgensen and MacDonald in Heat 9, after a fall for race-leader James Shanes.
After Heat 10, Scorpions were eight points to the good, leading to Birmingham introducing Chris Harris into Heat 11 as a tactical substitute. Ellis hit the front, but the race was halted, with Ellis given a warning for moving at the tapes. In the re-run, Ellis kept his nerve to again hit the front to beat Harris and Brummies' guest Richard Lawson.
Ellis again defeated the same pair in Heat 13, and then Tero Aarnio and MacDonald clinched victory with a 4-2 in Heat 14.
With the win on the night already settled, Scorpions needed a 3-3 or better from Heat 15 to gain the fourth point for an away win by seven points or greater. Aarnio and Ellis emerged from the second bend in front, and even though Harris briefly moved into second place on lap 3, Ellis soon roared back around him as Scorpions secured top spot in style with a 5-1.
Ellis, signed by Scorpions to be a big hitter away from home, dropped just a single point to Harris in Heat 1, and won three out of four of his encounters with the former British Grand Prix champion, to finish on 13+1.
Aarnio, who along with Ellis rode for Brummies in 2019, collected 12+1, while Jorgensen won his opening three outings to score 9. Reserve MacDonald was in thick of the action all night long and finished with 7+2.
Speaking post-meeting, Scorpions' No 1 and top-scorer Adam Ellis said: "Everyone was fired up when we got here and the whole team played their part tonight.
"I had some tough rides tonight – they had Bomber (Chris Harris) against me as a tactical substitute. I did move the first time in that race. I was sat on top of a rut and all it takes is for the fingers to move by millimetres and the bike is moving. But then I went out and won the re-run.
"It's tough against riders like Bomber. Even when he's not so good in one ride, he can come out in the next one and be brilliant.
"But we just didn't let our guard down all night – we wanted to take all the points from this meeting, and we made sure we kept on going in Heat 13, 14 and 15 until we did that.
"It's brilliant to go to the top of the league. At the end of the day, a top four place to get into the play-offs is all that matters, but we want to get some momentum going.
"The rest of the boys, not necessarily me, have already shown what they can do at home, so it's nice to come away from home and prove that we can do it elsewhere as well.
"I'm still getting my head around the best way around my home track, but I'm enjoying riding for Scunthorpe. The team spirit is really good."
Team manager Dave Peet said: "I said a few weeks ago that it was only a matter of time before we started getting points on the road. We've had a couple of tracks we've gone to where I felt we could have won, but we didn't do it. I felt tonight was a must-win and all the lads chipped in and we did it – it was superb.
"It was pleasing that Josh MacDonald had such a good meeting. He gives it 100% every time and even after he came off in one ride, he kept on plugging away and he kept it together when we really needed him to at the end of the meeting. We must remember that Josh is only seeing some of these tracks for the first or second time, so his away performances have been tremendous.
"Adam (Ellis) is a class act; it's as simple as that. He'd didn't put a wheel wrong tonight and won the big races for us. Once he sorts out our track – and he will – he's going to be almost unstoppable.
"But the whole team were terrific tonight – every single last one of them. They all contributed to this victory.
"It's great to go top of the league. The lads have been superb all season and deserve it. This will bond us together even more, and we'll press on and get even better."
BIRMINGHAM 39: Chris Harris 12+1, Jack Thomas 8+1, Richard Lawson 7+2, Kyle Newman 5+1, Ashley Morris 4, James Shanes 3, Paco Castagna 0.
SCUNTHORPE 51: Adam Ellis 13+1, Tero Aarnio 12+1, Thomas Jorgensen 9, Josh MacDonald 7+2, Simon Lambert 4+1, Theo Pijper 3+1, Jordan Palin 3.
REPORT: Rob Peasley.
PHOTO: The new league leaders of the Championship – the Attis Insurance Scunthorpe Scorpions (pic by IAN RISPIN).
Related Posts By Category