Report: Scunthorpe 56 Plymouth 34
May 23rd, 2021
1299 Views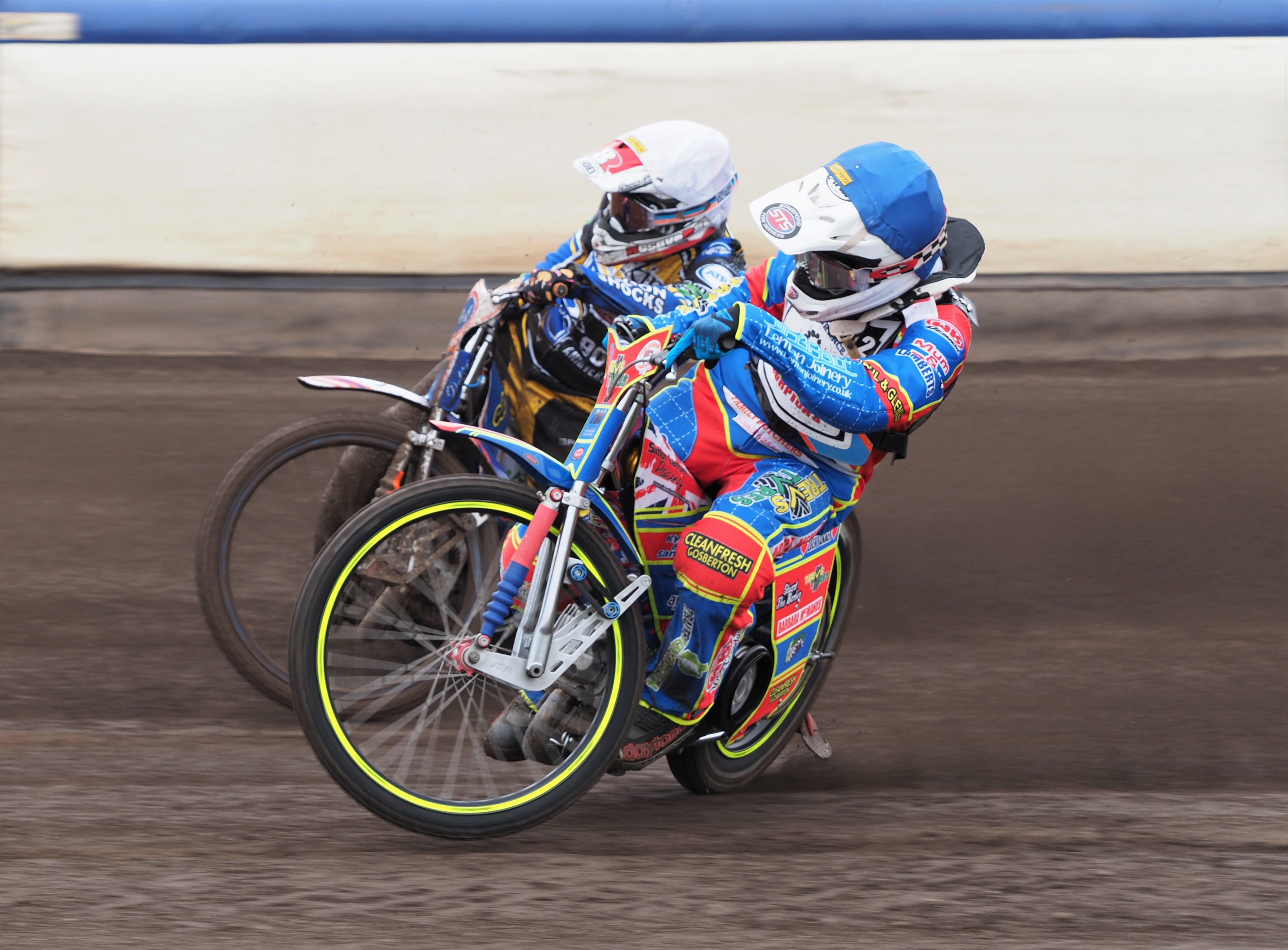 SOLID SCORPIONS START SEASON WITH A BANG!
ATTIS INSURANCE Scunthorpe Scorpions started their season with a convincing 56-34 victory over Plymouth Gladiators at the Eddie Wright Raceway yesterday afternoon (Sunday).
Scorpions put in a super-solid performance, with every one of their riders being paid for at least paid nine.
Josh Auty and Simon Lambert got Scorpions off to the perfect start with a 5-1 over treble World Champion Jason Crump in Heat 1, after Lambert fended off the attentions of the Australian superstar.
The same Scunthorpe pair were involved in a spectacular Heat 6, where Lambert forced a way inside Bjarne Pedersen on the second bend of lap 2 and then Auty followed through the gap on the fourth turn. But the Dane showed his class in cutting back under both Scorpions as the three riders completed the lap.
It was closest that former Grand Prix star Pedersen came to defeat all afternoon, as he completed an 18-point maximum. Crump found it tougher – and was beaten by Auty on all three occasions when they met, including Heat 15, when he was picked off from behind by the Yorkshireman.
Both Scorpions reserves put in highly creditable performances on their official debuts for the club. Jordan Palin underlined his considerable potential and started by thundering around Leon Flint on the final lap to win Heat 2.
Josh MacDonald hit the tapes in the first staging of Heat 2 but passed Alfie Bowtell after just a lap in the re-run and then only dropped one further point and was involved in two 5-1s.
But this was a solid performance where every single Scorpion pulled their weight and it bodes very well for the rest of the season.
Scunthorpe skipper Simon Lambert said: "The return of Jason Crump is great for British Speedway, but I really enjoyed beating him in Heat 1. Maybe he was finding his feet in that race, but it's something no-one can take away from me.
"Bjarne was mustard all meeting. We gave him a race at one point (Heat 6), where we passed and re-passed, but then he showed all his top-level experience. It's an honour to be out there giving him a race, it's the same with Crumpie.
"I'm delighted to score paid 10 and be given Heat 15. I finished last in that one, but you really could have thrown a blanket over all four of us. I was pressing Crumpie and made him look for me a couple of times.
"I've been having a nightmare all week – I always feel the same in the build-up to the first meeting. It's good to get it out of the way.
"From a personal point of view, I'm chuffed to bits, while from a team point of view, we got three points on the board and hopefully there's many more to come. It was a solid, all-around team performance. We can take away so many positives.
"People have written us off this year, especially after we lost Jake Allen, but I think this showed that we can do it.
"I was particularly pleased for Josh MacDonald. He touched the tapes in his first one but came through in that one to take a point, and then only dropped another point after that."
SCUNTHORPE 56: Josh Auty 10+1, Theo Pijper 8+2, Kyle Howarth 8+2, Thomas Jorgensen 8+1, Jordan Palin 8+1, Simon Lambert 7+3, Josh MacDonald 7+2.
PLYMOUTH 34: Bjarne Pedersen 18, Jason Crump 8, Leon Flint 4, Steven Goret 3, Dillon Ruml 1, Zach Cook 0, Alfie Bowtell 0.
* ATTIS INSURANCE Scunthorpe Scorpions are back in action when they entertain reigning league champions Leicester Lions in Knockout Cup action on Friday evening (7.30pm). Online tickets are already on sale at: http://scunthorpe-speedway.com/ticketoffice
REPORT by Rob Peasley
PHOTO: Simon Lambert fends off the challenge of treble World Champion Jason Crump in Heat 1 (pic: Ian Rispin).
Related Posts By Category